2021 Audi e-tron 55 road test review
Large Audi SUVs have pretty much their own flavour of motoring - minimalistic, luxurious cabins, loads of space, supreme ride comfort, and more than agreeable performance and dynamics, especially if you like the typically-Audi precise, slightly over-assisted feel from the steering. And now with the Audi e-tron, the brand's first ever all-electric model, it seems you can add zero-emissions and zero driving noise characteristics to that list.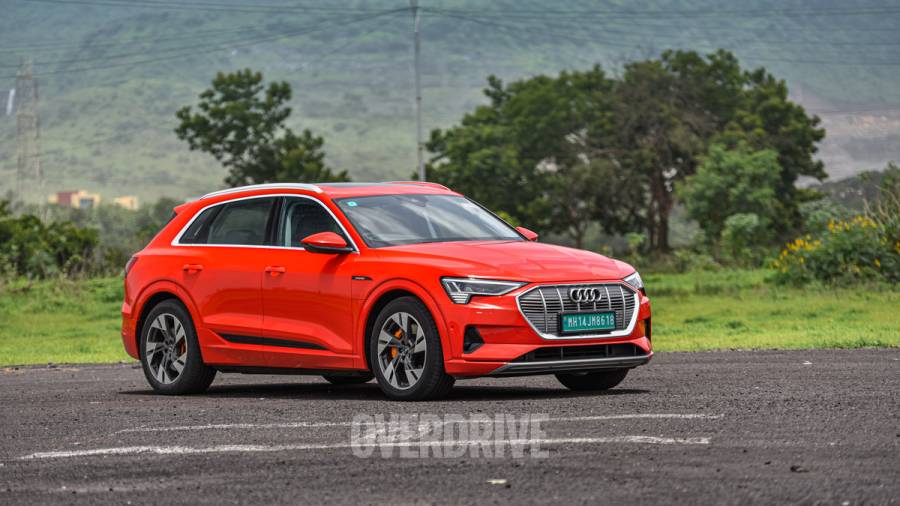 Granted, it has taken a while since we first saw the Audi e-tron on our shores back in 2019, but the pandemic's largely to blame. Now that it's here, we finally know that India gets the Audi e-tron in its most impressive 55 quattro variant, equipped with twin-electric motors, one on each axle for electric quattro all-wheel drive. Not just, it'll also be launched alongside its sportier looking (and otherwise identical) Audi e-tron Sportback variant on July 22nd, with booking already open. That'll bring the grand total of luxury EVs to four, the other two being the Mercedes-Benz EQC and Jaguar I-Pace. So then, is the Audi e-tron the luxury electric vehicle to pick, especially considering it packs the fastest onboard charger, and wallbox charger, of the bunch?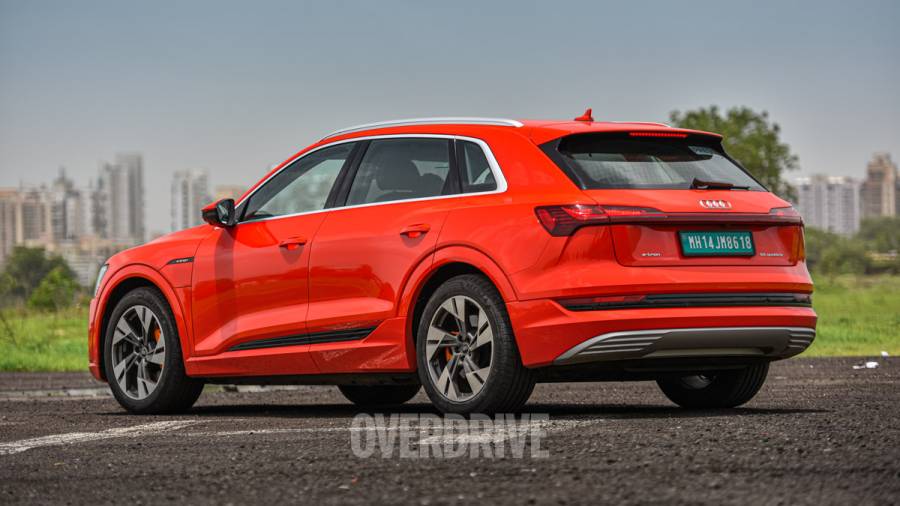 2021 Audi e-tron styling
While we've been waiting for the Audi e-tron (and the rest of the refreshed Audi line-up, truthfully), the Audi Q8 SUV-coupe was launched last year. And to our eyes, the Audi e-tron looks pretty much like the range-topping Audi SUV, especially in brighter shades that do its shape justice. The significant differences being in the Q8's rear-end styling that's an evolution of the Q7's flattish rear, while the Audi e-tron is more an evolution of the Q5's curves, being based on a highly modified version of that SUV's MLB evo platform. And while that may be, the Audi e-tron (at 4,901mm length, 1,935mm width, 1,629mm tall, with a 2,928mm wheelbase) is a lot closer in size to the Q7 and Q8, than the Q5, and that may be it's strongest suit. Also, with the Audi e-tron sat on 255/50 section 20-inchers, it's again closer to the Audi Q8's wheel/tyre package, and for the size, it's got enough sidewall to not have to worry about too much. On the brighter colours, the contrast gloss black trim does stand out a lot better, and intersects the sheet metal in interesting ways, especially in the lower rear doors with its additional aero elements just ahead of the rear wheel - all helping the Audi e-tron to an impressive 0.27Cd. 
The charge ports are hidden by a fold-out door, which bear the e-tron's badging. Now, otherwise the most futuristic bit of styling on the Audi e-tron, the outer rear view cameras on stalks instead of mirrors, don't make it to India - and that's probably for the best, considering the learning curve involved, and potential high cost of replacement. But it does get Audi's coolest headlights thus far, in the Digital Matrix LEDs that project all manners of animations on start-up. Our time with the car was limited to a few hours during the day, so we don't have word on how the headlights actually work, though. 
2021 Audi e-tron interiors and features
The Audi e-tron doesn't rock the boat too much inside the cabin either, with similar styling to the Q8 which we're quite familiar with, and the facelifts of the Q7 and Q5 that are yet to be launched. The wraparound dash feels as high-tech, with its twin digital panels for infotainment and climate controls complementing Audi's virtual cockpit instrumentation, but isn't very loud or in your face - and importantly doesn't have a steep learning curve to it, though the on-screen climate controls still aren't our favourite for obvious reasons of needing to look at them to get it right the first time around. Even the novel gear selector feels pretty intuitive, and somewhat like what you'd imagine the throttle in the Starship Enterprise to be like. Surprisingly, the seats can go quite low down if that's how you prefer your SUV's seating position to be, and visibility all around is pretty good. As for the features list, a head-up display, wireless charging and smartphone integration, four-zone climate control, air quality package, and Bang & Olufsen 16-speaker, 705W audio system are standard.
Again, space is more of the order to what you'd find in the large Audi Q8, than the Q5, with a near-flat floor courtesy a battery pack sandwiched in the floor, despite the adapted ICE-platform. Rear seat comfort is again comparable to the Q8, with a similarly comfortable angle of recline, under thigh support and a feeling of space helped by the low-ish window line. Boot space is a similarly cavernous 660-litres (spacesaver spare under floor), expandable to 1,725-litres with the second row flipped down. 
2021 Audi e-tron electric powertrain, range, performance
 and charging
As the range-topping Audi e-tron 55 with a 95kWh battery pack (359-484km WLTP range), you've got 408PS and 664Nm of torque at your disposal courtesy an electric motor on each axle, with torque vectoring that keeps things safe and predictable even when you're trying to get the e-tron to be a little playful. The good news is that the otherwise predictable safety net of the electronics loosen up enough to get this big Audi SUV to kick its tail out, even if only for a second, when you switch all the safety aids fully off. Though, with electric torque available right from the get-go, you get all its straight-line performance whether they're on, or off - we tested the Audi e-tron from standstill to 100kmph in a blistering 5.5s that betters its claimed 5.7s time!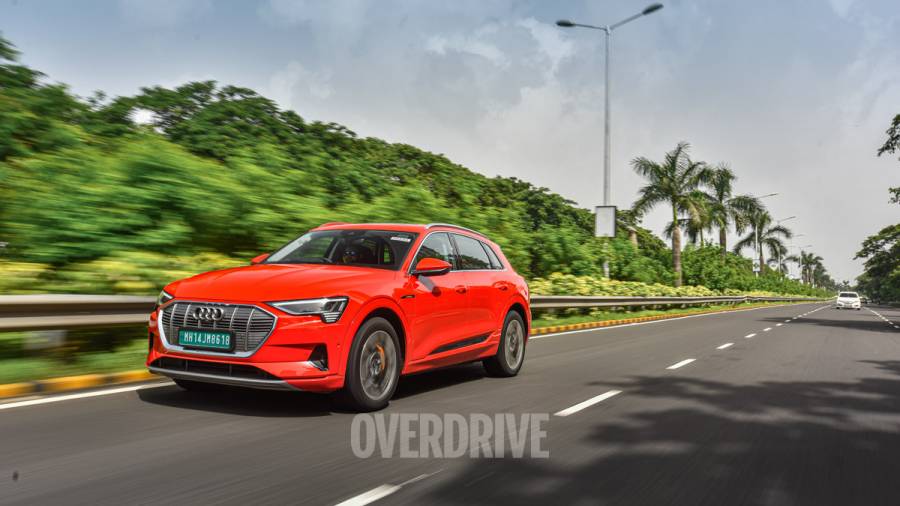 With memories of the Jaguar I-Pace fresh in our minds, we can say that the Jaguar has a more immediate character to its acceleration but with memories of the Audi Q8 and its smooth V6 petrol fresh too, the Audi e-tron clearly has more excitement going for it than the Q8 - and that's saying something! What we felt in the Q8 stands true to an extent - there's just not enough sound to make it feel truly, seat-of-the-pants exciting. While that's of course expected of an electric vehicle, we do wish the Dynamic drive mode did add a little synthesised sound in to complete the feeling of g-forces that are otherwise a neat party trick, and actually sustain well into high triple-digit speeds.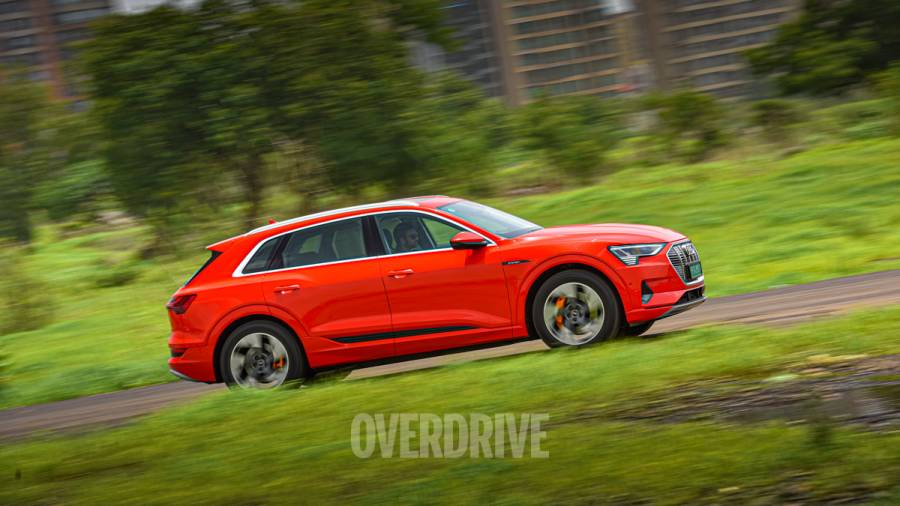 Of course, treat the Audi e-tron as any other large Audi, and it delivers a driving experience that can easily be termed serene, with immediate acceleration on tap - no kick down, no labour from the engine, no noise - just effortless overtakes. Despite the large tyres, road noise is well taken care of too. Considering our short time with the car, we racked up about 170km of urban driving but with everything - shooting, performance testing - thrown in, and ended the day with 32 per cent of charge left. Which is someways off the WLTP claimed figures, but again during our brief regular driving cycle we did see the onboard computer throw up around 4.2km/kWh consumption figures which should point to around 400km of driving range in the city, though a conservative estimate says anything between 380-420km is possible for most people. The flip side is the e-tron does come with the fastest onboard charger at 11kW, which needs 11 hours for a 0-80 per cent top-up, and the wallbox charger Audi will install for customers, rated at 22kW, needs just 4.5 hours for a similar charge. At a 50kW public DC charger, you could manage a similar 0-80 per cent top up in under two hours, and at the e-tron's maximum of 150kW charging, that would take a mere 30 minutes or less.
2021 Audi e-tron ride and handling
Here's where the Audi e-tron surprises the most - it's got such great body control, it took double checking the spec sheet to see if it had the trick electronic anti-roll bar system that the Audi Q8/RS Q8 has. Of corse, that's thanks to the weight being carried down low in the chassis, which greatly minimises body roll and lean, with the standard air suspension then having a lot more travel at its disposal to make short work of bumps. Like with all air-suspension equipped cars, it's only the sharper joints, or edges of potholes, that filter through with a dull thud.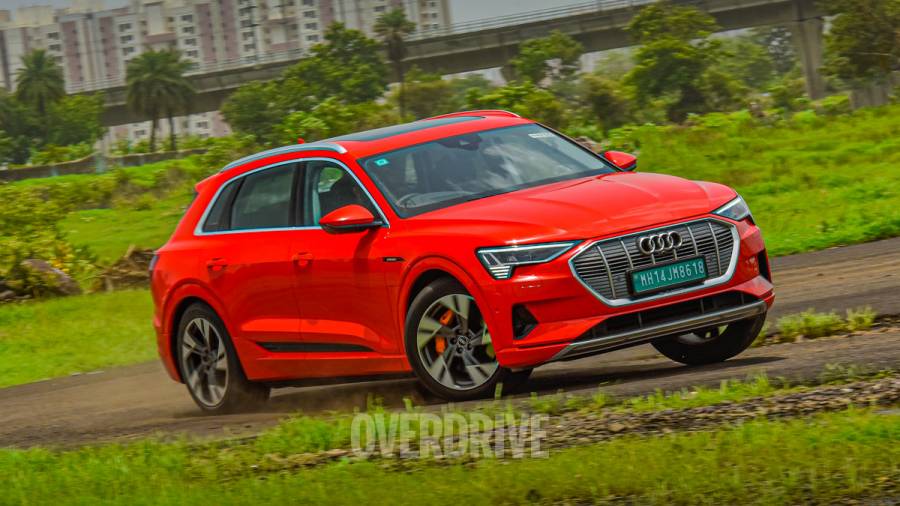 As for the steering, it's typically Audi like we said which means its great for manoeuvrability but not so much for exciting the enthusiast in you. But for most people, that's exactly what they're looking for, and the large e-tron certainly drives with the ease of a Q5. 
2021 Audi e-tron verdict
So here's the tricky part - Audi has the largest luxury electric vehicle on offer in India, but with the Mercedes-Benz EQC priced at Rs 1.04 crore, and the Jaguar I-Pace priced between Rs 1.06-1.12 crore (all prices ex-showroom), we hope pricing stays in the ballpark, maybe topping out at Rs 1.2 crore, all things considered. For the price, you do get an EV that gives you much of the large Audi SUV experience, with zero emissions - and it becomes a no-brainer if you're looking for a luxury SUV, not just one that's electric. And when it comes to the adoption of EVs, that's exactly what you want - no compromises. 
Photography by Anis Shaikh
Watch our review of the 2021 Audi e-tron 55 quattro below: 
Price (Ex-Delhi)
Starts Rs 99.99 Lakhs
Price (Ex-Delhi)
Starts Rs 1.18 Crore
Price (Ex-Delhi)
Starts Rs 1.34 Crore
Price (Ex-Delhi)
Starts Rs 1.05 Crore