2021 Aprilia SXR 125 first ride review
Less than half a year after launching its flagship Aprilia SXR 160 scooter last December, Aprilia launched another smaller displacement SXR model in India earlier, in May, this year - the Aprilia SXR 125. Now If you've already checked out the Aprilia SXR 160, you'd think that this were the exact same scooter. And to some extent you wouldn't be wrong, that's because, apart from the obvious difference in displacement and power output, both the Aprilia SXR 160 and 125 models have a lot in common.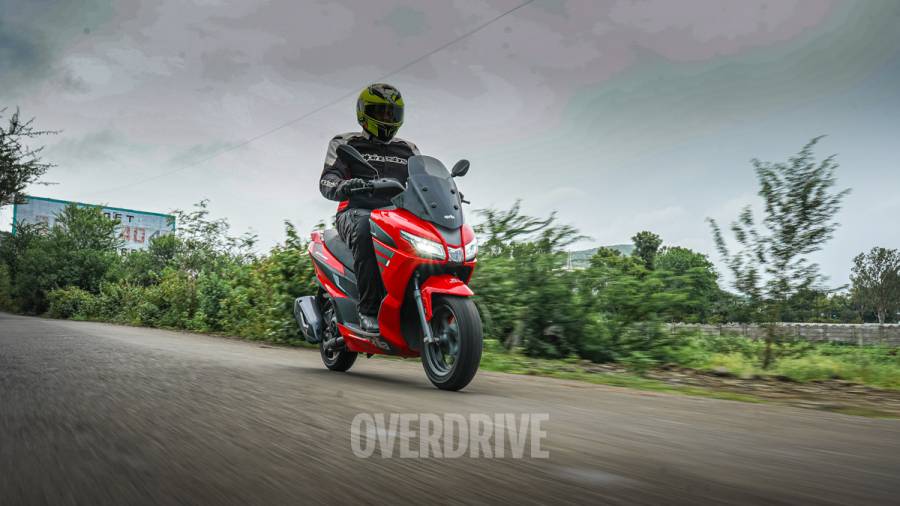 The Aprilia SXR 125 and the Aprilia SXR 160 are identical in terms of design - so you get the big imposing front apron with the a sleek LED lights setup, that huge smoked flyscreen that adds to the visual mass up front, the nice and broad seat for both rider and pillion, the shapely side panels, and the neat looking tail section with that massive grab rail sitting atop the large LED tail light. Like the 160, the SXR 125 gets that chunky exhaust unit and tyres to match which look great and all seem to bode well with the plus size proportions of this maxi-style scooter. Going by appearances, the only way to tell the Aprilia SXR 125 and the 160 apart would be by getting up close to either of them and read their name badges or those tiny indication stickers on their front mudguards.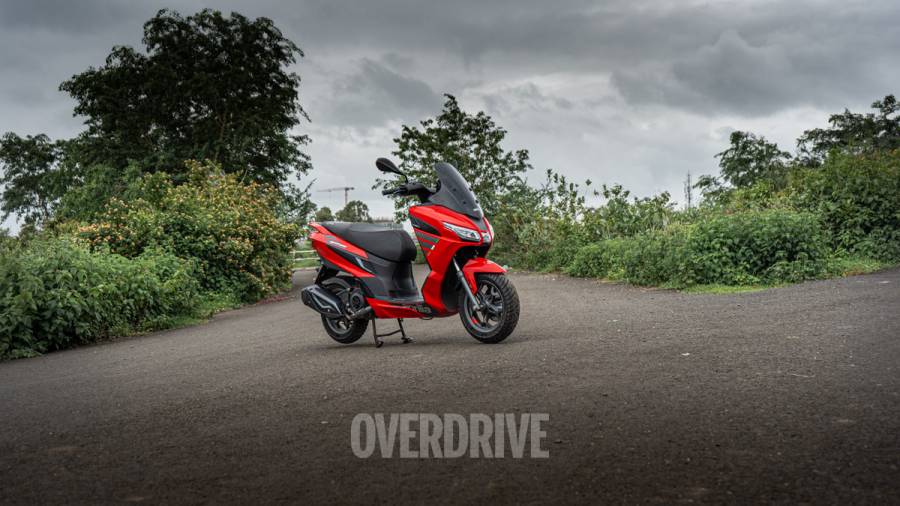 Not only is the Aprilia SXR 125 identical to the 160 in terms of its external design, but apart from the smaller displacement engine, both scooters have the same mechanical components as well - this includes the Tubular chassis, the suspension units and the disc /drum brake setup on those gorgeous 5-spoke 12-inch alloy wheels.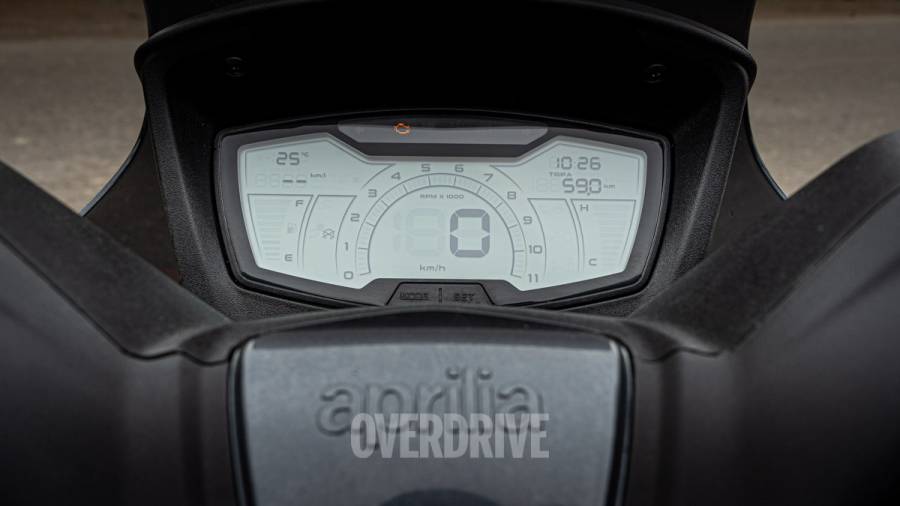 The Aprilia SXR 125 gets the 160s large instrument readout as well. It's well laid out and displays a good amount of information – which includes the fuel consumption rate, distance to empty, battery voltage and there's even a tachometer, which is a nice touch if you're one who likes to keep tabs of engine revs on the go. Trip, odometer and other readouts can be toggled through via the handlebar-mounted 'mode' button.
When we rode the Aprilia SXR160 months ago, we noticed a couple of panel gaps that definitely look out of place on a scooter at this price. And with the SXR125 Aprilia have yet to address the issue. This felt out of place for a scooter at such a premium cost.
Apart from its smaller displacement engine and therefore has lower performance figures in comparison, there is also another distinguishing factor between these SXR models. That is the fact that the 125cc scooter doesn't boast of a single-channel ABS unit like the Aprilia SXR 160 does. Instead, Aprilia have fitted the SXR 125 with a combined braking system.
As we all know, Aprilia's scooter models are a premium bunch. They lean towards the sporty side of things with the way they are setup mechanically, which make them fun to ride - something that you'll appreciate more if you exude a slightly more enthusiastic riding style. You don't simply buy an Aprilia scooter if you expect a plush ride over bumps, or outstanding fuel efficiency figures in return, no, because these are not aspects Aprilia scooters models are focused on acing in the first place. The SXR and SR scooters which brandish the Aprilia badge are all about flair and performance, and that's what makes them so unique and sets them apart from the other scooters in the market.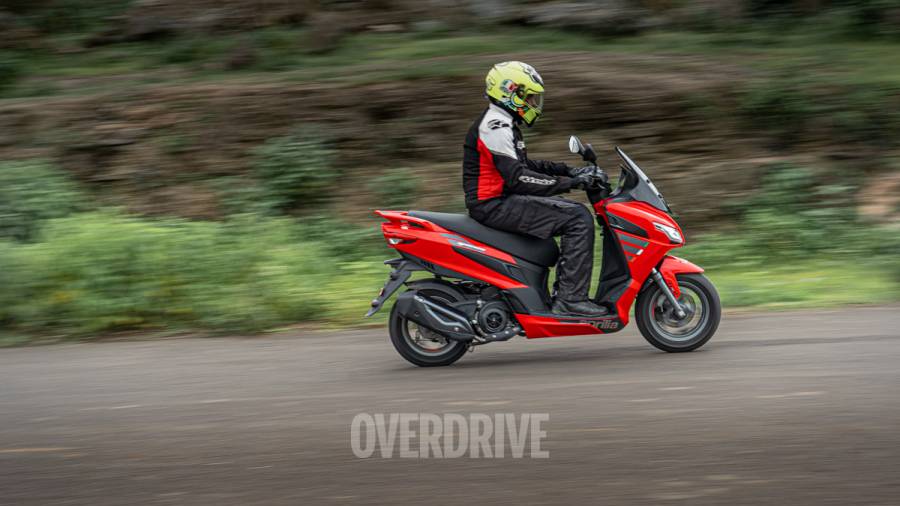 With 9.5PS and 9.2Nm on tap, performance is commendable within city limits, and getting past slow traffic is a fun and effortless affair. It almost packs the same punch as the SR model - from which it borrows its 124.5cc air-cooled engine. The SXR accelerates in a smooth, sprightly and linear manner from still to the 60kmph mark. Out on the highway, north of that mark the engine seems to gradually run out of excitement, and overtaking vehicles won't be as brisk as before. But that's not to say that the 125cc Aprilia scooter is shy of a good top speed. Give it enough time and space and it'll get you over the indicated 90kmph mark, no problem. The Aprilia SXR 125 takes to high-speed very well and feels very sure-footed.
What also deserves a mention is the brakes and tyres setup which works terrific. Unlike on the 160cc model there's no ABS with this Aprilia SXR 125, so you'll have to exercise that little more caution over the slippery stuff, but they both work very well in bringing this the scooter to a halt in a jiffy.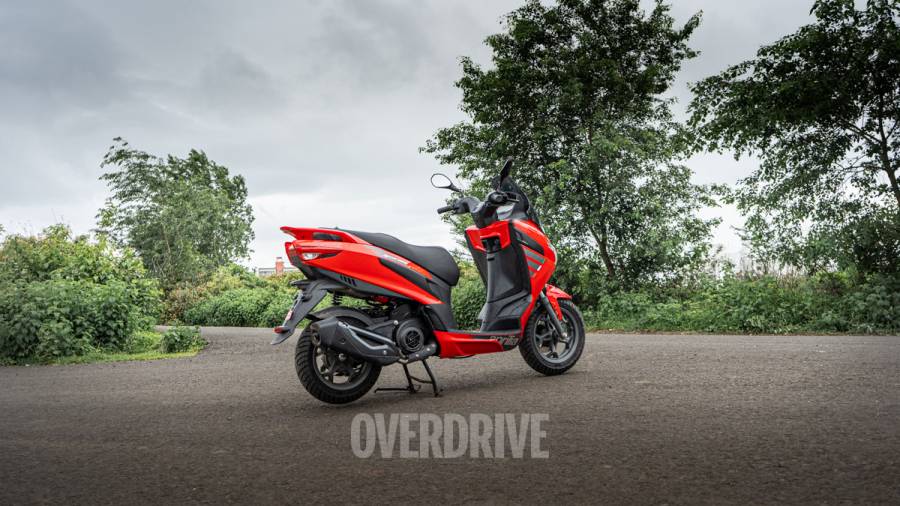 If I had to be picky, I'd say that I didn't appreciate the fact that the scooter doesn't come with a rear brake lock - a handy feature to have when halting on an sloped surface. And if I were to be extremely picky, I'd also say that I'd like to have seen the scooter come with a certain feature of convenience in the form of Bluetooth connectivity as standard. Why so? Because it's a feature that's currently being offered some more affordable scooters out in the market today, and you'll have to shell out Rs ­­2,500 more to have this feature on your SXR.
Priced at Rs 1.16 lakh ex-showroom, the Aprilia SXR 125 is around Rs 10,000 less expensive than the Aprilia SXR 160. The SXR 125 will appeal to those who appreciate the design and character of the Aprilia SXR scooter but don't really fancy the extra 1PS of power and 2Nm zing  that the 160 comes with.
Now you know what we think of the Aprilia SXR 125, we'd like to know your thoughts on Aprilia's latest 125cc scooter. Be sure to let us know in the comments section below.
Price (Ex-Delhi)
Starts Rs 1,16,000
Price (Ex-Delhi)
Starts Rs 1,27,000