2020 Triumph Street Triple RS first ride review
Despite being derivatives of fully-faired sportsbikes, it's interesting how different sport nakeds can feel from them, especially at a racetrack. The primary intent of a sportsbike is to set quick lap times while sport nakeds are meant to offer the same fire power in a more comfortable package. Changes to the steering geometry, ergonomics and engine performance usually result in streetbikes feeling more usable, easier and more comfortable. So while sportsbikes suffer on the road, particularly in terms of comfort, sport nakeds are typically slower around racetracks, despite the similar mechanicals. But the Triumph Street Triple RS always begged to differ.
The 2020 Triumph Street Triple RS looks angier now thanks to the updated headlamp design
It has done a commendable job of reducing the gap between the two types of motorcycles down to a sliver. In fact, Triumph has always maintained that unlike the base, Street Triple S, the RS is an everyday motorcycle for the racetrack. And with its comfortable ergonomics coupled to the hardware it uses, we've never had any doubts about the bike's abilities on road and track both. For 2020, Triumph has given the Street Triple RS a host of updates, which it claims refine the experience further. We spent a day riding it in Southern Spain - a couple of hours in the hills and then a few sessions thrashing it around the Cartagena circuit used by British Superbike teams for testing, which explains how keen Triumph is to promote the Street Triple RS as a track tool.
Changes galore
The bug-eyes have gotten sharper, while the daytime running lamps are a set of far more prominent looking LED strips, exclusive to the RS. In fact, the headlights are rounded from the bottom now, as a nod to the original Street Triple that used round headlamps. Triumph has also revised the design of the flyscreen and intake nestled between the headlights and the face looks sharper than before. Decals and body panels like tank extensions and the rear seat cowl have been revised as well to the same effect. The exhaust design has been changed as well, apart from it getting a carbon fibre tip now, for a sportier look.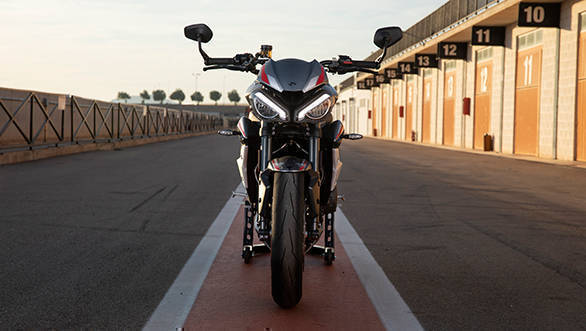 The 2020 Triumph Street Triple RS gets an updated headlight unit that's exlusive for it, making it look more identifiable than the Street Triple S and Street
Updated TFT display
The 2020 Street Triple RS gets what Triumph calls the second generation of its fully-digital, TFT display instrument cluster. The display looks crisper and brighter while offering more information in newer formats. More importantly it integrates smartphone connectivity via Bluetooth now via a module that can be purchased as an accessory. It offers turn by turn navigation, notifications and music control as well, via the joystick on the left handlebar. You can also download the My Triumph app and use it to set destinations and once navigation is activated, turn by turn directions are displayed on the instrument cluster. Interestingly, you can also connect a GoPro to the cluster and control its operations like taking photographs or videos. Neat!
The TFT display on the 2020 Triumph Street Triple RS looks crisper and offers information in revised formats now besides integrating Bluetooth connectivity for smartphones and GoPro cameras
The electronics
Triumph has tweaked the electronics suite further though there are no significant changes. Riding modes includes Road, Rain, Sport, Track and also Rider which lets you customise various parameters. Riding modes adjust throttle response, ABS and traction control settings and on track, I really liked Track mode as intrusion from the ABS and TC both is least. It allows braking late for corners, pulling wheelies without having to switch traction control off and also lets the rear slide a bit before the electronics cut the power. Just like before, switching modes on the go is a breeze, courtesy the five-way joystick. I would have liked Triumph to throw in an IMU and offer wheelie control and cornering ABS as well but Triumph tells us it has skipped the additions for now at least.
The motor
It's high-strung, inline three-cylinder engine has always been one of the biggest highlights of the Street Triple RS. In fact, in case you have forgotten, this is the very engine that powers the entire Moto2 grid in MotoGP. The outputs haven't changed at 123PS and 79Nm (up from 77Nm earlier), but Triumph is claiming a 9 percent improvement in terms of the power and torque delivery in the midrange. This has been achieved through the use of new exhaust cams and intake ducts for better grunt – peak power is produced at 11,750rpm now as opposed to 11,700rpm earlier, but peak torque now comes in at 9,350rpm now, down from 10,800rpm before.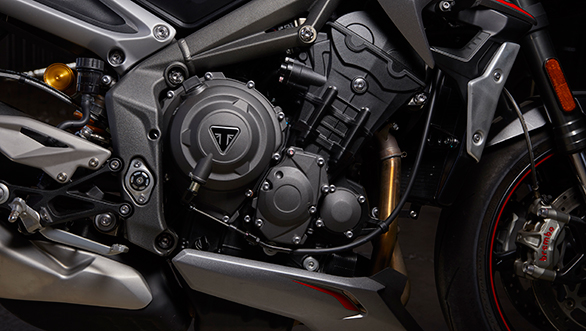 The 2020 Triumph Street Triple RS is powered by an updated version of Triumph's 765cc, triple cylinder engine, which shares it basic architecture with Moto2 machines and boasts better bottom-end and midrange grunt now
Triumph tells us its Moto2 and Daytona 765 engine teams have worked even more closely on the RS engine this time. Engine parts like the crankshaft, clutch and balancer shaft use higher precision machining now which has helped in making them lighter, more precise and thus reduce losses overall. Of course, the revised exhaust system has helped improve the power delivery as well, as Triumph claims it a freer flowing unit. More importantly, the Street Triple RS is now Euro V compliant. So how do all these changes add up to the riding experience? Our day started off with a short ride in the hills and first things first, the triple cylinder engine sounds sweet!
On the road
Our road ride was a tad too short but was good enough for me to notice how much more tractable the engine feels. Riding through some of the towns I was able to hold third gear at as low as 30kmph, which is commendable for a high-strung machine like the RS. More importantly engine response to throttle openings even at low speeds is impressive, as the engine pulls cleanly, without a word of protest! Bottom end grunt has clearly improved thus and rideability in traffic is a lot better. Overtaking has also become easier, as each twist of the wrist results in more shove from the engine. The three pot motor was always refined but feels even smoother now while also feeling quicker to rev which makes it more enjoyable, even at urban speeds.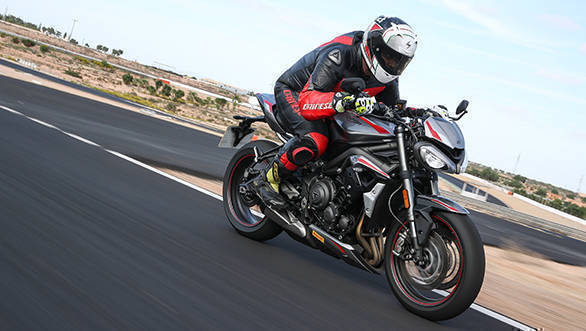 The 2020 Triumph Street Triple RS feels more tractable at slow speeds and its engine pulls even better, without having to downshift
The clutch feels lighter but more importantly, the quick shifter allows clutchless gear changes in both directions now, as opposed to only upshifts earlier. The suspension setup remains unchanged though – the RS continues to use top of the line, fully-adjustable Showa upside down forks along with a fully-adjustable Ohlins monoshock which make for an impressive ride quality. The 2020 Street Triple RS also gets better rubber now. We've always loved the grip from its Pirelli Supercorsa SP tyres but the 2020 version comes equipped with the updated, Supercorsa V3 tyres which are even better. Of course, the best place to test their grip levels is a racetrack, so we headed to Cartagena.
On track
European summers being a lot cooler than ours air temperature was just under 30 degrees Celsius, making it perfect for a track day. Triumph also had the tyres wrapped in warmers before we headed out which meant grip levels were optimum from the word go. And needless to say, the RS was in its element as soon as I exited pitlane. The three cylinder motor has always been an aural delight at full chat and sounds even better now. In fact it sounds so good with the stock exhaust I cannot imagine one wanting an aftermarket one, for the sound at least. No wonder Triumph has given up offering aftermarket Arrow unit.
Thanks to its more tractable engine, the 2020 Triumph Street Triple RS offers better drive out of corners on track
Cartagena is a pretty technical circuit and has an interesting mix of corners – 8 right hand turns and 7 left handers to be precise, besides just one long straight, the start-finish one. This allowed us to experience the updated RS well on track. In fact, the bike feels even better as a package now and dare I say, more potent as a track tool, despite being a motorcycle meant for the road. The improved midrange allows quicker corner exits as throttle openings result in stronger acceleration out of bends. Acceleration down the main straight was impressive too – the straight isn't particularly long, but the Street Triple RS breached the 200kmph mark with ease and I was able to see a little over 210kmph before having to throw the anchors for the first corner which was a fast, flowing one.
The updated Pirelli Supercorsa V3 tyres offer more grip, even at the very edge, making the 2020 Triumph Street Triple RS a more confident handler
Another feather in the RS's hat has to be its light weight which helps a lot when it comes to changing direction quickly. In fact, at 166kg dry the Street Triple RS is still the lightest middleweight naked and certainly impressed around the tighter bends at Cartagena, as also the tight chicanes that called for it to be flicked from side to another quickly. At the same time, the bi-directional quickshifter works flawlessly, offering slick, precise gear changes in a flash. In fact, it only adds to the delight of hammering the bike around the circuit and lets you focus on riding and transitioning from one side to another better!
The suspension setup on the 2020 Triumph Street Triple RS remains unchanged and adds to the bike's forgiving nature on track
The twin-spar aluminium frame has a lot to do with that as well and in a way I'm happy Triumph has not changed it, as it has always helped in making the bike so much fun to ride. I cannot help but heap praises on the suspension setup as well. On track, the Showas and Ohlins together offer brilliant feedback, whether leaned over to the edge of the Pirellis or braking hard from 200kmph. I doubt the suspension will disappoint on the road either – the setup remains unchanged and the RS never felt stiff, even on Indian roads. If anything, it feels even more forgiving on track now and allowed me to correct my line easily if I ran wide or carried too much speed around corners.
The Triumph Street Triple RS has always been one of the sweetest, most potent middleweight nakeds around and impresses even further in its new avatar
First impressions
The Street Triple RS has been one of the few middleweight nakeds that straddled road and track duties with equal aplomb and the updated version only feels better. The more usable engine performance, lighter feel and grippier tyres all come together to make it even more engaging, be it on the road or on track. In fact, it feels even more potent on track, allowing you to explore your and its own limits further. The bike is slated to come to India in January 2020, which is just a couple of months away and makes even great sense as an everyday motorcycle that's also track worthy. More importantly, I expect Triumph to not hike its prices, which should help it offer better bang for your buck. That said, the recently launched KTM 790 Duke has come across as a seriously impressive middleweight naked, and I'm really curious to see how the new Street Triple RS will feel against it!
Also see: 2020 Triumph Street Triple RS | First Ride Review
Price (Ex-Delhi)
Starts Rs 8,84,000