2020 Skoda Rapid TSI automatic road test review
Life seems to have come full circle for the Skoda Rapid in the past year. Sure, the Rapid has been the best selling Skoda in India in the nine years that it has been around, but in recent memory, newer rivals have taken much of its glory away. Most nine-year-old cars would usually wither away here, but the Rapid's post-BSVI resurgence has been a heartwarming, and an enthralling one. Skoda India seems to have found the best balance between value and engagement with the revised Rapid. It sold more of these cars this year, with a single, ostensibly niche, turbo-petrol manual engine option than it did last year when both diesel and petrol options were still on sale.  
But here we are driving what may be the Rapid's final flourish before next year's replacement, an automatic that is meant to widen this newfound appeal even further. In a good insight into the Skoda-VW combine's commitment to its India 2.0 resurgence plan. Skoda has swapped its DCT gearbox - tech almost synonymous with the VW Group - with a six-speed torque-converter. The Czech brand says this was done to reduce cost and dispel the perceived maintenance issues associated with dual-clutch units.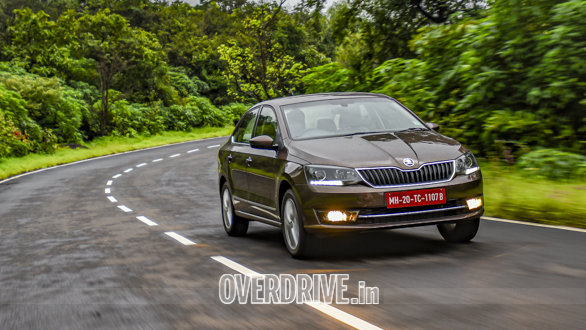 Our 0 to 100 kmph test showed that the Rapid automatic takes 11s, 1.2s more than the manual to complete this run. A bit tamer then. This feels true when you drive with the gearbox in its default D mode. Here, it functions as a perfectly acceptable slush-box, rolling through upshifts almost imperceptibly in stop-go traffic. A trait only the very best DCTs can replicate. It's only when the road ahead opens up a bit that you realize that the 'box is a slightly conservative one in this mode, almost akin to what an economy mode feels like in other such gearboxes. The unit is usually always in the optimum fuel-saving gear, but will only get there after slipping for a few hundred rpms. This effectively keeps what is otherwise a feisty engine on a fairly tight tether. This anomaly aside, you will make untiring progress around town or out on the highway, with some pay-off too. The Rapid AT returns 11.3 kmpl in the city(1 kmpl more than the manual) and a similar 16 kmpl on the highway.
Our suggestion, especially if you aren't on a mission to eke out the last bit of range from your car would be to drive this AT exclusively in its S mode. This feels like a far more natural fit to the Rapid's attitude on the road. In this sportier mode, there's almost none of the peaky power delivery you sometimes associate with such a gearbox setting. The engine usually stays in a higher gear than what it would be in the D mode, and those kickdowns we didn't like happen spontaneously. You are able to fully exploit that big gush of power this 1.0 turbo makes over 3,000 rpm. Here the Rapid will hold revs right up to the 6,000 rpm redline, with a few hundred more thrown in for good measure when you choose to shift manually. With the wide powerband and well-spaced ratios, the Rapid feels positively 'rapid' right up to highway speeds, far more than the manual or even some DCT-equipped competitors as our in-gear times suggest. Once here, it is ready to drop upto two gears with a jab at the accelerator, so whether you are passing a train of slower cars or hooning up a set of curves, the Rapid always feels up to the task.
The only quirk of this gearbox that we couldn't reconcile with was its tendency to lurch through downshifts under braking in either mode. These downshifts are timed well enough to offer good engine braking but don't seem in sync with the motor winding down. Also, a set of paddle shifters would have fitted right in here.
The rest of the Rapid AT remains as stellar mechanically. We've spent a lot of time the driving smaller turbo-petrols recently, and this 1.0-litre TSI unit remains at the top of our list. With 110PS and 175 Nm, most of its peers have a numerical advantage but can't seem to match that sprinkling of character this three-cylinder has in its power delivery. Helping massively is the fact that Skoda seems to have dialled out some of the harshness from this motor we didn't like earlier.
The Skoda sedan's dynamic package makes the best of this engine and gearbox combination. Show it the daily grind and the Rapid is supple enough to absorb pretty much everything but the worst our roads have to offer. At speed, there is that typically Germanic solidity, but where the Rapid truly shines is around bends. Keen drivers will like the balance in the fairly soft suspension that lets it lean into corners progressively, with sure-footedness difficult to find elsewhere in this segment.  
The Rapid you see here is the Style variant. This gets most of the conveniences of the range-topping Monte Carlo, but packaged in a more formal suit. The dark body highlights and alloy wheels are swapped for chrome trimmings, more formal colours and single-tone wheels, still the fairly grippy 195/55 R16 Goodyears. We think the Monte Carlo does a better job of masking this old, though not outdated, design. On the inside, the dual-tone plastics and upholstery feel as good as any competitor, and better put together, but the layout and packaging gives away the Rapid's age. You get conveniences like climate control, auto headlamps and wipers, cruise control and up to four airbags, but cars like the Verna and City have moved on several notches in this regard.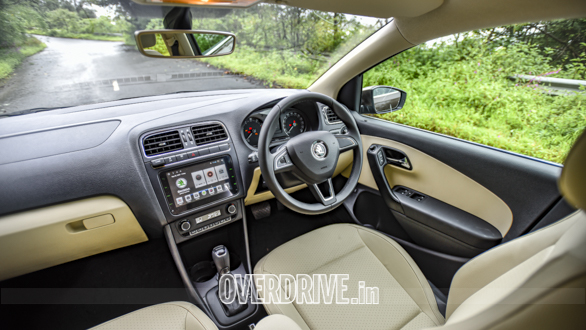 But we don't think many will buy the Rapid for its features list. The Rapid now seems quite clearly aimed at value seekers and keen drivers. Aside from the massive convenience it adds, the new gearbox seems to have been brought in keeping both sections in mind. Its two modes allow it to be frugal or engaging at whim.
The AT is available from the newly introduced and reasonably equipped Rider Plus variant, at just over Rs 11 lakh, on-road and Rs 1.5 lakh more than the manual. That is a bit of a jump, but still makes for the most affordable full-size automatic sedan on sale in India. The few tuning niggles we spoke of are quickly forgotten at this price given how sophisticated the Rapid AT otherwise feels to drive. Although this immense sense of value becomes diluted when you see that the Style and Monte Carlo cost well over Rs 15 lakh. The economics of it aside, as swan songs go, the Rapid's seems to be quite tuneful. 
Also Read,
Comparison test: Hyundai Verna vs Skoda Rapid 1-litre turbo petrol review
2020 Skoda Rapid TSI BSVI launched in India, priced from Rs 7.49 lakh
Spec comparo: 2020 Honda City vs 2020 Hyundai Verna vs Maruti Suzuki Ciaz vs Skoda Rapid
Price (Ex-Delhi)
Starts Rs 7.49 Lakhs
Price (Ex-Delhi)
Starts Rs 10.9 Lakhs
Price (Ex-Delhi)
Starts Rs 9.31 Lakhs
Price (Ex-Delhi)
Starts Rs 8.2 Lakhs