2020 Renault Duster turbo-petrol CVT road test review
The Renault Duster has had a chequered presence in these pages. Just in the last two and a bit years of this author being around, the AWD was the favourite in our 2018 SUV Slugfest. Then last year, the facelifted Duster, similar but not quite the same as the one here, more than held its own against some far newer contenders. But the Duster you see here is different from all those. With a new BSVI turbo-petrol heart, it promises to be one of the more compelling performance deals of this year.
What is it like?
Renault, like some of its peers, has decided that diesel engines don't make economic sense anymore with the BSVI norms in place. Consequently, the much-liked K9K diesel engine is now gone. It might seem like a spirited move to replace this dependable motor with a buzzing small-capacity turbo-petrol, but buyers too are now looking to replace that sensation of diesel grunt with something a bit lighter on their wallets.
This TCe motor's responsiveness comes from tech like mirror coating in the cylinder walls, a compact cylinder head and motor-driven wastegate/ and blow-off valve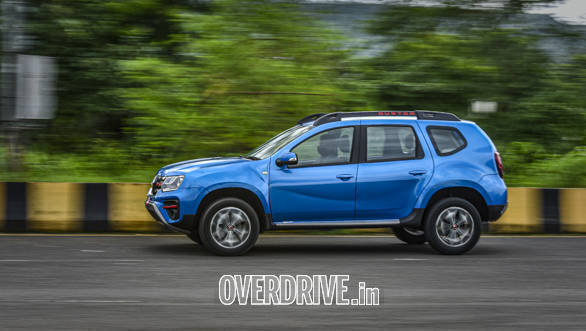 The 1.3-litre TCe four-cylinder turbo-petrol is meant to fit right into this brief. This family of engines debuted globally in 2018, and is one of many collaborations between the Alliance and Daimler. This engine powers a range of Renault cars from the Clio onwards and all of Mercedes-Benz's entry-level FWD models like the A, CLA and GLA-Class. Renault India hasn't skimped out, we get this engine in its most powerful 156PS and 254 Nm iteration, albeit with a 5PS drop to accommodate our fuel quality. This is a significant 46PS and marginal 9 Nm increase over the diesel. More pertinently, the new petrol makes its peak power later and torque earlier. Pairing with this engine is a seven-step CVT seen here, and a six-speed manual.
As soon as you crank the Duster with an anti-climatic, and a bit old-fashioned now, physical key, this motor's pedigree becomes quite apparent. It's near-silent at idle and at low speeds. And things only get better on the move. There's consistent torque at your disposal right from above idle, with power building progressively into the revband. Unlike some boosted petrol that are happiest in the mid-range, this engine likes to be revved well past 5,000 rpm. It seems like the best of both worlds, offering the payoff of a naturally-aspirated motor and as our in-gear times suggest, the flexibility that turbo-petrol engines are known for.
The 0 to 100 kmph time doesn't accurately depict the engine's character, mainly because the CVT doesn't allow full-bore launches from standstill. Aside from this, the XTronic CVT here is quite a revelation, miles away from whatever notion you might have of such units. Sure, the 'rubber-band' effect is mildly evident in certain low-ratio, part-throttle situations like when getting back to speed after a speed-bump, but the unit is otherwise very well integrated. Even during heavy throttle inputs or kickdowns, this Nissan-sourced gearbox shifts through its seven pre-defined ratios by quickly correcting any mismatch in wheel and engine speed. This becomes almost seamless under light loads or when you take manual control. Evidently, Renault has chosen against making this overtly economy-focused. The experience is far more natural for this, and with the responsive engine, there is no need to pre-empt moves like you otherwise might with a CVT-equipped car.
Of course, this comes with a catch. This drivetrain isn't the most efficient, returning 10.54 kmpl. There is an idle start/stop system, but Renault could have kept the Eco mode from the diesel engine, and maybe even offered a cylinder deactivation function as on some rivals.
How is the rest of it?
At the fag-end of its second-generation internationally, the first-gen Duster has been around in India for a good eight years now and debuted internationally in 2009. This is now quite evident, although as a testament to how good this SUV was to begin with, it never feels overwhelmed by this potent drivetrain. The impeccable ride comfort remains, although its rivals have now set new standards in body control and steering precision. We also would have liked Renault to have updated the rear brakes to discs. This, with better progression than on offer currently would have been an ideal setup.
The Duster got its third facelift last year and again the no-nonsense approach to the original design has held it in good stead. It still looks more 'SUV' than anything else its size, and the updates suitably capitalize on this. Unique to the turbo-petrol are the red highlights you see all around, a sharper set of alloys and a chunkier exhaust tip.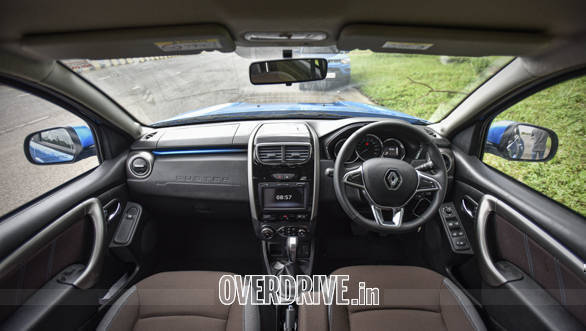 The interiors haven't held on as well, although the visibility that the old-school design offers is refreshing. But with modular architectures now the norm, the Duster's packaging constraints are stark. The seats themselves remain reasonably supportive and comfortable, although knee and headroom are not what you expect currently. It's the same when it comes to storage spaces and the features on offer.
Should I buy one?
Renault continues to offer the 1.5-litre N/A petrol for the value-seeking buyer. Priced in between the sub-four metre and the C-segment SUVs, the turbo-petrol is a decision of the heart. The lower-spec versions are still good value, but the real appeal comes from the potent drivetrain. No other car offers this much power at anywhere near this price, so if your priorities lie there then this Duster is the one for you. For us, if this 1.3 is anything to go by, we're very excited to see what its 1.0-litre cousin does for Renault's newer, more popular cars.
Images by Anis Shaikh
Also see: 2020 Renault Duster 1.3 turbo-petrol | Road Test Review

2020 Renault Duster turbo-petrol: Prices and Variants explained
2019 Renault Duster facelift road test review
OD SUV Slugfest: Renault Duster
Price (Ex-Delhi)
Starts Rs 8.49 Lakhs