2020 Range Rover Evoque D180 road test review
I've lost count of how many times Sumit, our shutterbug, has called this baby Rangie a Velar instead. Enough times though, that I soon find myself calling it the Velar too. So, let's just stick with that then, here is the new-gen Veloque. I kid, but in its second-generation, the 2020 Range Rover Evoque comes closer to its bigger sibling, the Velar, in many ways, which is a good thing considering the Evoque has always been priced closer to a segment above its immediate rivals in terms of size, like the Audi Q3 and Volvo XC40 to name a few. So then, does the Velar-styling, more spacious interiors and new tech make up for its price tag?
What's changed over the old one?
Everything, save for the door hinges and powertrain, apparently. This second-gen Evoque truly is all-new, and is the first car to be underpinned by JLR's new Premium Transverse Architecture (PTA), which uses a mix of ultra-high strength steel and aluminium for a claimed 13 per cent stiffer structure. It's also ready to accept both plug-in hybrid, or mild-hybrid powertrains from the get-go, a first for the smaller Range Rovers. India won't get those for now, despite JLR confirming their commitment to PHEVs over pure EVs for the immediate future. What we do get is the advantage of the 20mm increase in wheelbase, almost entirely in extra rear seat kneeroom and cargo space, while the interiors see plusher materials and new technology. Oh, it can also wade through 600mm of water, a whole 100mm more than before.
How does it look?
Somehow, even better than before, despite being possibly one of the toughest acts to follow, iconic as it was. Styled by JLR design director, Gerry McGovern, the Evoque borrows the front and rear styling cues from his other masterpiece, the Velar. Which means it's got clean, simple, minimalistic lines. Which, is a lot of adjectives to say it looks like a mini-Velar, pop-out door handles and everything. It's grown a mere millimetre in length, despite the increase in wheelbase, and looks quite obviously different from every angle compared to the outgoing Evoque. Instead, the new Evoque can be distinguished from the Velar (apart from the obvious difference in size) by the extra slot under the grille from the front, and the more upright rear right. Our test car, in the base S trim, comes with chunky, split five-spoke 18-inch wheels shod with performance-oriented Goodyear Eagle F1 A/T rubber.
What's it like inside?
Similar to the outgoing Evoque with the dashboard's two-level implementation, but better in every way, with more tactile and premium-feeling materials everywhere you touch. The soft upper dash doesn't just feel great, its matte finish has zero reflections on the windscreen, making for a nice upmarket feel altogether. Not to mention the inclusion of the new Range Rover steering wheel, with its feather-touch controls also seen in the new climate control set-up.
Top variants get digital dials, and a twin 10-inch touchscreen set-up (Touch Pro Duo), as on larger Rangies, but our test car has a more basic inset MID and analogue dials, apart from a lower touch-sensitive panel with rotary knobs for the climate control, which I actually prefer. The driver's side climate control even doubles up as the Terrain Response 2 selector, making the cockpit equally minimalistic as the outside. Is there such a thing as too minimalistic, though? Storage on the central tunnel is limited to the cupholder, and larger bin under the armrest, until you find the hidden second storage level under the climate controls.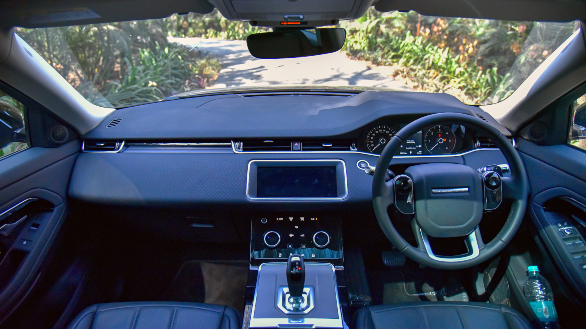 The seats are expansive and hold you in place well, with a great view out of the glasshouse, save from out the narrow rear windshield, made up for in part by the reversing cameras. Unlike some other Rangies, the window switches are exactly where you expect them to be, so we're glad some things haven't changed. Space at the rear is improved for sure, but not by much if you're going to try and seat three abreast. Meanwhile, cargo space is also up and the surprising thing is the inclusion of a powered tailgate on this base version, which can be opened and closed from within the cabin. This isn't a feature you see too often at this price point.
How does it drive?
The D180 variant we drove is powered by the same BSVI compliant two-litre diesel under the hood of the new Jaguar XE, putting out 180PS and 430Nm torque. And while the overall refinement levels are great, with very little road noise creeping into the cabin, the motor still starts with a shudder. It's annoying enough to want to disable the automatic Start/Stop system, as it can literally shake you out of the reverie that the excellent cabin affords.
It's mated to a 9-speed automatic, which seems more relaxed than alert, as was always the case. Shifts are quick enough under regular driving, but you'll feel the split second hesitation under heavier throttle upshifts. Good news is, with most of that torque available from 1,750rpm, you've got instant shove whenever you call for it. It even pays off to ride the surge to about 3,500rpm or so, by which point you'll do better to shift up. The 0-100kmph dash takes 9.2 seconds, while roll-on acceleration figures are what one would expect from this class of SUV, hovering at 2s when accelerating from 30-50kmph with the Evoque kicking down a gear in the process. It's fairly relaxed out on the highway, the motor spinning under 1,800rpm, right in the meat of its torque band at 100kmph, amounting to a respectable 14.9kmpl efficiency figure, which dropped to 9.3kmpl in city traffic.
But if you're someone who likes the feel of piloting a big SUV, the Evoque will give you that, despite its compact length. Blame, or thank, the heavy steering at low speeds, though the flipside is unshakeable confidence out on an open road. The slightly firm ride at low speeds comes into its own at higher speeds, leaving passengers in the cabin unperturbed. A couple of really deep dips seemed like they would catch the Evoque out at speed, but the standard steel springs and dampers do a mighty fine job of keeping all its heft in shape.
The Evoque doesn't have a Sports mode, but largely doesn't require one – it'll pitch into a corner, but still hold its line surprisingly well! Honestly, the tyres sound like they'll give up way before the chassis does. That's how tightly put together the entire car feels. That's high praise indeed for just a 13 per cent improvement in structural stiffness. Well, even if you do come in too hot, shedding the extra kmph isn't a task with the strong, confident feel from the brake pedal. The Evoque slowed from 100-0kmph in 40.9m and 3s, which is better than most SUVs of this size.
Verdict
At Rs 54.9 lakh (ex-showroom), you could either look at the new Evoque as an expensive "compact" SUV, or a cracker of a deal on a Velar, if you don't really need the extra space of a larger SUV. The fact that it's now better equipped, slightly more spacious than before and has safety features like the lane keep assist sure will go a long way towards making it a better deal. One thing's for sure, you'll never regret your choice when you look back at it.
Photography by Sumit Gaikwad
Price (Ex-Delhi)
Starts Rs 32.48 Lakhs
Price (Ex-Delhi)
Starts Rs 44.98 Lakhs
Price (Ex-Delhi)
Starts Rs 64.12 Lakhs
Price (Ex-Delhi)
Starts Rs 39.9 Lakhs