2020 Mercedes-AMG GLC 43 Coupe road test review
It's not very often you call a raging AMG coupe-SUV such as the Mercedes-AMG GLC 43 one of the more momentous cars to have launched in India in the past year. But this one comes close, it's the first-ever AMG model to be assembled in India. Now, this might not mean much to most regular car buyers, but as a marker to the growth of the Indian auto industry, and its swift post-COVID recovery, there aren't too many better examples out there.
As for the Mercedes-AMG GLC 43 Coupe itself, it promises to offer a seemingly no-compromise recipe of tasty AMG thrills in a more approachable package, until the A 35 arrives at least. Like the standard GLC and the newly introduced GLC 300d Coupe earlier this year, this too has been treated to a fairly significant mid-life update.
Mercedes-AMG GLC 43 Coupe Styling
When we drove the standard, diesel GLC Coupe, we weren't totally convinced by its take on how a coupe-SUV should look like, the general debate over this bodystyle aside. This AMG-fettled version largely corrects that. See it alongside the older car, and the new GLC 43 seems to do a far better job of capturing the essence of what an AMG should look like.
This Selenite Grey Magno complements this improved look too, bringing out these contrasting bodywork elements. Aside from this, the new LED lighting, flatter front end and the AMG-specific rear-spoiler are other bits that have helped improve this AMG's looks.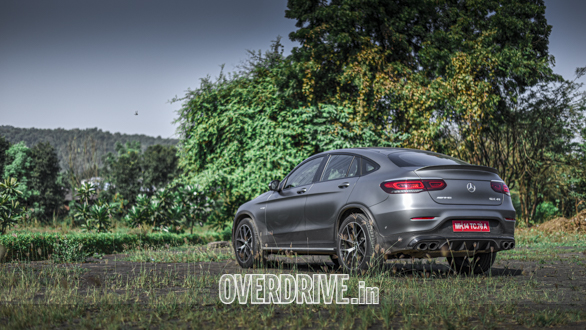 The Panamericana grille and the ornamental slatted and honeycombed bumper treatment create a more direct link to larger AMG SUVs. The sinewed bodywork around the sides and the lower ride height are of greater effectiveness though, giving the GLC 43 a less top-heavy, athletic stance. Of course, these very attractive split five-spoke 20-inch wheels help with that feeling, now one size larger than the pre-facelift car. Personally, most effective is the new-gloss-black finished diffuser motif to the rear bumper and the AMG-specific quad exhaust set-up aside it. This cuts through what is quite a visually heavy rear end and makes the entire look significantly more cohesive.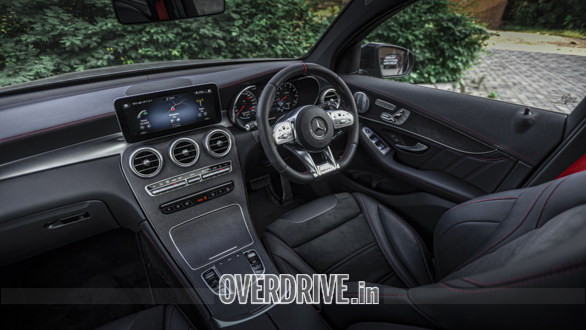 Mercedes-AMG GLC 43 Coupe Interiors and Features
Here you have the fast-car must-haves like the flat-bottomed, suede-finished AMG steering wheel and the contrasting red seat belts and stitching. Even the model-specific front seats are done up in suede and offer almost infinite adjustability and support if a very aggressive side bolster that makes getting into them a bit difficult.
Aside from this, and in contrast to the big-speed looks of the GLC 43, the interiors draw a more sober line. This is largely on account of the black and silver inserted dashboard with its dark open-pore wood trim. This is as rich and textured as you would expect from a modern Mercedes, but maybe a sportier option like a carbon-fibre inspired lacquer would have expressed this car's intent better. The corollary, if you want a more soothing environment then this works just fine. Despite this older layout not bringing that initial drama of the widescreen cockpit from newer Mercs, this MBUX system is just as slick and easy to use. Of course, you also have the usual AMG hotkeys for the exhaust and suspension settings on the centre tunnel and the very racy AMG-specific graphics in the infotainment and instrumentation.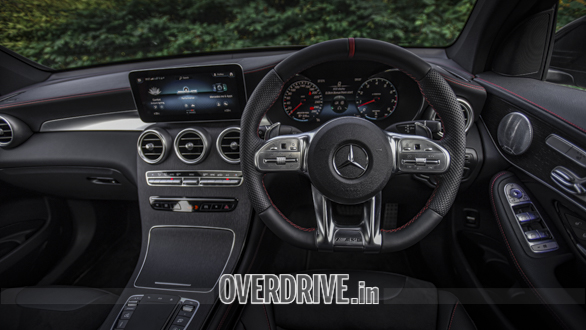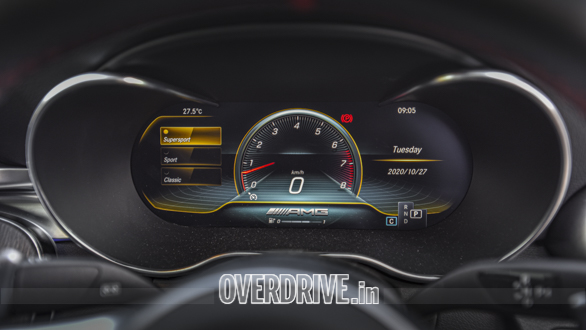 In what is becoming an appealing trend with these AMG models, the GLC 43 comes in a single fully kitted out variant. We would have replaced the heated front seats with cooled ones, but 13-speaker Burmester audio, wireless charging, Mercedes Me suite of connected-car features and the rich ambient lighting make it one of the best-equipped cars at its price point.
Just like in the standard GLC Coupe, there is a good amount of head and knee room for rear passengers even if the seats could be a bit more supportive. The dark interior theme, small windows and small rear windscreen make this a cosy place to spend time in, but this is a sense that also works to heighten the performance credentials of this SUV.
Mercedes-AMG GLC 43 Coupe Driving Impressions
Sat in the fairly high-set driver's seat of the GLC 43, you have quite a good view out in front of you through the upright windscreen. And with the powered steering and seat adjustment, finding a perfect driving position is not that difficult at all. The clear 360-degree camera is also especially useful here with its many viewing angles, with the heavily raked roofline giving up quite a bit of rear visibility.
This 3.0-litre twin-turbo V6 wakes up with a deep, angry growl that seems to give nothing away to the larger GLE 53, settling into a faint rumble when driven sedately. But get past 2,000 rpm and a shrill burble is a constant accompaniment to the driving experience, with a typically AMG 'braap' on the overrun. So at first acquaintance, the GLC 43 seems to do a very good job of capturing those barely-restrained, big-engined shenanigans that are an AMG signature. Aside from this aural drama, the GLC 43 is also very quick, despite its placement at a lower rung on the AMG performance ladder. We tested this SUV's 0 to 100 kmph time to be as quick as that of the GLE 53's at 5.9s. Helping here are the software tweaks that have upped the engine's power output to 390PS, a 23PS gain, while torque remains unchanged at 520 Nm.
So the GLC 43 is quicker in a straight line than you would ever need it to be, and combined with the 31:69 rear-biased AMG-tuned 4Matic AWD system, has a character on the road that does a very good job of mimicking the clean, balanced driving experience you can expect from a purely RWD car. There is maybe a touch more roll into corners than you expect from something as stiffly air-sprung as this, the GLC 43 isn't all that heavy for a modern performance SUV at 1,585 kgs. But the GLE 43 will still handle itself neatly, if not in the deftest way, whenever you dive it into bends, with the AWD system ensuring it is not a nose-heavy experience in these sections at all.
Despite the quite brisk turn-in we wish the steering offered a bit more feedback, and consequently confidence, especially when tackling a string of tight corners. Expectedly this experience can be fine-tuned to your liking with the drive modes, including a very adjustable Individual driving mode. New with this update is the Slippery drive mode and a simplified AMG Dynamics stability system.
As you would expect from something this quick, the GLC 43 is also very good at shrugging off large distances. The AMG-specific 9-speed TCT gearbox fires away shifts either almost imperceptibly or with a decisive shunt depending on your chosen mode. It could do with a touch more responsiveness though and we would have liked a little more effortlessness in the way this engine, and the gearbox, responds to a sudden demand for power. Using the feelsome paddles makes for a more eager experience but with no electrical assistance to counter the dull-spots in the power band, the GLC 43 needs to work hard to replicate that almost addictive sense of effortless progress. But past this, there is some serious poke right up to the limit. Especially commendable though are the GLC 43's brakes, which handle stops from speed drama-free.
The rich, comfortable and very practical cabin means that the GLC 43 is a nice place to spend time in. It's not all that large so manoeuvring through our manic roads isn't a very difficult task. The AMG is reasonably quite comfortable at speed, we just would have liked a bit more travel in the suspension to absorb undulations and speed bumps a bit better, and some more pliancy over sharp imperfections on the road.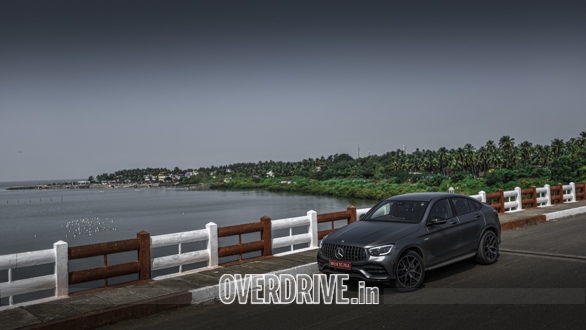 Mercedes-AMG GLC 43 Coupe Verdict
The facelifted Mercedes-AMG GLC 43's party trick will quite probably be its pricing. Mercedes-Benz India has added an incredible amount of value to its AMG models of late and that should only improve with the GLC 43 being assembled locally. At the less than Rs 75 lakh ex-showroom that we expect this SUV to be priced at, there are very few cars around it that can match the GLC 43 for sheer presence and pace, a few abberations aside. Add the cachet of the AMG badge and an expanded list of features and the GLC 43 becomes an option that needs to figure very prominently in your fast car-buying decision making.
Mercedes-AMG GLC 43 Coupe real-world performance and efficiency
0 to 100 kmph - 5.9s
30 to 50 kmph - 1.7s
50 to 70 kmph - 2.1s
60 to 80 kmph - 2.4s
100 to 0 kmph - 37.6m/2.8s