2020 Mercedes-AMG C 63 Coupe road test review
I'm on a road somewhere on the outskirts of Mumbai. Global positioning places us somewhere in the Sahyadris, or the Western Ghats, that range of mountains that encloses India's west coast from Gujarat all the way down to Tamil Nadu. The roads in these parts are spectacular as if someone took their time and patience to meticulously lay down every kilometre of tarmac. The surface is so unblemished and well surfaced, it throws up pin-sharp reflections when it rains!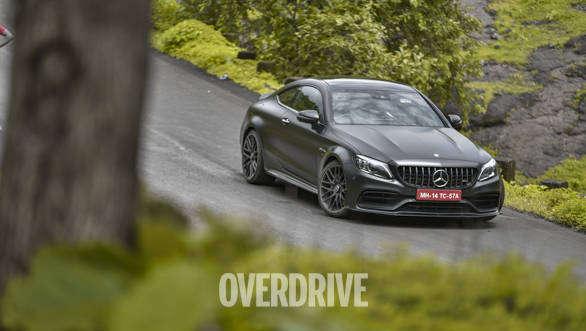 But then again, I wonder, if in these parts there is anyone to appreciate these roads. The locals are largely farmers, whose monthly wage wouldn't entirely fill the tank of the car I'm driving past them as they sow their crops. These locals are largely commuter motorcycle owners, a few of the more well-to-do possess a Maruti micro mini or a Mahindra pickup. The irony of the situation is not lost on me. I'm driving a car that costs Rs 1.4 crore, through a belt of India that toils from daybreak to sundown on minimum wage. And yet, when I stop in their village, there is amazement in their faces. Amazement at a car that looks and sounds the way it does. This is the aura of the AMG C 63, it casts a spell wherever it goes. For a few moments, the C 63 managed to elevate even these humble folks, dispel their gloom, transporting them to a place of wonder and amazement. It made me glad to share that joy with them because I was enjoying this car myself.
Why, one early morning, I've even had my watchman run-up to my apartment, 'Sir, random public is coming up to your car and shooting pictures!!! Should I let them?' Of course, let them! Let them find some joy in these days of gloom.
Design and Styling
If you run a search on Google for the first generation AMG C 63, you will see that it has been around for just a little over a decade. In my opinion, the 1st generation AMG C 63's looked the business. It was a muscle car, and it looked full of muscle. Flared wheel arches and the beefed-up aprons lent it the necessary credentials. This AMG C 63, now in its 3rd generation sports a whole new look. It's a coupe sporting a subtle sports car-like silhouette in its approach. It sits low, has a wide body with sensuous curves that appear like they were shaped in a wind tunnel. The roof's low, the seats even lower, the rear shapely and that front end looks much longer than magnificence sticking out the rear. Nowhere do you get a hint of its muscle-car sedan lineage. This AMG C 63 is in any shape and form a baby GT. And that is where I have a fundamental mental block. In my mind, the AMG C 63 is still that monstrous sedan I drove last decade. It looked OTT with those slapped on fender extensions, Odin bellowed through its sports exhausts and it went through rubber like a streetworker pulling overtime!
But don't get me wrong, this generation's AMG C 63 Coupe grabs a lot of attention as well. People everywhere, as I mentioned earlier, just whip out their camera phones and fawn over the car. It's partly down to that graphite gey paint, it is not something you see every other day. You just know a car is special by looking at that paint job, those fat tyres and the touches of carbon fibre. I quite like its stance, it crouches, powerfully, dangerously, and any second you expect an explosion! For the uninitiated, it has enormous appeal, but it is more Gerard Butler in Olympus Has Fallen, not Butler in 300! Handsome, not rugged.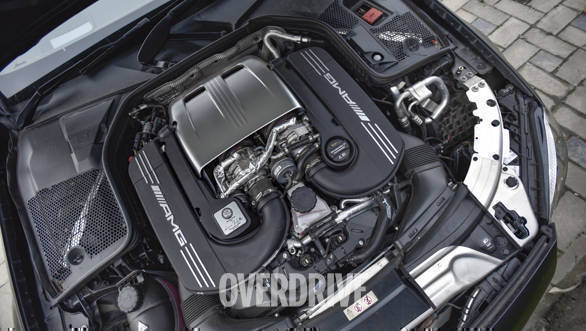 Powertrain
The actual explosive power of the AMG C 63 comes from the 4.0-litre bi-turbo V8 that sits under the hood. It's another magnum opus from Affalterbach, though it is still the same engine that has been around for a few years now powering several cars in the AMG lineup. This particular engine is the standard version, whose output is rated at 476 horsepower and 650Nm. It is less powerful than the AMG C63 S, but that's an absolutely moot point. If 476 horses aren't good enough for you, then you're last name better be Hamilton!
This engine uses the 'hot in vee' philosophy where the twin turbochargers sit in between the bank of cylinders. This helps make the engine unit compact and allows better longitudinal packaging. This works well for the AMG C 63 especially, which has a shorter engine bay than some of the larger cars that use this same V8 powertrain. Its performance is mind-numbing. When you push down, hard, on the throttle pedal, the universe goes through another big bang moment. Atoms explode and matter is created, matter that engulfs you in one enormous sweep of power and torque. Its so, so easy to kick the tail out in this car, it can get alarming. Not even for once should you switch off the traction control, unless you're in a large open-air parking lot with not a soul or obstacle in sight. And no, I'm not about to reveal just how often I scrubbed the tyres laying darkies.
What is entirely new is the 9-speed SPEEDSHIFT MCT 9G transmission with its wet start-off clutch assembly that replaces the torque converter. Think of this unit as the same ones used by motorcycle's, the multi-plate clutch. Mercedes-Benz revolutionised the world of performance cars when it came out with the Speedshift transmission that was developed from racing. This could easily be one of the best transmission units in this segment, besting that on the Audi RS5 and the BMW M3/M4. It certainly is better than the previous generation car with the 7G transmission.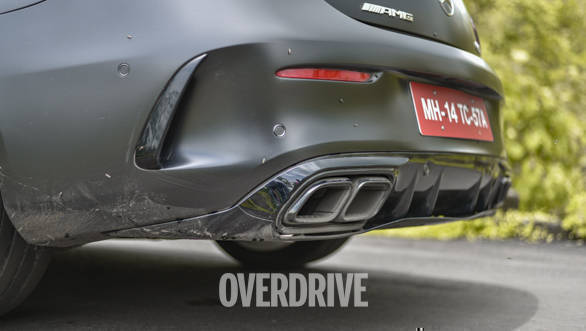 And if you were wondering, no I haven't forgotten the exhaust note. There was a time when we'd draw analogies between AMG exhaust notes and God's voice. Nothing's changed, it's all the same! Loud, powerful and omnipresent, but that's when you switch on the baffles. Otherwise, on the highway, you can cruise in this as you would in a C-Class, without a decibel of sound permeating this cabin! The diversity of that exhaust note is just astounding, one second you're all quiet and comfortable, the next you have Amrish Puri blasting all guns in your ears!
Chassis and Handling
Power is delivered to the rear wheels. And the C 63 AMG comes with an electronically controlled limited-slip differential that further enhances traction. It prevents the inner wheel from spinning, thus allowing you to accelerate sooner out of a corner. There is greater stability when braking at high speeds though the best part is the control you get when you're trying to push the envelope! You push it harder and harder and realise there is just that little more you can exploit.
There are 5-drive modes available to the driver. Slippery, Individual, Comfort, Sport and Sport+ engage various engine maps, rejig the suspension and transmission and alter the performance and character of the car in microseconds. The AMG C 63 can also sense the driving style and accordingly alter the dynamic mode. So one moment you're driving in comfort mode, you see a corner and decide to enter it hot. You step on the gas hard, let the transmission slip down 3 gears in an instant, and throw the steering into the right-hander. The C 63 senses these actions, alters the driving mode to sport and enables you to tighten your line, flow though the corner smoother and even ensures there are enough revs in the tank to keep the thrills going. Did I mention this was a sensational car? And this gets even better in the AMG C63 S, which offers 9 preset levels of slip on the rear axle!
The dynamic selection does not end just there, the AMG C 63 has what is called the Track Pace mode. This is a series of options you can choose that provide you with enhancements to improve your driving style and pace in a variety of fast driving conditions. You have preset maps for track mode, drag racing and even more. You get to set lap times but you also get to analyse the telemetry post-session, you can even throw up this data on the HUD, save it to a disk and analyze it at home, this is just next level shit! I even loved the small detail touches, like the instrument cluster that flares up in red when you hit the rev limiter in any gear! There is just so much to take in, the three days I spent with this car just wasn't enough! In some ways, it is like playing a video game or getting on a simulator, except everything happens in the real world!
And here is an interesting observation, if you might have seen it on the live conversation I did with a colleague on Instagram. The AMG C63 has negative camber. It is quite visible, you can clearly see the offset on the front tyres. This is done purely to give it an additional dynamic edge. Negative camber aids handling, it adds in a pinch of balance and grip in a corner, much like on an F1 car. To my ignorance, though it has been a long lockdown, I've probably not spent enough time in over a year driving fast cars, fast. And it showed in the slight discolouration on the tyre sidewalls. The AMG C 63 does have a fair bit of understeer engineered into it, but I do think I pushed it too hard and too fast in some corners with the traction control switched on, overheating the rubber.
On the ride front, the AMG C 63 sits on electronically controlled dampers that continuously adjust itself depending on the road conditions and throttle, steering, brake inputs. It's a fairly advanced setup, working at ridiculous speeds to maintain traction and balance. It is astounding, there is no other way to say it, the C 63 never ever handled as it does now. It is precise, its planted and it is thrilling, take off the safety nets and you can get a bit of a bonus if you know what you're doing. Previous generations never ever handled like this, they were absolutely insane in a straight line, corners were hairy affairs. Not any longer. The AMG C 63 makes you want to go through the same corner again, and again, and again, exploring the limits of its purchase.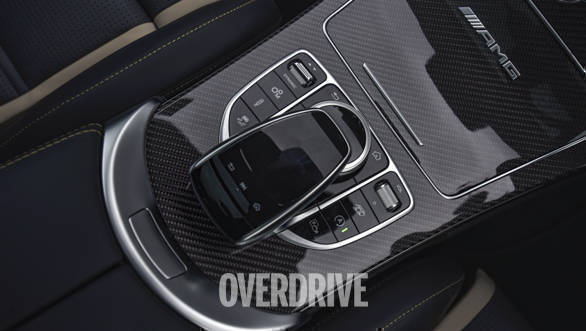 The flip side though is the ride comfort. While it has the agility and precision of a go-kart, it has also got the same levels of comfort. Even in comfort mode, its most luxuriant ride option, the ride quality is jarring. Adding to the discomfort are the 18" wheels and tyres with the 255/40 profile Michelin Pilot Sports. It is hard, it is uncomfortable and you just won't drive this for more than 50 kilometres a day, unless you're me and go hunting for that perfect stretch of road to drive something like the AMG C 63 on. Then it does not matter, after all, the road to paradise is paved with good intentions, and you wouldn't skip out on the rest of the AMG C 63 for what I see is just one shortcoming in the overall package.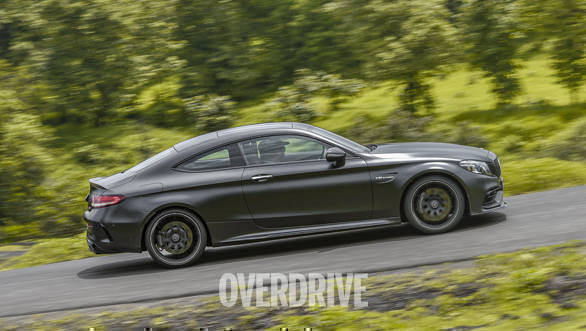 Performance
Coming to that all-important aspect. How quick, how sharp and I've got one more, how efficient? Because this car is irrationally efficient. I'll start there, no matter how irrelevant it may seem for a car of this order. Out on the highway runs I got 12kmpl, keeping the speed at an average 100kph. That's usually not normal for a car running a V8 engine with two turbochargers. The only reason I could think of is that at a 100kph it runs at very low revs, just around 1100rpm. And it is not just that, the MCT 9G transmission is essentially gold, you can step up to 9th gear and comfortably potter around at 70kph without the engine feeling the strain. It even gave me 6.56kmpl in the city. Given that traffic conditions just now aren't as challenging as they usually are, and you're not constantly slipping through low ratios, that urban efficiency figure is remarkable!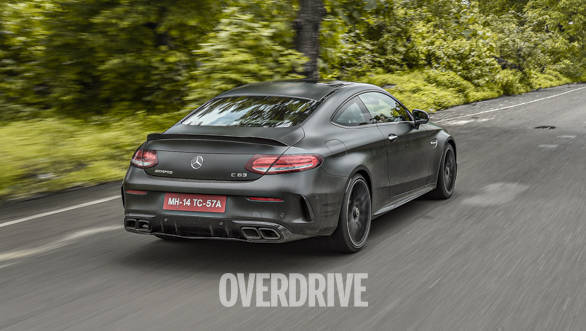 On the performance front, Mercedes-AMG claims the Coupe will hit a 100kph in a clean 4.0 seconds. On our tests, however, the best we could get was 5.6 seconds. It would have been much, much quicker had we the right conditions. It was a rainy wet week, and in those conditions, the tyres simply spin endlessly. All you get is violent suspension judder as the adaptive dampers fight hard to keep the tyres glued to tarmac. Still, while a 5.6 second time isn't bad, I'd like to do this again once the monsoons are behind us and we have dry tarmac to run the tests.
Braking tests were also conducted under severe duress, the wet surface not offering much purchase. Yet the massive 360mm vented discs with a 4-pot fixed calliper at the front and a single pot floating calliper at the rear bring in immense stopping power. 40 metres is all it took to bring the AMG C63 to a complete stop from 100kph. In dry conditions, I expect the brakes will shave off another couple of metres at the least. What is astounding is that you get all the warnings lit up as the immensely large safety net gets to work to keep the car in a straight line.
Cabin and Features
This cabin is nice, its got that impenetrable armoured feel you get in most premium Mercedes-Benz cars. It's also got four seats, the ones at the rear are best for kids, and short teens. All the action is however around the driver. Layers of aluminium, carbon fibre and vented or soft-touch leather cover every inch of this cabin. Its what you'd expect in a car of this order. That is however not what caught my eye, not even the MBUX that Merc will try very hard to sell me on!
The highlight of this car is the tech it packs in, tech that is visible can be fiddled with and experienced down to its minutest level. The AMG C 63 is a tech nerds wet dream, or a veritable Hamleys for very rich kids! And don't be put off by the size of that infotainment display unit, just think of it as, as smart as your smartphone, just a little smaller than your tablet! There are more screens as well, the instrument console behind the steering wheel is a large LED screen which has even more info displayed on it, that can be customised on the fly. And there is even the HUD which has an even more ridiculous amount of information to display.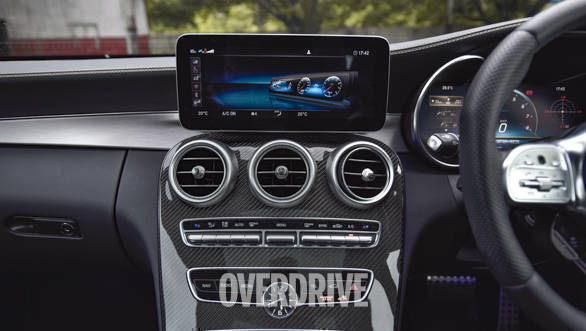 Then there are the dozens of menus you can sift through to control a host of convenience, comfort and dynamic functions. You just have to take a day off, sit in your AMG C63 and go through everything, one by one. Just as an example its got 64 interior mood lighting colour choices, brightness levels, display styles and the list goes on like my mum-in-law's grocery lists!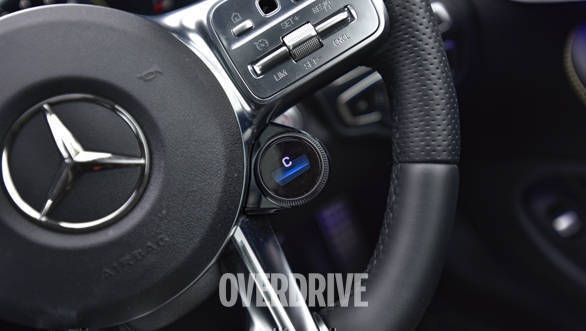 The most important addition has to be those two thumbs like protrusions under the steering wheel arms. These are pretty clever appendages aimed to ape Ferrari's manettino. The thumb on the left allows you to jog through several driving and efficiency options. You can switch off the traction control, shift to manual transmission, switch off the stop-start function, access the AMG Dynamic mode, etc. The right knob simply takes you between the driving modes. Simply turn the knob to the driving mode you want to be in, easier than reaching out to the dynamic selector button on the centre console.
Verdict
I was always in love with the Mercedes-AMG C 63, its always been special to me since I drove the first-generation car in Germany over a decade ago. Now it's gotten even dearer. I love how the scope of this car just widened immensely. Where the first generation was a bit of a hairy thing, and simply refused to do much more than track a straight line. This current generation C 63 Coupe is capable of bringing joy to everyone, from the uninitiated to the purists. It's more car than I can ever remember, and I dare say, I'd have to be convinced very, very hard to give the C 63 a miss and look in the direction of the Audi RS5, BMW M3 or even at a slightly more premium end, a Porsche. And if you thought there was any resemblance to the C-Class and chose to ignore it assuming this is a glorified sedan, forget it. The only DNA I'd like to think they share is the alphabet 'C', everything else is freshly ground!
Price (Ex-Delhi)
Starts Rs 1.33 Crore