2020 Maruti Suzuki S-Cross petrol road test review
Five years since it first went on sale, the Maruti Suzuki S-Cross has had another reinvention. This after a facelift in 2017 brought with it more traditional SUV-derived looks, a big step forward in widening the appeal for this large crossover.
This update is almost as significant, even if that isn't immediately visible. The S-Cross has pivoted from being a diesel-only to a petrol-only offering. This is in keeping with Maruti Suzuki's petrol-focused BSVI strategy. The company says that CNG and mild-hybrid powertrains will give its buyers similar economic benefits when seen alongside the high initial premium that BSVI diesels charge. Consequently, the well-loved 1.3 Multijet diesel makes way for a 1.5-litre petrol paired with Maruti Suzuki's Smart Hybrid mild-hybrid tech.
Is this actually a hybrid?
Not in the exact sense. Yes, there is a very small lithium-ion battery on board that sits under the front passenger seat, but its intervention during regular driving is limited when seen alongside traditional hybrid powertrains.
This battery pairs with an integrated starter generator, which replaces the traditional starter motor for the petrol engine. This ISG enables a quick-reacting idle start/stop system, can recuperate energy lost during coasting and braking, store it in the battery and then redeploy it to provide a torque-assist function to the engine. The diesel S-Cross came with a more primitive 12V start/stop system but the new set-up's 48V unit widens its scope of operation further.
How does it work in the real world?
The motor in question is the 1.5-litre K15B four-cylinder petrol that makes 105PS at 6,000 rpm and 138 Nm at 4,400 rpm. That's a 15PS increase in power and a 62 Nm drop in torque over the diesel it replaces.
Immediately you notice that the S-Cross petrol is a more seamless experience around town. This engine powers a wide range of cars such as the Ertiga, Brezza and Ciaz but initially makes for a novel experience. It's a welcome change from the steady drip-feed of first turbo-diesel and now turbo-petrol engines that we've experienced over the last few years.
This petrol's clean, immediate throttle response is something that the diesel engine lacked at low speeds. In combination with the consistent power delivery through its rev range, the S-Cross petrol is a stress-free experience on our streets. Sure, it won't eat up revs in the same way a Honda does, but there is always enough grunt at your disposal around town to not miss the added torque that the diesel engine offered.
The mild-hybrid system has a role to play here too. With its torque assist function, the ISG seamlessly fills the gaps in the engine's powerband. This means that the S-Cross will cleanly pick up speed if you find yourself in a high gear at very low revs. The start/stop function is much better integrated too, it cranks the engine quickly enough to not feel like an aberration to the driving experience.
It's a good thing that you don't need to change gears too often in the city because the five-speed manual that our test car came paired with (a four-speed torque-converter auto is also available) isn't the best example of its kind out there. While the stubby gear lever and light clutch are easy to operate, the shifts themselves aren't the crispest. A stint on the open road also brings to focus the big drop in torque that the new engine has brought with it. A fact highlighted by the absence of a sixth gear.
Unlike how it was with the diesel, you will need to shift down everytime you need to get past something slow-moving that gets in your way. The engine also runs quite high revs at cruising speeds. This makes it quite vocal here and in contrast to its near-silent low-speed operation. It helps that you hear a clean-sounding naturally aspirated rasp here and not a muted turbo thrum. Given the high load already on the engine, the electrical assistance can't make as much of a difference here.
As is expected of a Maruti, the S-Cross is not much of a drinker. Despite the handicap of not having a sixth gear, we got 11.66 kmpl in the city and 15.16 kmpl out on the highway. Both good numbers. Mild-hybrid systems usually improve fuel efficiency by 4 to 6 per cent, and the S-Cross seemed to offer similar gains.
Has anything else changed?
Not exactly. There was nothing to fault with the S-Cross' demeanour on the road and that competence has carried forward here. The steering feels effortless at grappling city traffic and there is a solid enough feel at speed too. There's a similar sense from the ride and handling package as well.
Also unchanged is how the S-Cross looks. This is not a full-fledged SUV, although the heavily chrome-laden grille, well-detailed LED units and chunky cladding all around add a suitable dose of SUV-aggression. On the inside, the simply styled all-black dashboard has aged well. It can't match the latest SUVs in terms of layout and materials but what is there is intuitive and well put together. It's a similar story when it comes to features. The S-Cross gets pretty much everything you would expect at this price point although the newest of features like onboard connected tech, a sunroof and wireless charging is missing. The only new addition is the new Smartplay Studio touchscreen system. Maruti Suzuki has been rolling this out with every new model update and this unit with its tiled theme is a big step up in terms of how easy it is to operate.
But here's where the S-Cross has its rivals beat. It's a much larger car on the inside than the SUVs and sedans it competes with. There is masses of space in the rear, both in terms of head and legroom. Also, three adults will fit here in relative comfort, something not quite possible in most sub-four metre cars. This space feels more inviting given the large glasshouse and well-supported seats.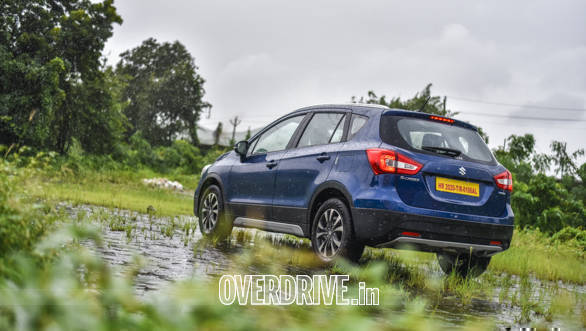 Is it a good buy?
The move to a petrol powertrain has also brought with it a price cut, the base manual costs Rs 9.85 lakh going up to Rs 14.65 lakh(on-road prices) for the top-spec auto. This makes things very interesting for the S Cross. Where the diesel found itself in a no-mans-land of sorts, priced between smaller sub-four-metre and larger C-segment SUVs, the petrol S-Cross is now priced very similarly to higher-specced sub-four-metre SUVs.
If you absolutely don't need the high-riding, go-anywhere looks of an SUV or can settle for slightly less than the latest in tech and creature comforts, the S-Cross with its masses of space and unique mild-hybrid powertrain becomes a serious contender in the sub-15 lakh family-car space.
Price (Ex-Delhi)
Starts Rs 8.39 Lakhs