2020 Honda WR-V facelift road test review
Given how much we like our SUVs, you would think that we would lap them up in any sharp or form we could. But apparently, we seem to want our SUVs to not just be good value but also look like the real deal. Nothing else can seemingly explain why cars like the Maruti Suzuki Brezza and Hyundai Venue have set sales records, but the hatchback-derived Hyundai i20 Active and the Cross Polo, not so much. But the Honda WR-V has been an outlier. While its immediate rivals have all faded away, Honda has seen it fit to not just update the WR-V to BSVI spec, but also give it a visual once-over to boot.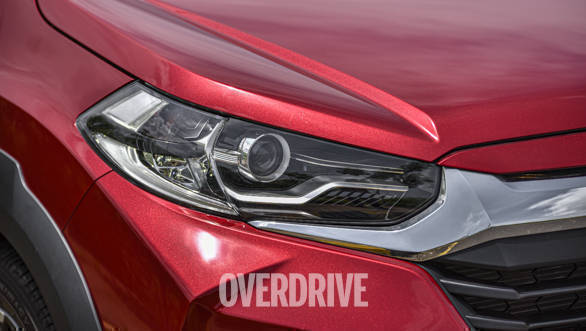 Now this update hasn't been the most extensive but its intent is quite clear. The new horizontally-slatted grille adds a bit more of the pre-requisited SUV aggression, while the new headlamp cluster with their LED projector headlamps are quite a step up from the much simpler-looking units it replaces. The fog lamps are now LED too. At the rear, the tail lamps now feature LED lighting in a C-shaped motif, as on other Honda cars. You will still not think of the WR-V as a full-fledged SUV, but these new bits have improved on a design that was easily the most convincing among its crossover peers. The WR-V, with its chrome-laden front, high-bonnet line, large glasshouse and chunky cladding all around, has taken as much as possible from the SUV playbook but is limited by its inherent small-car underpinnings.
But calling the WR-V a small car once you're inside would be quite misleading. Its wheelbase is 25mm longer than the Jazz, which brings more attention to how good Honda is at packaging its cars. The rear seat, for example, has enough legroom to shame not just sub-four-metre SUVs but even some bigger ones from a segment higher. The upright shape and large glass-house further adds to this sense of space. A special mention here of the front quarter-glass, which actually does what its meant to do very well, and isn't just a styling element. The seats get new upholstery now, they offer good under-thigh support but could have done with slightly softer cushioning, especially around the seat-back.
It's not all smooth sailing though, the WR-V uses the same dashboard and materials as the last-gen City and the Jazz. Everything is screwed together very well, but we would have liked it more if Honda had added some contrasting materials and textures to shore up the sense of perceived quality. It's something that has been done to good effect in the new City.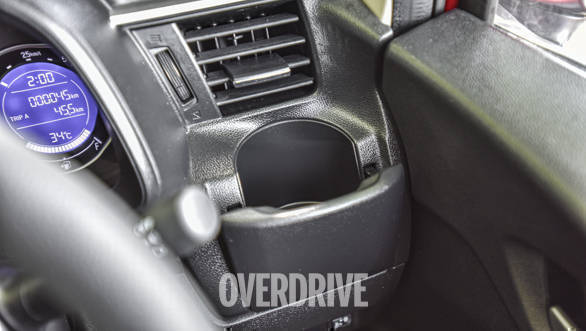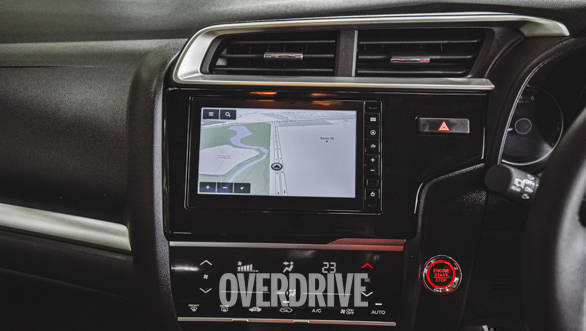 Having said that, the dashboard is very logically laid out. The capacitive AC controls work very well, as does the simple and legible instrumentation. This update adds new infotainment too, which is straightforward to use, if only it had better screen resolution and didn't catch glare as much as it did. That sense of intelligent space management continues in the front as well, with loads of deep cubby holes and door pockets, along with two power and USB outlets. There's even an area near the driver side air-vent to keep your drink cooled. Equipment highlights are a sunroof, cruise control and the potent climate control system, and yes, you can get more creature comforts elsewhere at this price point. Drivers though will be happy with tilt/telescopic steering and seat height adjustment.
A sense of good, old-fashioned engineering prowess is clear when the WR-V is on the move. We drove the updated WR-V with its BSVI diesel engine, and just like what we saw in the City, NVH levels have improved. There is still some clatter here at idle or at low speeds but this is drowned out easily if you have the AC or the stereo on. On the move, this 1.5-litre engine is exceptionally tractable despite a low 4,000 rpm limiter. It's alert from as low as 1,500 rpm, and keeps up the pace right up to the limit. There's none of the typically abrupt diesel shove here, instead, the torque comes in very linearly and consequently makes it much more usable. Pottering around in the city, 2nd and 3rd gear is all you'll need. The WR-V will manage everything between crawling traffic and quick passes between these two gears. This tractability is kept intact on the highway too, where a sixth gear means that holding triple-digit speeds and keeping up the pace is not a task. The BSVI update has brought with it a slight dip in fuel economy, we managed 14 kmpl overall.
It also helps that the rest of the mechanicals are very well sorted out. The soft suspension set-up soaks up sharp bumps consistently and doesn't run out of travel very often, say over a speed breaker gone over too fast. This has resulted in some lean around bends and noticeable vertical movement over crests. Such situations are easy to control though thanks to the nicely-weighted, precise steering and the grippy Michelin tyres.
Prices for the 2020 Honda WR-V start at Rs 8.66 lakh for the petrol, with the diesel priced at Rs 10.99 lakh. In a segment, where off-road looks are imperative for success the WR-V finds itself at a disadvantage. But it's not hard to see where this money is going. The WR-V is right at the top where engineering, quality and space is concerned If you want a compact car, like the high-seating position but find the usual sub-four-metre SUV crowd too flashy, you can't go wrong with the WR-V.
Also see: 2020 Honda WR-V | Road Test

Price (Ex-Delhi)
Starts Rs 8.5 Lakhs
Price (Ex-Delhi)
Starts Rs 6.8 Lakhs
Price (Ex-Delhi)
Starts Rs 7.74 Lakhs
Price (Ex-Delhi)
Starts Rs 7.53 Lakhs
Price (Ex-Delhi)
Starts Rs 7.99 Lakhs