2020 BMW X5 M Competition first drive review
The United States of America is probably the worst place in the world to go driving a fast car. Speeds are limited to 75mph on the motorways and there are cameras, police patrols, some roads even have helicopters and planes patrolling for speeders. So its damn near impossible to go really push a car hard to understand what it can do. Now imagine if that car being driven happens to be the new BMW X5 M Competition, which has 625hp at its disposal, and is capable of doing a 100kmph in just 3.8 seconds. You kind of get frustrated doodling around at 60 and 80kmph. So when you get to a stretch of road that is windier than your grandfather's clock and a bunch of cops signal you to go for it, all hell breaks loose! But that is exactly what happened, I'm not going to say where this happened to cause that would be incriminating the local law enforcement, suffice to say they kind of stood there and cheered as I went whipping up a storm in the X5 M Competition.
BMW's M series of cars bring something truly epic to the table. In the world of performance, the M badge holds a very special place. The BMW cars carrying the M Badge are revered, looked upon with awe and lusted after. They are just special, and the new X5 M, the third generation sports SUV, carries forward that legacy just like you'd want it to. Except with every passing generation of automobiles, electronics play a larger role in the big picture. The purity of mechanical systems that made the M brand what it is, is slowly being replaced by circuits and chips and wiring harnesses. It's not a bad thing, it's just that these days there is so much more to set up in a car before you actually put your foot down on the throttle pedal. You keep fiddling with the display menus and the toggles and switches, won't be far now when car manufacturers give you a checklist just so you know everything that needs to be done to set a car in motion has been pressed, twisted, flipped or keyed in.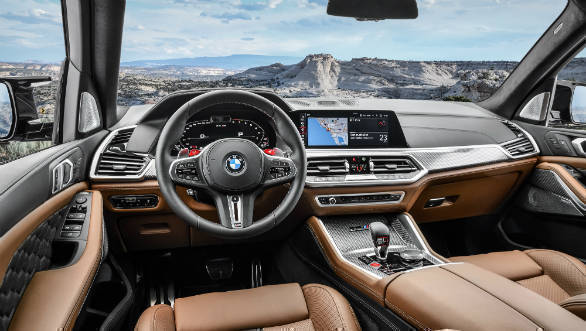 What electronics are we talking about?
The X5 M and the X5 M Competition run the same engine, a 4.4-litre V8 fed by two turbochargers. But where the X5 M puts out 600HP, the Competition trim tops that at 625HP. That additional 25HP comes not from a larger bore or bigger turbos, its simply the ECU telling the engine to put out more power by utilising a different map.
When you set off, you can select the drive mode you want to be in, for more sportier action you can alter the engine, suspension, steering parameters. Its even got a track mode, which switches off all the electronic safety aids that help when driving. It does warn you to not use that particular mode on public roads but you tend to still go there and fiddle around.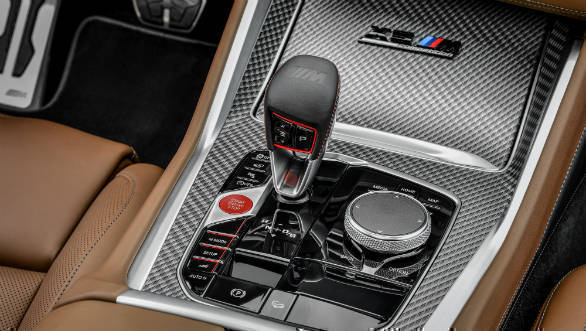 The X5 M also allows you to store up to 2 performance settings which you can call up by pressing one of two M buttons placed on either side of the steering wheel arms just where the paddle shifters are placed. This is a quick-select function that allows you to instantly get to your preferred choice of performance in the X5 M.
Electronics also allows you to select between two braking modes! You can opt for slightly more comfortable feedback, or more direct instantaneous feedback. You can even select the amount of time you want between gear shifts, making it faster or slower!
Then there are other bits that are electronically controlled. The suspension has electronically controlled magnetic dampers which allows you to select the level of cushioning. Comfort mode is brilliant, on some of the dirt tracks leading up to our lunch stop at a ranch on the outskirts of Arizona, the ride quality gat superbly well cushioned. Shifting it to Sport mode immediately lets you feel the difference with the suspension getting hammered on the dirt surface. But out on tarmac, sport mode keeps you glued to the surface.
The exhaust note is electronically controlled, it sounds good normally, but if you want to add some bass to it, simply press a button. And then there are more electronics, providing you with creature comforts and enhancements. One of those is the massage function on the seats, both driver and passenger. Though it's not as intense as what you get in a Mercedes, it works pretty well.
Electronics aside what is it like to drive?
The X5 itself is a large car, the dimensions are huge and along with that so is its weight. Not many changes in the M variants other than it getting tasty lightweight alloys bringing the unsprung weight down considerably.
It's not the easiest vehicle to hustle around a corner, there is a lot of momentum you carry into a corner and the X5 M does not like to defy physics. And yet it does, almost nonchalantly. Id like to drive this on a racetrack to see what it is actually capable of because out on Arizona's roads there isn't much you can figure out. Its sharp and precise, but the steering feels dull, the throttle responses are dull, the whole thing lacks the drama you expect in an M vehicle. That for me is a bit of a downer. It's quick, blindingly quick but there is just no cinematic effect associated with the whole pedal to the metal action.
You do appreciate the precision and the pace but then this is a car that has been built to appeal to more amateurs thus scaling up the market demand. And that is not what M represents to me. You have to earn this, which meant improving your own skills as a driver before you approached an M car. The X5 M in standard or Competition trim just lacks that conviction.
Should I splurge on one then?
The X5 M is a statement, I don't see anyone taking it to a racetrack, you'd be a twat to do something like that. It serves no other purpose than to put more muscle into your daily driver. And once you've done that you won't have the roads to drive it on. It does not even look menacing or aggressive or sport-focused. The shade of blue we drove it in, is completely unflattering. In white it's a bit more dramatic, but it has no stance even sitting on those 21" and 22" (front and rear respectively) wheels and tyres and its street presence is weak. The massive grille makes matters worse. In the standard X5 M, the chrome surrounds are garish, the Competition trim gets the black mirror finish surround but that trim, isn't coming to India.
Yes, if you have the money, go out and buy one, because this is by far one of the most tech-savvy performance SUVs I've ever seen. There is a small supercomputer in there that does these fantastic calculations at lighting speeds to make sure you do the right things. So yes, go out and enjoy that. It goes on sale in India in less than six months.
Also see: 2020 BMW X5 M Competition first drive review

Price (Ex-Delhi)
Starts Rs 74.9 Lakhs