2019 Triumph Speed Twin first ride review
Triumph's Bonneville family is undoubtedly their most expansive product portfolios, offering a diverse set of motorcycles despite being cast, more or less, from the same mould. In the 1,200cc Bonneville range, the Thruxton and Thruxton R are at the extreme end, offering a hardcore, cafe racer motorcycle experience that we absolutely love. But, it's not entirely practical or for everyday use, the cafe racer riding position would murder your wrists and back after a few hours. Triumph has a solution though, and it's called the Speed Twin, the newest member of the Bonnieville family.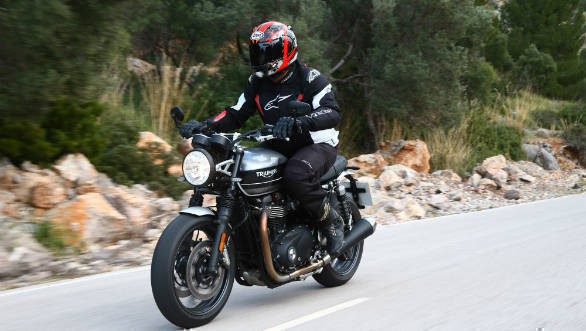 What's new about it?
Quite a lot, actually. You may think that Triumph simply rehashed the Thruxton to create the Speed Twin, but that's not entirely the case. The Speed Twin, in fact, has taken three years to fruition and the results are pretty impressive. A majority of the focus, during development, was to ensure the Speed Twin weighs less than the Thruxton and the difference is a significant 10kg, overall.
The frame, to begin with, is bespoke, with a new subframe and lightweight aluminium downtubes that form the cradle, which contribute to the weight savings. Then there's the 1,200cc, parallel twin engine that's 2.5 kg lighter than the Thruxton's. This was achieved by using a magnesium cam cover, lightened engine covers and revised clutch assembly. Incorporating a lightweight battery is another kilo or two saved and all of this fat trimming contributes to the way the motorcycle behaves. But more on that a little later. Because you can't really get on the bike before you soak in the way it looks.
Quite the stunner, no?
It certainly is and it looks even better in the flesh. To me, its appeal lies in its simplicity and no matter what angle you look at the Speed Twin, it arrests you with its overflowing charm. And then there's the attention to detail that bowls you over. The headlamp has a neatly integrated DRL ( a regular feature on Triumphs, of late), the brushed aluminum fenders look fabulous  while the chunky tank, with hand painted pinstripes occupies pride of place in the entire scheme of things.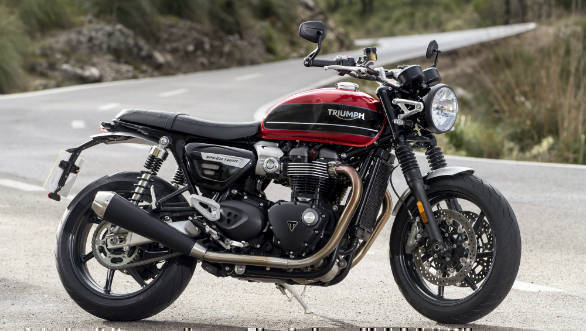 In keeping with the retro theme of the Speed Twin, Triumph ditched the temptation of incorporating a TFT instrument cluster and instead chose a beautifully detailed, analogue, twin pod unit. The fit and finish is excellent and something that we've come to expect of Triumph's Bonneville range. In all, the Speed Twin's design oozes charm and certainly won't lose it's sheen, even after a  few years.
The ergonomics are quite comfortable as well. The wide handlebar and the new bench seat, with 10mm more padding than the Thruxton's perch, creates a riding position that's almost upright while the footpegs, though rearset aren't as far back as the Thruxton's that sit 38mm behind and 4mm higher. It's a position that feels natural, whether at city/ highway speeds or while attacking corners. It's so good that even after covering over 275km in a day, there were no sore body parts.
Okay now, let's ride
Jump on the saddle, thumb the starter and you are greeted with a familiar, 270-degree firing order, parallel-twin sound that's undeniably soulful. It has this lovely, throaty beat to it that instantly gives you the feeling of a motor that's alive and kicking. It definitely sets the mood, if you ask me.
The 1,200cc, liquid cooled parallel twin engine, paired to a six-speed gearbox, is based on the Thruxton's motor and is in the same, High Power state of tune. It produces identical power and torque s well, which is 97PS at 6,750rpm and 112Nm at 4,950 rpm, respectively. But that's where the similarities end. The Speed Twin's lightweight crankshaft and revised clutch assembly gives it a delightful, free revving nature. But more than that, what really impresses is the truck load of torque that the engine produces from the word go.
On some of the tight and twisty sections on Mallorca's beautiful canyon roads, I found myself in a gear higher that what I'd thought. For instance, I'd think I was in second gear at 30 kmph, while exiting a corner, when actually, I was in third with the bike pulling ahead without any hesitation. This tidal wave of torque makes riding the Speed Twin quite easy and stress free, which will especially hold true while riding through city traffic.
Power delivery is smooth and linear and when you give it the beans, the Speed Twin charges ahead relentlessly, in a manner that can get addictive. I think the throaty roar from the twin, megaphone exhausts has something to do with that as well but on the whole, I like how the engine simply adds to the Speed Twin's character.
The only real issue you'd face at speeds over 120kmph is considerable windblast, since there's no flyscreen to deflect some of the headwind. It's not a deal breaker though and is part and parcel of riding a roadster.
The Speed Twin has switchable traction control and three riding modes- Rain, Road and Sport to keep things from getting out of hand. Switching between these modes alters the throttle map and the level of TC intervention as well as ABS settings.
We did encounter some rain during the ride and just to add to the drama, a few sections on the road had a layer of moss, waiting to catch a rider unawares. Rain mode turned out to be more than a blessing in such conditions and I'm, for one, completely in favour of such electronic aids. That said, the ride by wire throttle felt a bit snatchy in Sport mode and the transition between throttle on and off could have been smoother.
But is it as fun to ride as the Thruxton?
In a word, yes. And this minus the pain of a committed, cafe racer position. The Speed Twin employs new, 41mm diameter, non-adjustable cartridge forks at the front and twin, pre-load adjustable shocks at the rear. Both units are made by KYB and have 120mm travel. Riding over a handful of bumps that we encountered revealed a firm setup with adequate damping to iron out most of the rough stuff. But don't fret about the basic suspension and form an opinion just yet, because it is perfectly in tune with the sweet chassis to deliver an exhilarating experience in the corners.
Besides the light frame and engine its the lightweight cast alloy wheels that helps reduce inertia, making it quicker to turn in the bike. The rake angle (22.8 degrees) is a mere 0.1 degree forward than the Thruxton's, which again translates to a sharp steering.  But, in order to ensure stability the wheelbase has been extended by 15mm, by means of a long chain and not by extending the swingarm, as one might presume.
What this entire setup does is induce a degree of fun that you'd not usually expect from a retro-themed motorcycle. Think and the Speed Twin telepathically dips into corners while the standard Pirelli Diablo Rosso III tyres ( Pirelli Rosso II tyres available as options) offer high levels of grip and feedback, allowing you to carry a fair clip through the bends. The bike simply begs you to push hard and on Mallorca's sweeping corners, the Speed Twin was an absolute treat.
The axially mounted, four-piston Brembo brakes offer superb stopping power and there's plenty of feedback through the adjustable alloy lever, helping the rider modulate brake pressure.
So, is it going to be worth it?
The Speed Twin holds immense promise. It looks stunning and whenever you are off the saddle, you can't help but stare at it. The engine is a gem and full of character, a quality that's essential in a motorcycle, in my books. And then there's the stellar handling that puts a wide grin on your face. It's just as much fun to ride as a Thruxton and I guess Triumph has managed to achieve what they had set out to; create a powerful and fun to ride Bonneville that you can commute on as well as indulge in some spirited canyon carving, on weekends. The key for Triumph India is going to be the pricing and we'll have to see what they come up with. But, purely judging by the way the Triumph Speed Twin feels like to ride, I think Triumph definitely has a winner in this thoroughly enjoyable motorcycle.
Also see: 2019 Triumph Speed Twin road test review
Also see: TRIUMPH SPEED TWIN First Ride Video
Price (Ex-Delhi)
Starts Rs 9,46,000