2019 MG Hector petrol automatic road test review
There's more to someone than just their face. It's one line that comes to mind very often when you end up spending some time with MG Hector. MG Motor India's first car is completely booked out for 2019 and there are good reasons for this. It seems to have found the right balance of presence, price, features, all helped along by a line-up that seems to have something for everyone. The Hector you see here is the top-spec petrol and consequently comes with all the goodies and an automatic transmission to boot. One for the city-slickers then?
Styling
The Hector looks the business, no two ways about it. The imposing hexagonal grille, the heavy chrome lining and black detailing interspersed within the split LED headlamps, with their main units tucked into a recess, all make for a car that grabs your attention immediately, and holds on to it. For anyone wondering if these units are more prone to damage than more traditional lighting, the lamps on this car are very thoughtfully placed. They have a chrome garnish around their outer edge which should protect against anything but a head-on collision. They also seem to be better protected against slush and such. To top things off, they're also quite effective.
The rear again is eye-catching with its wide LED taillamps, the red reflector that joins these, and the chunky ornamental skid plates. The only real glitch is when you look at the Hector in profile. It looks a bit top-heavy here, with the segment-standard 17-inch wheels looking a bit smaller than they are. But this has more to do with Hector's quite high bonnet line and the large glass-area above it. This slight asymmetry is tempered by the sculpted bonnet, whose edges then turn into a crisp shoulder-line, adding more flamboyance. The glass area behind the B-pillar also crimps in, adding a bit more character into the mix.
Interiors
This ability of the Hector to captivate continues on the inside too. What the face does on the outside, the 10.4-inch i-Smart infotainment unit does on the inside. Most of the car's functions are bundled into this, which means that buttons are sparse. This cleans up the look of the interior quite a bit, but we missed physical controls at least for the climate control settings. We had to look away from the road every time we had to set the temperature.
But MG Motor India seems to have thought of this, and quite a few other things for that matter, given how many features come with this package. Especially, the top-spec Sharp trim that we were driving. You have a fairly intuitive voice assistant to control functions like opening the sunroof, turning up the volume, setting the temperature and so on. Other notable features inbuilt into this is the Gaana music streaming app, TomTom navigation, an emergency call facility, driver analytics, geofencing and a car locator. All of this works via an embedded Airtel SIM, the head-unit itself is from Panasonic. Sadly, the network connection in our tester seemed to be acting up, so we couldn't test these features completely on this occasion. Slightly quicker load times would have helped round-off the experience better as well.
Once you've pried your eyes away from this screen, you will notice that you are very well placed as the driver. You sit high up, the large glass area now giving you a wide view of the road ahead. The low-set dash and flat bonnet also mean that placing this big SUV in traffic is easier than you would think. Finding a comfortable seating position is quite easy too, given the six-way power adjustment. The large gear selector in this automatic version falls to hand easily and the wide central tunnel round it also adds a sense of decisiveness. The large windows and the massive panoramic sunroof add a fair dose of airiness to this.
We only wish that the instrument cluster was better laid out. The 3D-effect and large informative 7-inch MID is great but the sci-fi-esque font and the inverted tachometer are a bit of a learning curve. The steering wheel itself is nice to hold, the wide spokes with the numerous buttons make it feel quite chunky. But this hides the indicator and wiper stalks almost entirely.
Overall quality is also quite nice. Everything seemed well put together, and all the touch-points had soft leather padding. The sections of grey plastic would have worked better were they broken up by some contrasting materials.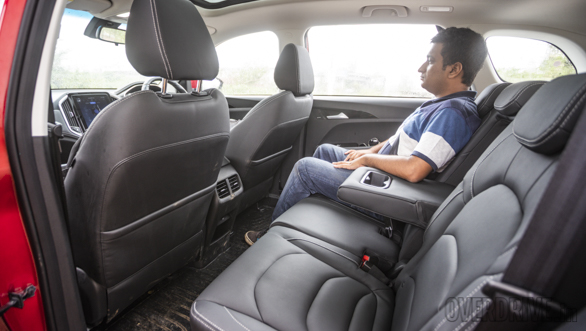 All of this is great, but the highlight of the Hector's interior is quite simply its second row. Much of the car's 2,750mm wheelbase seems to have been put to use here. There are masses of legroom, a fully flat floor, which combined with the reclining seatbacks and the full effect of the sunroof, make for a pleasant experience. Three abreast seating shouldn't be an issue. The only problem we faced was a slightly higher than ideal floor and somewhat flat cushioning.
Engine and Transmission
This petrol-automatic drivetrain seems to complement Hector's impressive cabin on first acquaintance. The SUV is exceptionally quiet when it is pottering around in the city. The 1,451cc four-cylinder turbo-petrol motor is barely heard and most of the ruckus from outside is cut-off, making for quite the serene experience. This is possibly the motor's biggest strength.
Because right past this is quite a bit of lag which lasts upto 2,000 rpm. But once past this threshold, the engine feels quite linear and also revs out cleanly. It builds speed progressively, as its 143PS at 5,000 rpm and 250 Nm at 1600-3600 rpm numbers might suggest. There is shove, just not as much as in the diesel.
Certain situations like coming to a halt quickly before a speed bump seems to catch the six-speed dual-clutch unit off-guard. The sudden throttle and brake inputs these events require increase reaction times and the unit sometimes seems to be up to a couple of gears higher than where it should be to get around the lag. A Sport mode remedies some of these issues, but we wouldn't recommend using it in the city. It makes the throttle response peaky at low speeds and is best used for highway driving, where the SUV feels more eager in this mode, although it still isn't a cohesive experience. This Hector is best experienced with measured throttle inputs and a driving style that is neither too conservative nor too aggressive.
The challenges that the gearbox faces seem to stem from its slow reaction times. A DCT, unlike a torque convertor, needs to disengage the gearbox from the transmission when it needs to make a shift. The two clutch units engage either odd or even gears via their separate transmission units. This means that the gearbox can't skip gears like an AMT or torque convertor.  But problems arise when it comes to the software tuning that is required to make all of this work smoothly, especially in the case of smaller engines with less low-down grunt like this 1.5-litre unit. The unit has to work around these factors. In the case of the Hector, MG seems to have tuned the gearbox quite conservatively, where the certain parameters that will tell gearbox to shift up or down are not as well defined as others. This means that the gearbox finds itself confused when climbing up a slope, for instance, where there is more load on the engine but the speed hasn't risen as much as it should have. This causes it to think it should be in a higher gear, only correcting itself when a decisive throttle input makes it understand that you need more torque.
Our testing data corroborates this. This Hector gets from 0 to 100 kmph in 14.3s. It claws back a bit of ground with its 30 to 50 kmph and 50 to 70 kmph in-gear acceleration times of 2.5s and 3.4s. This continues in its 60 to 80 kmph time of 3.5s.
This tuning is something you can get around by altering your driving style a bit. But here's the bit that could sway your buying decision. Our testing got us an overall fuel-efficiency figure of 9.03 kmpl. That's not a very good number, especially given this car's more city-friendly brief, where this figure drops to 8.1 kmpl. Ostensibly, things are better on the highway with the 11.7 kmpl number.
Ride and Handling
As with all other Hectors we've experienced, this one too is quite adept at keeping its occupants isolated from imperfections on the road. Low-speed ride over our rutted city roads is quite cosseting. Even deep potholes only filter through as a thud, possibly slightly better tackled than the diesel. The dampers could have reacted to sharper bumps better, there's a slight springiness in these situations induced by their rebound, but again this is better checked than the diesel. The steering wheel, despite some play dead-centre, is precise as you build lock. It also weighs up well as speeds rise.
In keeping with this SUV's more city-friendly brief, MG has softened the suspension set up of the petrol-automatic Hector. This is noticeable out on the highway where there is more body roll during directional changes. A side effect of this is that this Hector feels more nose-heavy, especially noticeable around a corner, where the front of the SUV washes wide and you need to back off the throttle to bring it back in line. This set-up also seems to induce an uncomfortable vertical movement whenever the vehicle has to deal with bumps mid-corner.
This set-up works great for the city but we feel the diesel's more balanced setup makes it easier to live with in the long run.
Safety and Ownership
The Hector's safety proposition is up there with everything else in this segment, especially In the top-spec Sharp auto. You get six airbags, disc-brakes all-round, ESP, hill-hold control, electronic parking brake, 360-degree camera and a TPMS. The Hector hasn't been tested for safety yet, but its Chinese clone, the Baojun 530, has a five-star C-NCAP rating.
The Hector's looks and features list may grab the most attention, but the real highlight has to be its ownership experience. On paper for now at least.
The five year/unlimited km standard warranty matches the segment benchmarks. The five-year roadside assistance package which includes everything from fuel, jump start to towing assistance is also segment-leading. The company has also done well to address some of the uncertainty that comes with a completely new brand. It is offering service packages, the most affordable of which is a three year/30,000 km package that takes care of regular maintenance costs for the petrol Hector. There is also a premium package that even accounts for wear-and-tear. This service package for five years/75,000 km on the diesel comes in at Rs 80,000. Finally, they've even figured out resale for you, after three years, MG Motor will buy your Hector back from you at 60 per cent of its value.
Verdict
The top petrol automatic Hector costs Rs 19.83 lakh on-road, which keeps its value proposition quite intact. Further, if you want a large petrol-auto five-seater SUV there aren't too many options other than this. This melds very well with the Hector's presence, features and space.
But we wouldn't recommend it with this drivetrain. The gearbox's indecisiveness, laggy engine and singularly-focused suspension set-up mean that it becomes difficult for the Hector to show its full potential in this form. The diesel and petrol-manual versions are almost as convenient but more cohesive packages.
Also Watch,
Also see: MG Hector vs Tata Harrier
Price (Ex-Delhi)
Starts Rs 12.9 Lakhs
Price (Ex-Delhi)
Starts Rs 13.69 Lakhs