2019 Mahindra XUV300 AMT first drive review
As you've seen elsewhere in this magazine, every mainstream carmaker and few new ones want some of our SUV love. This is even more true of sub-four metre SUVs. In this segment, Mahindra, a brand which has been dominant otherwise, has been a late-starter. But that's changed in the last few months.
What are we looking at then?
Mahindra, after a few misses, has finally found its footing in this space with the XUV300. It launched this SUV with a pretty neat pair of petrol and diesel engines at the beginning of the year. Now the carmaker is set to complete its line-up with this, the automatic version.
The Mahindra XUV300 automatic uses a new six-speed AMT gearbox sourced from Marelli. In our short spin around Nasik, we came away impressed by how refined and versatile this unit was. A big departure from the five-speed unit from the TUV300.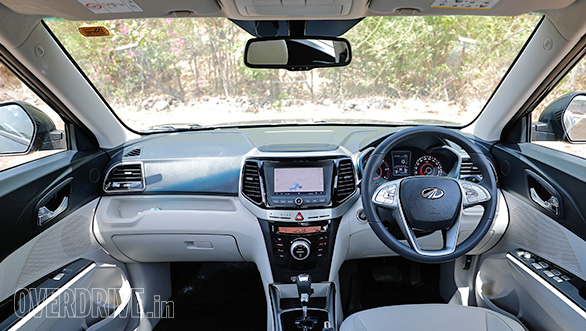 We drove the Mahindra XUV300 AMT paired with its 1.5 four-cylinder turbocharged diesel unit. The firm hasn't made any changes to the motor and it continues with its 117PS at 3,750 rpm and 300 Nm between 1,500 rpm to 2,500 rpm. If anything, the throttle response seemed a bit keener than what we remember.
At low city speeds, the gearbox chooses gears intelligently, always keeping the engine in the meat of its powerband. The built-in creep function holds a steady 9-10 kmph which then works as a hill-descent feature on slopes. But we'd suggest not relying on this entirely, given that on lesser inclines, the engine overcomes this resistance and starts moving the SUV forward.
It'll shift up seamlessly too as speeds rise, without any of the nosedive that plagues AMTs. In the 30 to 50 kmph band that you would expect to do in the city, the gearbox shuffles between third and fourth gear without any clunkiness, so you can expect good fuel economy. During braking, the box shifts down unintrusively as well, giving you some engine braking too. By the time you hit 80 kmph, you'll find yourself in sixth gear.
On the open road?
A spirited highway run doesn't catch the XUV300 AMT out either. Keep your foot pinned down, and the gearbox holds on to gears right up to the 4,500 rpm redline. We think this is a bit unnecessary, the engine has long since petered away. But overtakes are an easy business, thanks to the AMT's kick down feature. This works without delay and quickly drops upto two gears, so you have all the torque at your disposal.
But medium speed downshifts from fourth to second catch out the automatic, there's some nosedive and the shift is slightly clunky too. You could take over manually to avoid this slight glitch. The six-speed box works well here too. It's as quick and will also prevent you from stalling the car by automatically upshifting or downshifting. But this intervention is less intrusive than in some other AMT setups. Helping matters is the short, stubby gearlever. It looks a bit plain but is a welcome relief from the long, slightly awkward lever from the manual.
Is there a catch?
In our short drive, the Marelli AMT unit, and Mahindra's tuning of it struck all the right chords, helped by its integrated actuation pack which improves responsiveness. But we would have liked a more logical shift pattern. The cross-pattern shifter is a bit difficult to get used to, given that it returns to its centre position after you've requested a shift. But this is nothing some time behind the wheel shouldn't fix.
Of more concern though is the inconsistent quality that we have faced in our earlier experience with the XUV300. We've driven a fair few examples and have had a different ride and handling experience each time. We're hoping Mahindra has sorted these issues out by the time the Mahindra XUV300 AMT comes to market. The carmaker could also use this opportunity to price the XUV300 more competitively. The SUV was never a value proposition, a fact highlighted further by the Hyundai Venue's pricing.
Should you buy one?
You should if you are looking for a compact SUV that has great space, a very good ride, competent handling and a long feature list.
We drove the XUV300 in its top-spec W8 option guise and came away as impressed as before. Built on a Ssangyong derived platform, it feels sturdy and largely well-made, handles our roads brilliantly, has a spacious and airy, if oddly styled cabin, and comes with segment beating features like the dual-zone climate control, heated mirrors and sunroof. Safety too is well taken care of with seven airbags and front parking sensors being highlights in this spec.
The AMT will also be available with the petrol at a later date, possibly the better option for city dwellers, but Mahindra still hasn't announced what variants will get this option. As for pricing, we think a Rs 20,000 to 30,000 premium is justified over current prices.
Also see: Mahindra XUV300 v Maruti Suzuki Vitara Brezza, Tata Nexon & Ford EcoSport Comparison Test Video
Also see: Mahindra XUV 300 First Drive Video
Price (Ex-Delhi)
Starts Rs 7.95 Lakhs
Price (Ex-Delhi)
Starts Rs 7.99 Lakhs
Price (Ex-Delhi)
Starts Rs 7.53 Lakhs
Price (Ex-Delhi)
Starts Rs 6.95 Lakhs