2019 Kia Ceed first drive review
Hatchbacks in India have traditionally been looked upon as cars that are compact and the preferred choice for first-time buyers. In fact, a lot of times they are also considered to be a compromise as compared to sedans, but the Kia Ceed begs to differ. It is a large, spacious and premium feeling car that isn't just oozing with style but also promises to create a new sub-segment of sorts in India. Should Kia choose to launch it here, that is. We do know that the Ceed is being considered for India, but there's no confirmation just yet. We got a chance to get behind its wheel in Germany briefly – an opportunity we didn't want to miss, especially since the drive involved a blast on derestricted stretches of the autobahn near Frankfurt.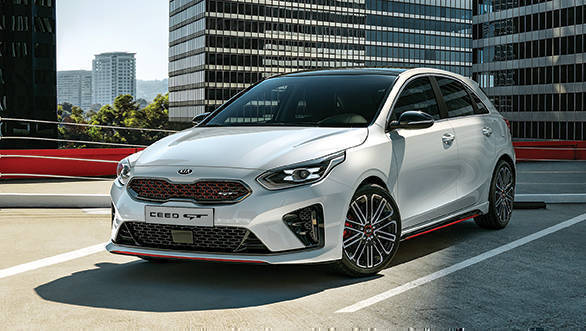 The Kia Ceed is a large, premium hatchback that was launched originally for the European market
What makes the Ceed so interesting you ask? To begin with, it takes on names like the Ford Focus and Volkswagen Golf internationally and these are cars that need no introduction as enthusiast cars. Kia itself enjoys popularity as a premium player in markets like Europe and USA and certainly knows how to appease enthusiasts. The Ceed's design is properly European with short overhangs and a sharp-looking face, complete with Kia's trademark 'tiger nose' grille. The short overhangs have allowed the wheelbase to be stretched to a generous 2,650mm which also makes for a low and sporty stance. Machine-finished, 17-inch alloy wheels with a racy design add to the car's appeal, though the rear is relatively simpler looking.
The Ceed is offered with the option of two petrol and one diesel engines and all three engines can be had in two states of tune each. We only drove the diesel, a 1.6-litre four cylinder unit, in its higher state of tune where it offers 137PS and 300Nm, mated to a seven-speed dual clutch automatic gearbox. Sweet! We drove the GT Line trim that sports all-black interiors with red accents and stitching, which compliments its sporty exterior design well. The cabin also feels roomy and spacious, thanks to the car's generous dimensions including the 4.3 metre length and 1.8 metre width. The interiors reek classiness as well, thanks to the extensive use of brushed metal and soft-touch leather finishes.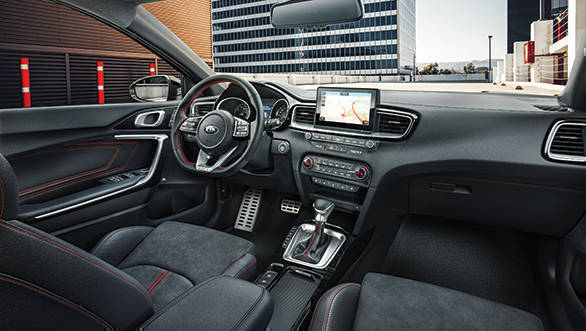 The Kia Ceed's interiors boast a classy feel unlike hatchbacks sold in India and in fact, if launched in India, the Ceed will be positioned against the likes of executive sedans like the Hyundai, Honda and the like
The Ceed is also very well-specced, and comes equipped with adaptive cruise control, lane keep assist and what have you. It is thus on par with European cars in terms of its equipment list – the car we drove also featured heated seats and dual-zone air-conditioning too! The car's sporty feel continues from behind the wheel, thanks to the low seating position and the angle at which you hold the steering wheel, which also houses a set of rich-feeling paddle-shifters finished in brushed metal. Acceleration is brisk and turbo lag minimal as the engine is in the highest state of tune here and the Ceed had me break into a smile every time I had a chance to accelerate hard.
Our drive was a little too brief to talking about driving dynamics but out on the autobahn, the Ceed felt extremely planted even when the speedometer needle was nudging 200kmph, courtesy the firm suspension and 225mm wide tyres. High speed lane changes were extremely confident as well with good feel from the steering wheel while the seven-speed automatic was quick to respond to my demands. To sum it up, the Ceed is a car I would want Kia to bring to India with its kind of design, sportiness, rich interiors and impressive dynamics.
The Kia Ceed has the potential to kickstart a new segment of premium hatchbacks in India with what it brings to the table
But the aforementioned drive experience and equipment list also tell me that the Ceed will be a lot more expensive than most hatchbacks sold in India. In fact, Kia has indicated that if launched in India, the Ceed could cost in the region of Rs 14 to 16 lakh ex-showroom which will bring it in line with prices of sedans like the Hyundai Elantra and Skoda Octavia! That price point might be hard to digest for a lot of buyers, but Kia Motors is clear that the Ceed will help make a statement as a youthful, premium carmaker, rather than chase volumes.
Price (Ex-Delhi)
Starts Rs 17.94 Lakhs
Price (Ex-Delhi)
Starts Rs 17.6 Lakhs
Price (Ex-Delhi)
Starts Rs 25.99 Lakhs