2019 Jeep Wrangler Unlimited road test review
The best part of driving the new Jeep Wrangler around for the better part of three days wasn't having the tyres chirp on the go every time I got into the throttle, or even that traffic switches lanes for you, or that you sit far above the level of traffic itself. It wasn't even that it managed to climb a dirt wall we wouldn't have dared attempt in any other stock SUV! All that was great, no doubt and had me grinning like a loon, even though if I'm being honest, body-on-frame off-roaders aren't my preferred flavor of four wheelers. It was on the drive back to return it, when the driver of a Mahindra Thar passed me in the opposite direction and nodded in appreciation. Those who know what it is, get it, and love it for its singularity of focus and intent.
The Wrangler is the ultimate off-roader, and has been for a long, long time. And in this brand new generation, it's lighter, more efficient, more practical and handles too, giving you a lot less to have to shrug off with every Jeepers' grudgingly favourite line, "It's a Jeep thing."
But, it looks just like the old one?
Of course it does! The Jeep formula works – square box on ladder frame, vertically slatted grille, upright windshield, wide fenders – and people want it that way. It has been fine tuned though, in an air tunnel, no less! So the windshield is raked ever so slightly back, and functional vents in the front fenders help ease the air pressure under the hood.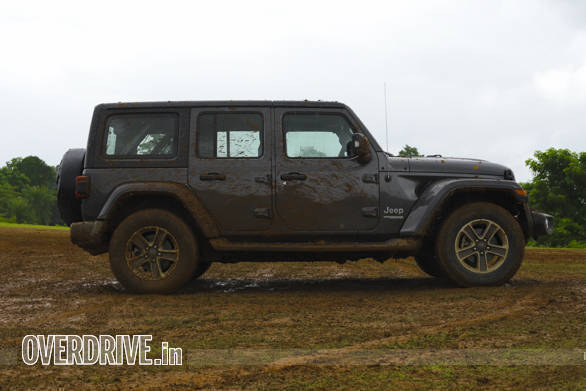 Round LED headlights slightly cut into the outermost of the seven vertical slats on the grille, which manages to make it look more modern, while the DRLs/turn indicators are moved to the larger flared fenders. The doors still have exposed hinges, because they can be removed. And at the rear, the tail lights have more detailing in them, and apart from marginally longer bumpers at both ends that's about it. More aluminium has been used (in the doors, hood and fenders) dropping weight, and it's easier now to drop the windshield fully flat for the full Jeep experience.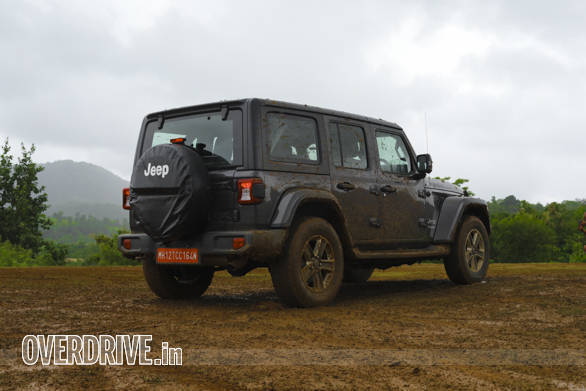 How's it on the inside?
The cabin is at the other end of the change spectrum – it's all new. While the old JK Wrangler had hard plastics and a spartan layout, because you know, 'It's a Jeep thing', the new one goes a long way towards fixing it. Granted, India only gets the more luxuriously-appointed Sahara trim, but the soft-touch materials used feel vastly more premium. It even gets double-stitched leather upholstery – in a Jeep!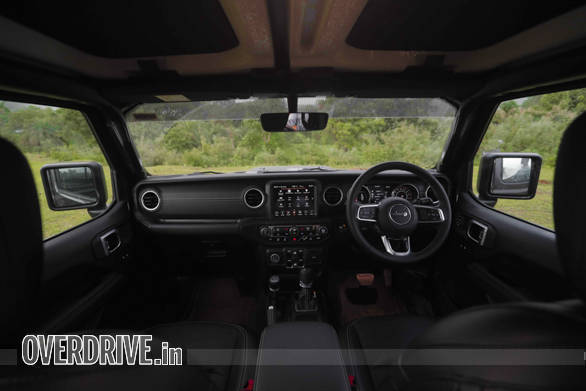 There's still multiple grab handles but what was plasticky earlier is now plush and it feels a lot closer to being deserving of the money being asked for it. There's also a new 8.4-inch UConnect touchscreen infotainment with Apple/Android connectivity, a new digital driver's display which can display everything from distance to empty, to roll/pitch angles and, finally, parking sensors and a reversing camera. Even the charging points have been upgraded, to USB Type-C ports, with a USB and 12V port also available.
What you definitely do get for your money is the most commanding driving position of any SUV. Ever. You sit high up enough that you end up looking down slightly at drivers of even SUVs like the Pajero. And it's a large, supportive perch too, even if the cloth tab for adjusting recline feels like an afterthought. The flat dash, right up against the windscreen, means there's a lot of room in the cabin yet everything feels ergonomically sound. The only exception being the power window switches, which have been placed lower than on the last-gen Wrangler, and the narrow footwell and lack of dead pedal. But I can live with the former, considering it allows for the doors to be removed. And I'd much rather have that option if I ever felt like taking the Wrangler to a beach. The roof is removable as well, in three parts, with the front T-top just requiring a few latches to be undone to get topless.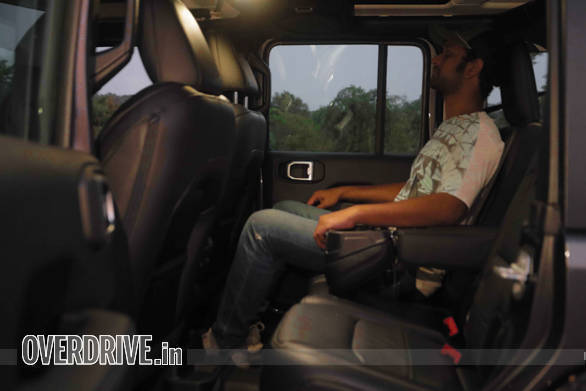 Space at the rear is improved too, though the seatback feels a bit too upright. This may be the only 'Jeep thing' in this cabin so far. The tailgate swings open to reveal a flat boot, with the speaker somewhat eating into the boot space. Touches like the built-in rack for the door/roof bolts and the washable interiors with drain bolts show Jeep really has thought of everything this time around.
How does it drive?
Have thoughts of derision at the 'small capacity' 2-litre engine on this new Wrangler? It may be a petrol, it may be turbocharged, but it just takes getting into the throttle pedal once to realise this Wrangler is a beast now! This new motor's 268PS/400Nm torque figures are a bit of a give-and-take compared to the earlier-gen's 2.8-litre diesel's 200PS/460Nm torque but it's the power delivery that stands out. This engine uses direct injection, to help On the road, below 2,500-3,000rpm, you definitely appreciate the ease with which the Wrangler moves, the smoothness and lack of engine noise. Above that, you greatly appreciate the ferocity with which the turbos kick in – never would I have imagined I'd be doing pulls in a Wrangler just for kicks, or even that it will lay down long lines of rubber with zero effort!
It revs cleanly to its redline at about 5,500rpm and the 8-speed torque converter automatic does its job quickly and smoothly, considering its purpose. That the Wrangler posts a 0-100kmph time of 8s flat is a surprise and its roll-on figures also show how effective the transmission is. Acceleration between 30-50kmph, for example, requires only 1.5s, which makes it as quick and responsive as most other luxury sedans we've tested. A steady 120kmph is under 2,000 revs, with the transmission in eighth gear, which helps the Wrangler to a highway efficiency of 9.1kmpl. The figure drops to 6.3kmpl in the city, which is not bad, all things considered.
Off the road, the Wrangler does a good job of metering out the torque and you never find yourself in a situation where the torque is overpowering the wheels on a loose surface. The Wrangler uses Jeep's Selec-Trac 4WD system with a good ol' lever to select between two- and four-wheel drive, with a low gear with a 2.72:1 ratio for the real sticky stuff. Obviously, the set-up works effortlessly, the Wrangler just needing a little extra throttle to make steep climbs without even looking at the stubby lever to lock the transfer case in either 4H or 4L.
Rides and handles well too?
The Wrangler has a body-on-frame construction, as always, but uses greatly optimised five-link independent suspension at all four corners, with beefier anti-roll bars and box section control arms for better stability and ride quality than before. At low speeds, there's a bit of shimmy to the ride, which translates to the Wrangler sometimes skipping across surface irregularities at speed. But for the most part, vertical movement is very well controlled and, while there's lean putting the Wrangler into corners, it still holds its line admirably.
The steering, while super light at parking speeds, weighs up nice and progressively when you're on the highway and feels confident at high triple digit speeds. Despite the large tyres, there isn't much tramlining or wander to worry about. That light steering is precise enough to make it very easy to place the Wrangler when you're navigating obstacles off road, and visibility is of course, brilliant. The only thing you can't see is how far the front bumper sticks out, and it sticks out nearly a foot and a half. It has been tweaked to allow for better angle of attack and departure, but still needs a little bit of looking after.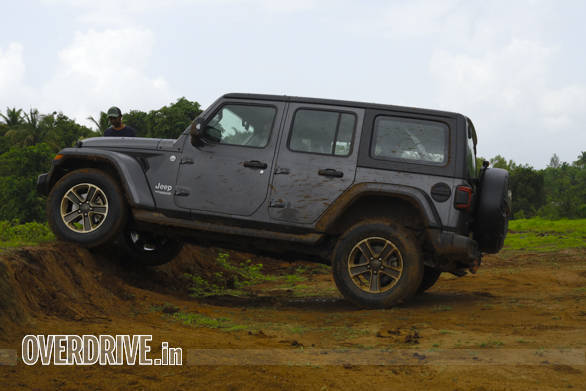 Especially, if you decide to attack a vertical dirt wall. Line it up just right, and the Wrangler will likely make it just fine, even managing to clear its underbody (which gets metal protection) though it is a long wheelbase SUV. There's no doubt in our minds that with more aggressive M/T tyres, instead of the A/T it comes with, the Wrangler will get you through everything you can throw at it.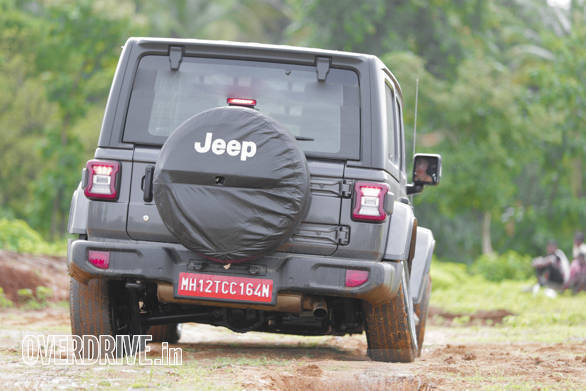 Verdict
There really is nothing else like the Jeep Wrangler. That it's so much easier to live with, feels much more luxurious and easier to drive everyday makes it the perfect off-roader fit for the daily run. We're not sure most owners will fully exploit the off-road capabilities of the Wrangler but as a lifestyle statement, nothing else comes close. With a lower price tag than the current Rs 75 lakh (on road, Mumbai), the Wrangler would be a solid, solid recommendation but nothing else comes close to earning you the kind of knowing nods the Wrangler can.
Price (Ex-Delhi)
Starts Rs 53.9 Lakhs
Price (Ex-Delhi)
Starts Rs 9.8 Lakhs
Related Stories