2019 Hero Pleasure Plus 110 first ride review
Jokes apart (seriously!) the 2019 Hero Pleasure Plus changes its sex in a way. While the earlier Pleasure with its 102cc engine was squarely aimed at women riders, the Plus with its more gender-neutral styling and larger 110cc engine should appeal to men too. We rode it alongside the Maestro Edge 125 FI in Delhi, and here's what we think.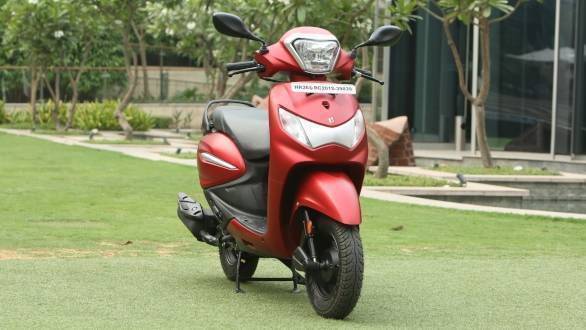 Chic styling
The Pleasure Plus embraces curvier bodywork, with a tall, tall headlamp looking a little swan-necked from certain angles. But with the contrast silver plastic inserts at the front and sides, it's a pleasing (okay, last pun) design. In a way, it reminds one of the Destini 125, and that probably isn't a bad thing since it's still a narrow-bodied scooter, only weighing in at 101kg kerb weight – perfectly manageable for both sexes. Two variants are available, one with steel wheels and one with cast alloy wheels, while colour options span the bright and glossy, or more reserved and matte spectrum.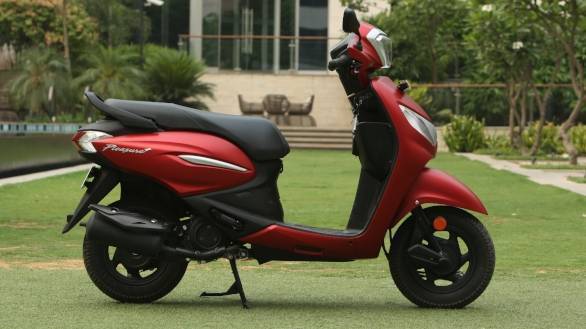 Feature-packed
At the top of the standard features list is the integrated braking system and side stand warning, as on the larger Hero scooters. Also, making a notable presence is the USB charging socket and deep storage pockets right where the rider can reach them, while the underseat storage also gets LED illumination. The dual texture seat does feel premium, and is a great value add on this under Rs 50,000 scoot.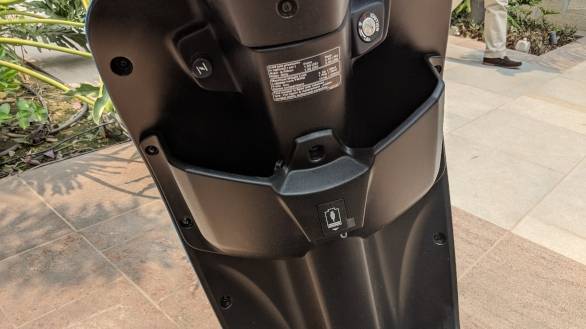 Larger heart
Borrowing the 110cc motor from Hero's line-up, the Pleasure Plus gets an impressive bump in power for its size. Like we said, this plastic-bodied scooter weighs in at only 101kg ready to go, and the new engine takes power up to 8.2PS, from the 7PS it offered earlier. This makes it amongst the most powerful scooters in its segment, and certainly the low weight helps performance, as we're about to find out.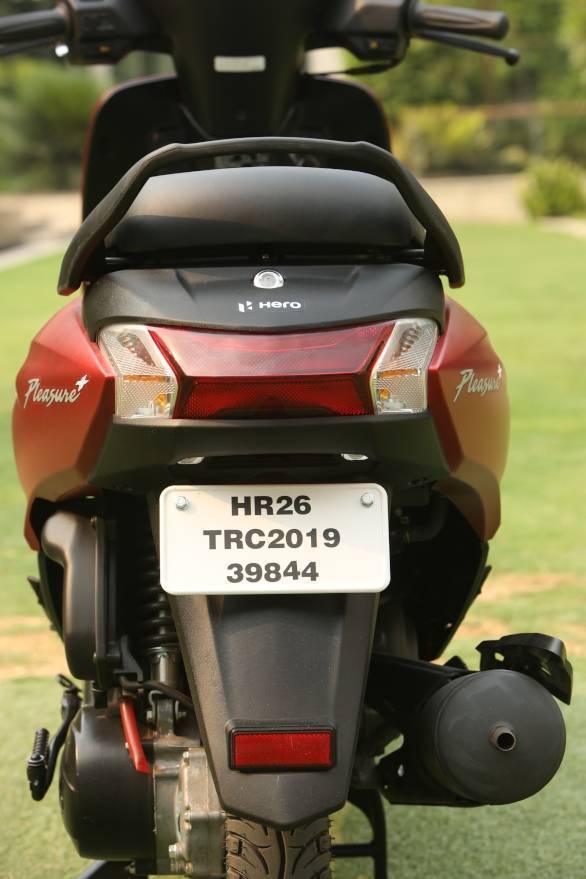 On the go
The Pleasure Plus can really move! The low weight, more power formula has never hurt anyone, and this scoot feels very sprightly. Getting up to speed, and passing traffic takes no effort at all, and the engine feels smooth and refined in the 40-60kmph bracket. It rides on 10-inch wheels front and rear, and a worry with light scooters is that they can end up feeling too quick to steer, which can be unnerving for new riders and experienced ones alike. Fortunately, the Pleasure Plus doesn't feel like it'll fold at any opportunity, though it does have a light feeling front end. It feels like the weight is carried low enough to instill confidence, while still being easy to get out of parking spots, and through traffic.
The integrated braking system helps here, with even panic grabs at the rear brake not resulting in the wheel locking and skidding. It did feel a little skittish over speed breakers at anything over a walking pace, but wasn't too upset with bumps in the middle of the sweeping flyovers surrounding the Delhi airport. Perhaps riding two up or reducing tyre pressures will help soften that feeling.
Verdict
For a larger-engined, and comprehensively updated model to come in at a price just marginally higher than the outgoing model is saying something. At Rs 49,300 for the cast alloy wheel variant we tested, the Pleasure Plus makes a very convincing buy, no matter which set of chromosomes you have.
Also see: Hero Pleasure Plus & Maestro Edge 125 First Ride Review Video
Price (Ex-Delhi)
Starts Rs 44,900
Price (Ex-Delhi)
Starts Rs 54,800
Related Stories