2018 Tata Tigor JTP and Tiago JTP first drive review
Cars, especially if you happen to be as fastidious as the automotive enthusiast, seem to always become greater than the sum of their parts. This is a difficult sensation to put in words but has almost always happened to me with any car I have managed to spend a sizeable amount of time in.
It may take longer to build this connection in a straight forward, functional econobox but can happen almost instantly in something that is geared towards heightening your senses. The Tata Tigor JTP and Tiago JTP we've just driven aim to fall squarely in this second category.
Tell me more...
They are right about on time with these cars. Ever since the Indica Sport concept from 2002, we have been teased with the idea of an affordable, quick Tata car. The company even showed a compact, mid-engined sports coupe, Tamo Racemo at last year's Geneva Motor Show. But Tata Motors had so far stopped short of letting these cars make it to production.
This meant I was quite excited when I heard late last year that Tata Motors had decided to work with Jayem Automotives of Coimbatore to develop a new line of performance cars. The new venture, JT Special Vehicles, would build performance versions of Tata cars under the JTP sub-brand. The Tata Tiago JTP and the Tigor JTP are the first cars to wear JTP badges.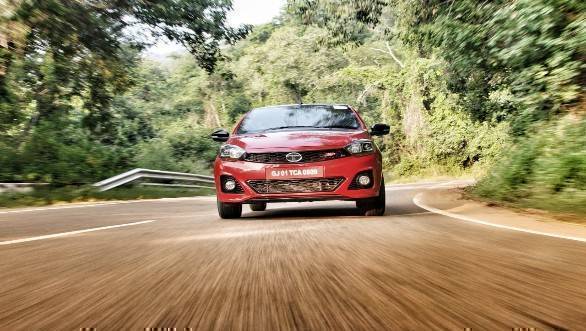 They look a bit different, don't they?
Yes they do. And all of these new changes work well. This is especially true of the Tiago JTP, with its inherently more cohesive hatchback bodystyle.
The first thing you notice is that the cars are now much better stanced. There's been a 4mm drop in ride height and bigger 185 section 15-inch wheels have been added. The standard Tiago and Tigor make do with 14-inch tyres. The JTPs both look more purposeful than their regular cousins.
Other noticeable addition are the new, more aggressive looking front bumpers. These house a bigger air intake. I like the fact that there is no chrome anywhere on the car, all of it has been replaced with piano black. The roof and wing mirror on our red Tiago JTP test car was also finished in this shade. The white Tigor that we drove came with contrasting red mirrors. A new rear spoiler, the much nicer projector headlamp cluster from the facelifted Tigor and subtle JTP badging on the front grille, boot lid and side vents are other changes.
The side vents and the single hood scoop on the bonnet are completely functional heat dissipators and finished very well in metal, not just some tacked-on plastic go-faster bits. I personally think these bits convey these cars' fun proposition better than anything else.
The Tigor hasn't seen as positive a transformation with certain elements at the rear not working as well. The new double-barrel exhaust isn't as well integrated as on the Tiago JTP. The new rear bumper also doesn't seem as attractive as the one on the hatch. Build and paint quality, however, is top-notch on both cars.
What's different on the inside?
The changes are more subtle here. It's an all-black affair now and quality seems to have stepped up a notch too. But these cars' direct rivals still have an advantage in this department. The lower half of the dash still had a few inconsistencies.
The new leather wrapped steering wheel is now better to hold. The new wheel is smaller and better contoured and I think it improves on the slightly awkward driving position on the standard cars. The aluminium pedals, and contrasting stitching are other standouts. If I were to nitpick, the pattern on the seats that goes with the red accents seem a bit too fussy.
But I'm not nitpicking when I say that both cars should have got more equipment than their standard version. The five inch touchscreen is a bit too small, the Tiago doesn't get climate control and a rear camera as well. Obviously cost was a consideration in this decision but it takes away from the premium position of the hatchback.
Safety has been adequately taken care of with two airbags and ABS being standard fitment.
Let's get to the driving now
We definitely should because these cars don't drive anything like the standard cars. Start them up and the first thing you notice is the engine note. The clattery tone of the earlier cars has been replaced by a mild burble. There is a nice raspy exhaust note from the new twin-piped exhaust system too, but sadly very little of that filters into the cabin. The new motor is based on the turbocharged 1.2 litre Revotron petrol but JT Special Vehicles has added new intakes, changed valve timing and fuel mapping to help it put out 114PS (5,000 rpm) and 150 Nm (2,000 - 4,000 rpm). The naturally aspirated 1.2-litre motor in the standard Tiago/Tigor puts out 85PS (6,000 rpm) and 114 Nm (3,500 rpm).
Set off and you realize that this motor is very tractable. There is almost no lag and the engine, though not the quickest revving, pulls cleanly to the redline. There is a noticeable bump in thrust after the 3,500rpm mark. This is also the first instance were the drive modes that Tata Motors has been putting in it's new cars finally comes into its own.
There are two modes, City and Sport, which bring a noticeable difference in the cars' character when switching between them. The JTSV engineers say they have limited torque to 115 Nm in the city mode to help aid new drivers.
This thought translated into cars that felt adequately powerful in the city. There were fewer gear changes given the motor's wide powerband and the steering felt well weighted and precise, a step up from the overt lightness of the standard cars' rack. JTSV has tinkered with the suspension too. This and the new tyres do well to absorb most urban obstacles, although a hint of firmness is definitely noticeable.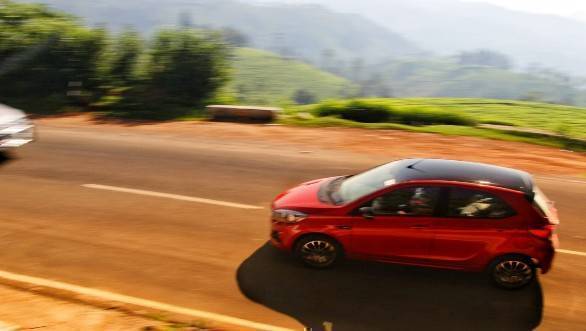 But are they fun?
They're a lot of fun. Heading out to the Kolagiri hills from Coimbatore, switching to Sport mode was the first thing I did. The cars noticeably become more eager. This mode uses a more aggressive engine map, the limiter moves from 5,500 to 5,900rpm, throttle response is keener and the full 150Nm is at your disposal. All in all, they're impressive highway machines and the single lane highway sections were dispatched with ease.
In the Nilgiris up to Ooty, the cars really came into their own. The new suspension set up allowed the cars to turn in quickly. JSTV has worked with MRF and Apollo to develop tyres specific to the cars and this shows in the impressive grip levels. The shorter gear ratios on these cars always kept the engine on the boil and a section of long, sweeping corners we're despatched with ease.
The brakes were a big step up too. They were progressive and easily modulated. JTSV claims segment-leading braking performance but perhaps the rear drums should have been replaced by discs.
There were a few other things that could have been better. The steering could have weighted up more at speed. There is some body roll, a sensation accentuated in a section of tight hairpins and S-curves. Other grouses are that the gearbox is not the slickest and the long throws feel a bit odd against the shortened ratios. Also, driving in Sport mode in the first two gears, throttle inputs are jerky at low speeds, making the slight adjustments difficult to modulate.
Should I buy one then?
The Tiago JTP is priced at Rs 6.39 lakh while the Tigor JTP will set you back by Rs 7.49 lakh. This is Rs 80,000 over the standard top-spec petrol Tiago's price of Rs 5.59 lakh and Rs 1.3 lakh more than a similarly specced standard Tigor. At first glance the premium seems justified. A thought confirmed by the wide margin by which these cars undercut their closest rivals in spec, the Maruti Suzuki Baleno RS and the VW Polo GT TSi
These cars were genuinely fun to be around. They were fun to drive hard and were also easy and comfortable to potter around in when you just wanted to relax a bit. Most of the new changes are thoughtful and make the cars better.
Obviously, this was only a first impression. How the ownership experience is of owning these cars will have to be seen. Tata Motors will also have to convince people to opt for these sportier Tata cars, a process which company representatives say has already started.
Speaking to the guys at JTSV, they seem like a group of people who like what they are doing. They have big plans going forward. A line of aftermarket products, more cars, even a motorsport competition with these cars is possibly being considered. The Tiago JTP and Tigor JTP are a commendable first effort.
Images by Varun Kulkarni
Price (Ex-Delhi)
Starts Rs 7.49 Lakhs
Price (Ex-Delhi)
Starts Rs 5.75 Lakhs
Price (Ex-Delhi)
Starts Rs 6.35 Lakhs
Price (Ex-Delhi)
Starts Rs 4.6 Lakhs
Related Stories