2018 Mercedes-Benz S350d first drive review
Mercedes-Benz launched the new face lifted S-Class in India in end February, and recently we were invited to drive and experience it in Hyderabad. At the unbelievably majestic Falaknuma Palace that is now one of the world's finest luxury heritage hotels. One could not ask for a better setting to be introduced to what is also referred to as the world's best car.
The night before getting into the S-Class, Mercedes-Benz hosted a dinner for us at the Falknuma Palace's '101 Dining Hall'. This is the world's largest dining hall with seating for over 100 people on the table! The stately venue which was once home to the Nizam of Hyderabad, back then the world's richest man, has sophisticated wood interiors and ornate crystal chandeliers, and exquisite acoustics that enable you to hear whispers from one corner of the room to another. Watch what you say Bob, watch what you say.
After a splendid evening and a comfortable night spent in the palatial room, I finally got into the new face lifted Mercedes-Benz S-Class next morning, and promptly fell asleep. No not behind wheel- the Mercedes-Benz Attention Assist system that alerts drivers when they begin showing signs of sleep, wouldn't allow that, nor would the several other driving aids that this super luxury car comes equipped with.
As I was sharing the Mercedes-Benz S-Class with my friends Ishan Raghava and Kapil from Auto X, I decided to get into the backseat and before I knew it, my consciousness had been suspended. Mind you this was at 9.00 a.m, after a full night's sleep! I did not have a hangover, and neither was I suffering from any aftermaths of the night. It just kind of happened by itself. On getting in, I electrically reclined the rear seat to its maximum angle of 43.5 degrees, which thanks to the 'Chauffeur Package' also resulted in the front passenger seat moving forward. Its backrest folded nearly fully and the retractable footrest mounted below the seat, also extended automatically, making it possible for me to virtually laze in an almost horizontal position. The moment my head touched the soft pillow attached to the headrest, my mind went into retreat and I passed out. Next thing I remember, I had drifted off into a dream. In the dream I was an extremely rich man, someone who could afford all the goodies and pleasures of the world. Then a window opened and showed me the reality of this 'wondrous world'. All that money had me working constantly to invest and make it grow. The more I made, the more I wanted, such is greed. My businesses kept me very busy and I was always tired and really pressed for time. I hardly ever enjoyed my wealth and spent a lot of time travelling and also sitting in traffic. At this point, the dream turned sour, and as I woke up with a start I thought I heard Nusrat Fateh Ali Khan singing Aafreen, Aafreen. It was Ishan playing his favourite Sufi songs on the Mercedes S-Class's Burmester surround sound system with 13 high-performance speakers and a total power output of 590 watts.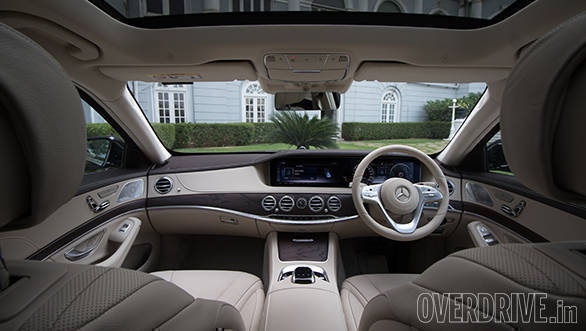 We were then crawling through the dense traffic in the old part of Hyderabad city, and I soon realized that I was very well isolated from the crazy chaos outside. Ishan kindly asked if I wanted to drive, but I refused. Instead I took the remote and summoned on the rear display screen, the ENERGIZING massage function to show what it had to offer. This massage function has six programs and two intensities, with relaxing, stimulating or energizing effect as desired. These are broadly known as- Hot Relaxing Back; Hot Relaxing Shoulder; Activity Massage; Classic Massage; Mobilizing Massage and Active Workout Backrest.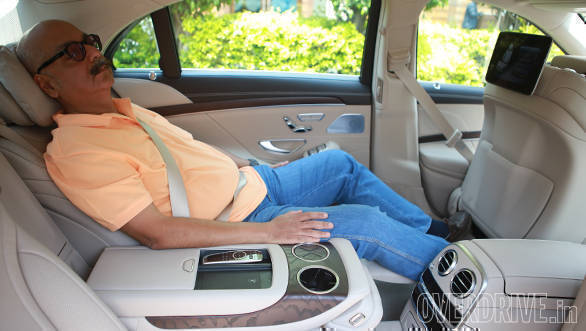 Apart from these six different massage function programs, occupants can also choose between low and high intensity settings. The seat backrest incorporates a massage mat with 14 air chambers too. These can be inflated or deflated by fast-acting solenoid valves to produce a wave-like massage effect. The inflation sequence, speed and effect vary according to the selected program. Each of the massage durations is between 12 and 15 minutes. Two of the programs have an additional warming effect based on the principle of hot-stone massage. This hot-stone massage effect is fulfilled by means of electronically controlled massage heating panels. Heat and gentle pressure in the spinal area make for particularly soothing relaxation. At the same time, the muscles along the spine are stimulated by gentle movements, improving blood circulation. In addition to this, if a critical driving situation is detected, the PRE-SAFE system increases the pressure in the air chambers located within the side bolsters and in case of an accident, this holds the occupants in place in a better manner to reduce whiplash.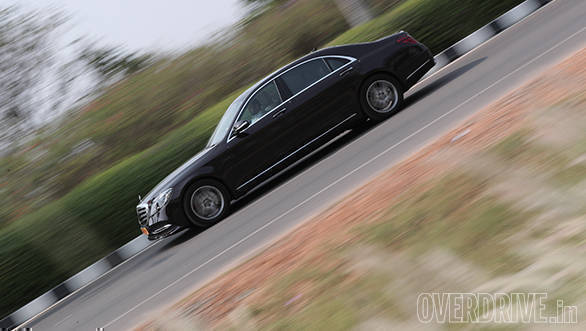 As I experienced and enjoyed the various massage functions, my mind moved into a different space. I was able to switch-off from all that was happening outside, and gradually felt my body and brain begin to relax. As the stress was released I started to feel lighter and imagined I was floating. Ishan's smooth driving and wonderful collection of Sufi songs with greats like the Sabri brothers was also helping soothe my mind and heal the body. I was experiencing total relaxation and found myself in a very welcome and peaceful space. The amazingly comfortable ride quality and well insulated and isolated passenger compartment, helped me achieve a much desired, but rare meditative mindset. It was like being in my own private spa on wheels. Oh, such are the pleasures of being really rich.
Yes, if I was a rich man, I would surely get myself the new face lifted Mercedes-Benz S-Class. For the simple reason that I would also have my very own spa. A spa that provides half a dozen different kinds of massages. These days everyone wants to go on a 'spa-holiday'. I would just get into my Mercedes-Benz S-Class and ask the chauffeur to take me for a drive, where I would of course also get rejuvenated by the various massages. For thousands of years, spas have been known as places where you can relax and get healed. Kings and warriors, queens and concubines, Romans and Indians have all enjoyed the pleasures of massage for centuries. But at last, after having lost count of the number of cars I have driven and tested, I have finally come across an automobile, which can also double up as a spa.
The new face-lifted Mercedes-Benz S-Class is no doubt a fast and very capable machine with remarkable performance. But to me what's more important is that it offers six different massage sessions that allow you to slow down and de-stress. Man has known for a long time and even medical science has proved that body massages improve blood circulation and deliver oxygen and nutrients to our cells. They stimulate our systems and take our body and mind into a feel good space. The physical pampering presented by the S-Class reduces stress and assists in slowing down the heartbeat rate. It relieves aches and pains and boosts your mood. The Mercedes-Benz S-Class even has warming effects based on the principle of hot-stone massage. It is believed hot stones warmed by fire were originally used by Native Americans to relax stiff muscles. Modern day therapists have also been heating and placing smooth flat stones on specific parts of the body, to ease tense muscles. The heat helps increase blood flow and lessens muscle stiffness. It's also said to have a sedative effect, which I can vouch for, especially after having experienced a trance like state in the rear seat of the S-Class.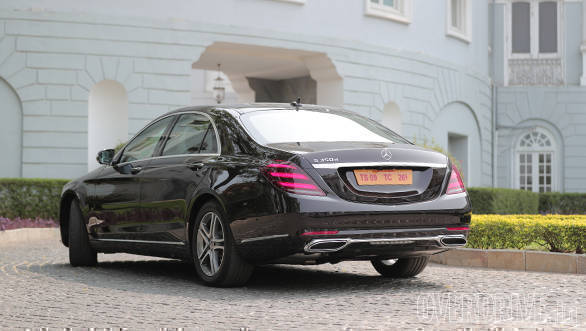 In case you already haven't fallen asleep, and are the kind who wants to know some details about what's different in this new face lifted Mercedes-Benz S-Class, please read-on. Being a face lift means it has new bumpers and lights and a different front grille and alloy wheels. The headlights now also sport a cluster of three LED lights strips, which is the maximum found on any Merc, and this helps establish the S-Class at the top of the Mercedes-Benz hierarchy.
Mechanically the biggest change is that the new Mercedes-Benz S-Class is powered by an inline-six cylinder diesel engine that generates 286PS and 600Nm of torque. All of which takes this big and heavy and almost two ton luxury sedan, from 0 to 100kph in just 6 seconds! The engine is married to a new 9-speed automatic gearbox that shifts gears almost imperceptibly. The refinement levels are extremely high and you will be hard pressed to tell it's a diesel. The Mercedes-Benz S 450, which is driven by a V6 twin turbo petrol making 367PS, is also extremely refined and always has lots of power in reserve. It gets to
100kph in about 5 seconds!
The Mercedes-Benz S-Class also has a new radar-based Advanced Driver Assistance System (ADAS) that offers assisted driving on highways, assisted situation-dependent braking in critical situations and active assistance during evasive manoeuvres. This Level 2 autonomous driving technology also comes with Active Distance Assist or DISTRONIC, which helps the driver to control the distance to the vehicle in front. At low speeds, the system can also react to stationary vehicles or pedestrians. It also comes with Active Braking Assist and Active Steering Assist, both of which are most helpful for casual drivers with a tendency to be distracted.
Not only is the Mercedes-Benz S-Class loaded with features and technology, it looks most elegant and has an electrifying street presence too. As mentioned, despite being so large it is an athletic performer and moves quickly, but with a dignified grace. The ride quality is most comfortable and the passenger compartment is brilliantly isolated from all that is happening underneath or outside the car. And as is to be expected, the interior quality and materials used are simply top-class.
The new 2018 Mercedes-Benz S-Class 350 d is priced at Rs 1.33 crore while the petrol version S 450 costs Rs 1.37 crore. The fact is that the Mercedes-Benz S-Class is one of the best cars in the world, and anything that is this good, comes at a price. After this drive experience, to me the S in this Mercedes-Benz stands for 'spa'and I know it's a car I can definitely sleep and dream in.
Price (Ex-Delhi)
Starts Rs 1.57 Crore