2018 Hyundai Santro AMT road test review
It's quite amazing to me that the first-time car buyer has gone from looking at used beaters to brand spanking new cars. I don't blame them, though. The earlier generation of buyers would never even have daydreamt of an automatic option – we've got a market full of relatively affordable ones now, and it's no longer a luxury buy given our cities' traffic. Granted, that's only been opened up by AMT technology and for the first-time buyer, Hyundai has the new Santro with a new AMT, that's sure impressed us multiple times. Time then to see how it holds up under our real-world testing routines.
Looks
If you're thinking the new Santro looks more like an i10, than THE Santro, you wouldn't be alone. It's based on a slightly modified platform that underpinned the i10. The new Santro is still quirky for sure, but only in parts. It mixes conservative overall styling with youthful touches to try and cut its own personality. And led by a grinning grille as wide as the car, I think it's quite the happy little car. While the AMT isn't available in the top of the line Asta trim, none of the variants get alloy wheels in any case. So, if you don't like how these wheel caps look, the aftermarket is your only bet.
Interiors
The Santro feels spacious, and from the time you sit in it, there's definitely the air of a cabin from a segment or two above. Even after all the time I've spent in one, I'm still amazed by the attention to detail on this  car, for this segment, like the colour-matched trim and upholstery, turbine-style AC vents, the trim around the gear lever, backlighting for the gear position indicator and hard-wearing rubber strip covering the infotainment physical controls to name a few. Strange then that the Hyundai logo on the steering isn't chrome, it's right in front of you and it feels sort of cheap. The 7-inch touchscreen infotainment bundles in Apple/Android connectivity, and feels up-market, though a reversing camera is only provided in the top variant. Stowage spaces are aplenty, and thoughtfully placed around the cabin. It takes a while to get used to the power window switches on the centre stack, instead of the doors.
The steering wheel isn't adjustable and the driver's seat is a little high set, but most drivers will like the extra visibility. That theme continues at the rear, with large window openings helping the feeling of space. The huge plus – and a segment-first – are the rear AC vents. The Santro is wide, and three abreast shouldn't be an issue. We did notice that the rear headrests are set too low to provide actual support on longer journeys. Luggage for the airport run or longer journeys is adequate, and the 235 litres of cargo should fit a medium suitcase and soft luggage.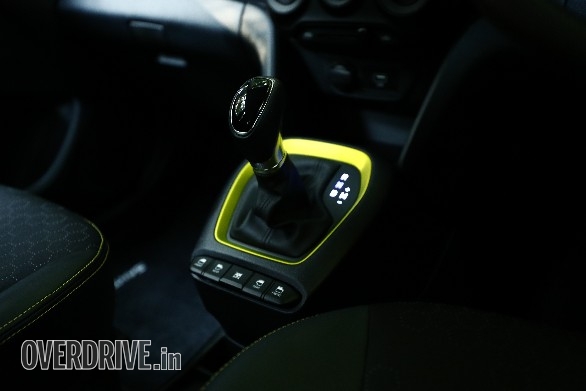 Powertrain
There's one engine, a 1,086cc petrol Epsilon engine with 69PS and 99Nm torque. The five-speed AMT is all-new and developed just for this engine. It uses electromechanical actuators instead of hydraulics, as seen on other AMTs in the market. As a result, this gearbox feels the slickest shifting of any AMT I've tried so far. No jerks at crawl speeds, barely a pause between first and second, no head nod between shifts and from there on smooth sailing. It will also kickdown multiple gears at once, and not jarringly. It still prefers being treated with reserve, rather than mashing the pedal. Its 0-100kmph time of 16.3 seconds means the Santro won't be winning traffic light drags though its kickdown figures are better than average. On more than once occasion I could make an overtake stick, that I wouldn't have been able to in another small AMT hatch. The four-cylinder engine is refined and you only hear it when you're nearing the 4,000rpm mark. You won't likely have to venture past that in normal driving. During our fuel efficiency tests, the AMT was shifting between 2,000-2,500rpm and the Santro returned a lower than average 12.8kmpl. Things were slightly better on the highway, with a figure of 20.4kmpl, and the engine spinning at just under 3,000rpm at 100kmph.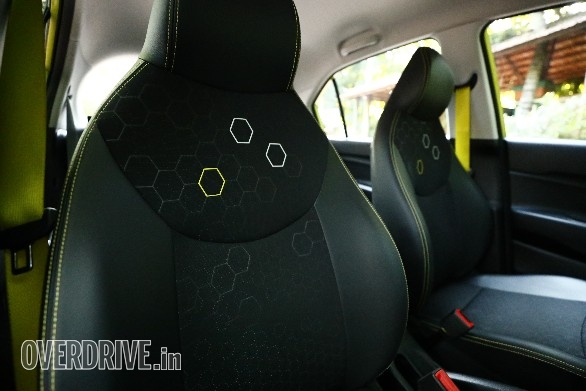 Ride and handling
The most big-car thing about the Santro is its ride quality. It glides over poor roads like a champ! Even deliberately trying to unsettle it over speed breakers didn't work, until speeds were risen to beyond what sane people would attempt. There's the feeling that the suspension will never hit its bump stops. The flip side is that the Santro leans into corners, and under heavy braking, it leans severely enough to shake your confidence a bit. That said, braking performance is adequate and the Santro comes to a halt from 100kmph in 42.6m and in 3.3 seconds.
In the city the light steering is appreciated but the moment you cross 90-95kmph, there's an artificial weight that gets added in, which then doesn't feel consistent as speeds rise. So what you're left with at 120kmph is a car that sometimes feels poised, and sometimes like it needs both hands firmly on the wheel making corrections.
Verdict
Here's the thing, the Santro Sportz AMT costs Rs 6.45 lakh, to bring it home in a city like Mumbai. That's not exactly small car money. Good thing then that you do get a whole lot of car for your cash. The Santro does have the ride quality and quality cabin that push the boundaries of the segment – and you'll have to spend quite a bit more to get not much more. That value earns it a solid recommendation.
Also see: Hyundai Santro v Tata Tiago v Maruti Suzuki Celerio Video
Price (Ex-Delhi)
Starts Rs 3.9 Lakhs
Price (Ex-Delhi)
Starts Rs 4.99 Lakhs
Price (Ex-Delhi)
Starts Rs 4.6 Lakhs