2018 Honda CR-V first drive review
The first CR-V to go on sale in India (second generation globally) was a revelation - an SUV which drove like a car - in 2001, no less! Three generations later, we have the all-new fifth generation CR-V and it promises that, with the ability to seat up to seven people. The 5+2 seating option will only be offered with the new 1.6-litre diesel engine, as will all-wheel drive and the new nine-speed automatic. The diesel will also come in a 2WD variant, while the 2-litre petrol carries over, only as a 2WD model and with a six speed CVT transmission.
Design
One of the main goals for the team responsible for developing it was to improve the dynamics over the old one. Looking at the new CR-V, you'd certainly think that to be true. It's grown in dimensions, and wheelbase, but it has a more hard-edged look to it now, which it never did before.
That's probably down to the much stronger-looking fenders and creased wheel arches with 18-inch wheels under them. The LED headlights at the front are especially striking, though some might find the overall treatment a little too avant-garde. The new CR-V is striking for sure, at certain angles it looks much closer to a full-fledged SUV than its crossover roots would suggest. Ground clearance is improved too, at 208mm, it's 38mm greater than before.
Interiors
Sophisticated. That's the second word that comes to mind, after the initial "Wow, not bad at all!" The cabin is large, airy and uses a dark top half and light lower to great effect. The dash itself has a mix of five different surfaces, most of which are soft and tactile. Soft matte plastics are used in most of the areas you'll end up touching, though the plastics used in parts of the lower dash feel like they'd be prone to marks and scratching.
There's a new 7-inch touchscreen infotainment with the usual standards of Apple/Android connectivity, but no bundled navigation, which is a strange omission. The screen is also noticeably low-resolution and takes a while between registering touch actions, though we like that a physical dial for volume is present. There's a new display for the instruments too, and it's clear with large fonts. Apart from offering telltale information, it's also got a driver attention monitor system to warn you if you're drowsy. We weren't, so we can't tell you if it works! The blind spot assist system, LaneWatch, we can vouch for. The system uses a camera in the left wing mirror to provide an 80 deg
view of the left, which we found to be more useful at slower speeds and in tight traffic for judging distances between our car and the next, than for overtakes.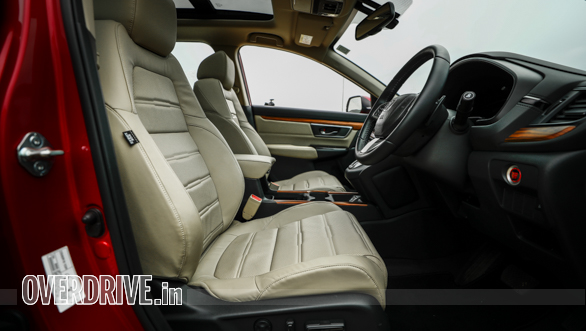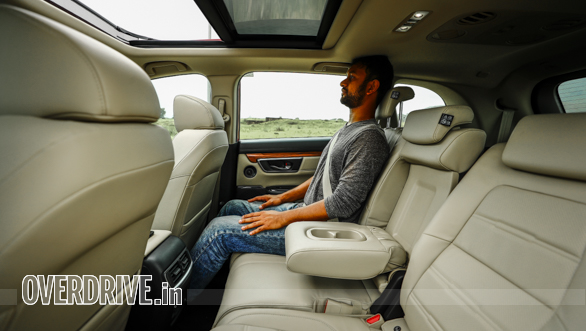 Visibility out of the CR-V is actually quite good just by itself. You get a great view of the road from the 8-way electrically adjustable seat, and it's very comfortable to boot. It's a similar story in the second row, with adjustments for legroom and recline allowing you to get really comfortable. The third row is more suited for children, though in a pinch you could probably squeeze an adult or two in there but they won't be happy about it.
Boot space varies between the five- and seven-seater – 522l or 1,084l with the seats down for the five seat model, and 472l or 936l (second row up/down) for the seven-seater. With all three rows up, the boot space stands at 150l though we managed to fit two camera backpacks in and were left with a fair amount of space around them. A separator is provided to help make the most of what's there.
Engine and performance
The big news (at least what everyone's talking about) is the new DOHC 1,597cc diesel engine, and that's because it produces 120PS@4,000rpm and 300Nm of torque at 2,000rpm. The latter figure is acceptable, while the former raises eyebrows. Though with rated fuel efficiency at 19.5/18.3kmpl (2WD/AWD), we can see why the compromise was made.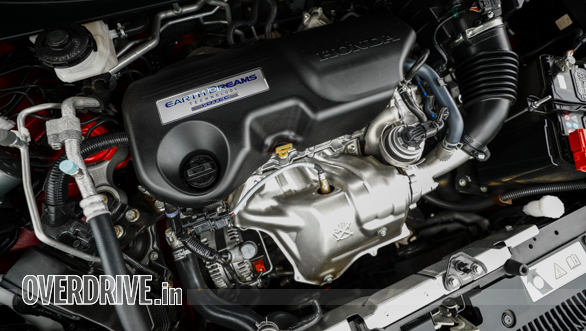 The CR-V's AWD system is on-demand and is pre-dominantly front-wheel drive, but can achieve a max torque split of 60:40 front to rear when the needed. What you need to know right off the bat is that the CR-V performs far  beyond what those figures suggest. That's in part down to the new nine-speed torque converter automatic gearbox, and the efficiency of the engine. Refinement, for starters, is far, far ahead of the Honda diesels we've experienced prior. The engine barely makes itself heard at idle, while it's only post 3,000rpm where you hear it making an effort. Though peak torque arrives at 2,000rpm, there is no feeling of turbo lag, with good drivability from low down in the range too. We feel the engine's sweet spot is from just under that to around 3,300rpm, post which there's not much progress and not much point striving for the redline.

At a steady 100kmph, the car selects seventh and has the engine ticking over at 1,900rpm with essentially the entire rev band for overtakes. The gearbox is ultra smooth in its shifts, and responsive to inputs from the paddleshifters. To retain manual control, the drivetrain needs to be in the S mode. Though, the gearbox does a good job of pre-empting what you need by itself. The switches for gear selection actually work very well, except for a bit of roll back when performing a U-turn, and quickly switching between drive and reverse. It remains to be seen how well this engine copes with a full load of passengers.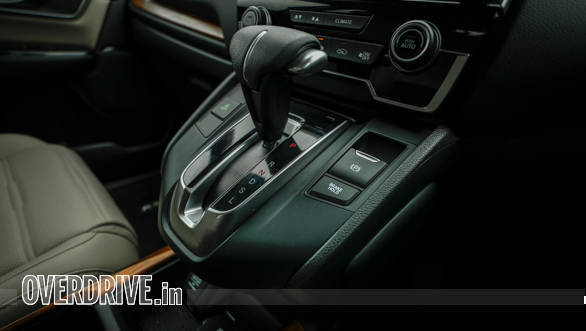 The petrol is the SOHC 1,997cc from the outgoing model, mated to a CVT with six speeds. With 154PS@6,500rpm and 189Nm@4,300rpm, performance is adequate. The CVT transmission is one of the best we've used, but still suffers from some of the dreaded rubber band effect if throttle isn't applied judiciously. Having a sixth preset ratio means it's equally relaxed on the highway, clocking a similar 1,900rpm at 100kmph. It doesn't like being revved too hard though, so building speed isn't as effortless as it is on the diesel.
Ride and handling
All the talk of dynamics seems to have paid off. Where the CR-V shines is in its ride quality, which hasn't been compromised in the interest of offering a dynamic handler, which it is to an extent. It rides on MacPherson struts up front, with a torsion beam setup at the rear. Dampers are of the frequency selective variety, meaning they have two separate circuits to take care of small and big bumps. Meaning, the suspension can be tuned to handle both really well without compromises, and it does. Only on sharper irregularities at high speed does the suspension get unsettled a bit, showing a tendency to thud. If you do spot a bad patch, you can trust the brakes to slow you down quickly, without too much dive to upset the balance of the SUV.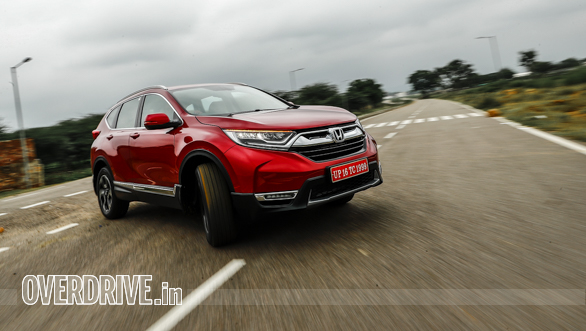 Our test route didn't offer much in the way of corners, but the direct and communicative steering was most helpful with feedback around the few corners we did encounter. The CR-V didn't exhibit too much lean and body roll was very well controlled even during quick lane changes. This could just be one of the few SUVs that has managed to get both ride quality and handling just right.
Verdict
We'll have to wait a little longer to get pricing on the new CR-V but if priced sensibly (keep it under Rs 30 lakh Honda!), it's a great alternative to the slightly smaller Hyundai Tucson, and larger, more expensive VW Tiguan and Skoda Kodiaq. At least, that's what Honda says. We think it could lure away a select few from bigger SUVs like
the Ford Endeavour, especially those looking for something that's easier to drive around the city. The
class-leading fuel efficiency should help make the decision easier for some people.
Also see: 2018 Honda CR-V diesel | First Drive Review
Price (Ex-Delhi)
Starts Rs 28.27 Lakhs
Price (Ex-Delhi)
Starts Rs 32.75 Lakhs
Price (Ex-Delhi)
Starts Rs 27.69 Lakhs
Price (Ex-Delhi)
Starts Rs 34.99 Lakhs