2018 Honda CR-V 2WD diesel road test review
Look at Honda's new CR-V for the first time, and you'll either think it's overdone and ostentatious, or that it's modern, futuristic or, frankly, cool. It's also underpinned by all-new platform architecture, making it more spacious inside, not to mention giving it a third row of seats. Past the added versatility, and premium interiors, the biggest question on everyone's minds (mine included) is whether the new 1.6-litre diesel, with its modest power figures, can cut it. More importantly, will it live up to its ARAI certified 19kmpl claim? I took it on a 2,000+km roadtrip, from Mumbai to Chikmagalur to find out.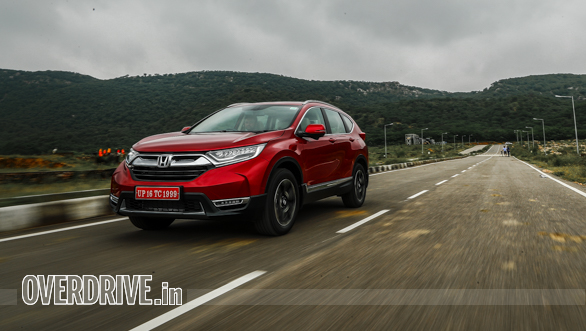 Design
Leading the way for the CR-V's futuristic appeal are its superbly detailed headlights, with its unique LED DRLs. Sharp creases and drawn out edges seem to have been the design mandate, and it really does take the CR-V from a friendly-looking crossover into something nearing intimidating. Nearing, since its dimensions, while larger than before, still fall short of the full-size SUVs in the segment. As a result, it doesn't have the road presence most SUV buyers look for, though the CR-V is meant to appeal to a different kind of buyer.
Interiors and ergonomics
Roomy, simply laid-out and incredibly premium feeling. It's a very comfortable place to park yourself for long periods of time; I'd know, since I spent a little over 12 hours in there, at a stretch and couldn't find cause to complain. Instrumentation is fully digital, and easy-to-read though the moment you're low on fuel, the warning eats up all real estate blocking out your actual distance-to-empty reading. There's no gear lever, with buttons instead, but those buttons take some getting used to, especially in a U-turn situation, where you will tend to fumble around switching between drive and reverse. Also fumble-inducing are the placement of the two USB ports inside the large storage bin. Without backlighting, finding the ports at night is a royal pain, even with the cabin lights on. Interestingly, the lane watch assist system which felt gimmicky at first, helped navigate this big SUV through city traffic. But the catch is, if you're using the infotainment screen for navigation, the lane watch camera takes over the moment you flip the left indicator on. It can be very frustrating when you lose your on-screen directions at that crucial moment, like I did around a roundabout in Chikmagalur, forcing me to double back to get it right.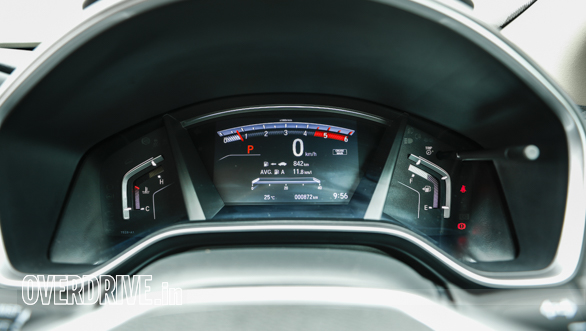 Performance
In two words: not lacking! Despite the modest-looking specs on the brand new 1.6-litre i-DTEC engine, with 120PS and 300Nm torque to power 1.7-tonne of metal. New forged pistons, and a revised turbo are said to cut down on turbo lag but I think the real hero here is the new nine-speed torque converter gearbox. With short stacked lower gears and long ratios at the top, it works excellently as a short-ratio box to give the impression of stronger performance between gears. So, while its power outputs aren't the best, its 0-100kmph time of 11.4 seconds make it quicker than some of its larger competition. And considering its small engine, you'd think it'd suffer at highway speeds. Except, the engine actually runs lower revs the more speed you pile on! So at 100kmph, it's just under 2,000 revs in seventh, and will refuse to shift up. At 135kmph, it's under 1,700rpm in ninth, with torque still on tap! So the CR-V does deliver on the highway, and you won't really question its engine size or figures unless you're pedal to the metal all the time. I had my doubts about its efficiency, but it delivered there too, returning 17.1kmpl on the highway and 11.2kmpl in the city.
Ride and handling
In any scenario, you will appreciate the plush ride quality and predictable brakes, though more bite at the pedal would make it perfect. The CR-V is endowed with frequency selective dampers, so it works well at all speeds, and with most road irregularities and potholes. I say most, because there are few very specific situations where it will hop and skip over bumps at speed, but it doesn't take away from the control of the car. The steering really is spot on, in its weight and feedback, and even in this 2WD variant, gave me the confidence to push around a corner, whether on tarmac or gravel. And, yes, I did take it off-road and it managed a small, gnarly trail up through a coffee estate, which has been known to make other 2WD SUVs turn back.
Verdict
After spending a brief amount of time with the CR-V before its launch in India, we came away with the impression that it was spacious, comfortable and adequate. And after doing a rushed 2,000+km roadtrip in it, that impression has changed to include the fact that it's far more than just adequate. This one, the 2WD diesel, is priced at Rs 30.6 lakh, ex-showroom, which might seem a little expensive. But, I'd stick my neck out and say that it's the most well-rounded SUV in that price range, especially if you don't care for the bulk of the full-size ones.
Also see: 2018 Honda CR-V diesel | First Drive Review
Price (Ex-Delhi)
Starts Rs 28.27 Lakhs