2018 BMW X4 first drive review
The BMW X4 may have striking looks, but it's not a path-breaking vehicle like its bigger sibling, the X6. It is quite simply a more compact version with a similiar upright stance and the all important coupe like sloping roof and lines. While its body style and design are clearly inspired by the X6, it is based on the X3, BMW's popular mid-size SUV.
Now if you are wondering why so many X's in BMW's portfolio, then it's basically because of the growing global demand and sustained preference for SUV's. This liking for SUV's has resulted in BMW expanding its X range that now includes the X1, X2, X3, X4, X5 and X6. Yes, a full half dozen of which four - the X1, X3, X5 and X6, are already sold in India. The X4 which we just drove in the US should arrive in our country next year, and the X2 will surely follow. But if you think BMW are stopping at a half, dozen- you are mistaken. The X7 is slated for its global launch next year, and will surely also make its way to India. BMW is clearly on a mission to ensure no niche is left unfilled.
Styling
The original BMW X4 was launched in 2014, but never made its way to our shores, possibly because BMW were focusing more on the larger X6.
The new BMW X4 is based on the X3, buts it's a very different looking machine. In fact it's also much longer, wider and less tall than its predecessor and has a broader track at the rear. All of which give the new BMW X4 very eye catching looks. This handsome SUV not only has a commanding presence, but also exudes style and emanates a sense of athleticism and muscular dynamism. The new stretched proportions and lower centre of gravity aid both the aerodynamics' and handling in almost equal measure.
The long sloping roofline is complemented by the prominent rising shoulder line and the strong character line between the wheel arches contributes in smartly breaking up this SUV's flanks. All this play of lines and contoured surfaces results in conspicuous haunches that are additionally emphasized by the drawn-in glasshouse at the rear. The side and rear styling look even more forceful due to the elevated boot lid and neat rear spoiler and the massive twin exhausts at the rear also eloquently articulate that the X4 is ever so willing to powerfully charge ahead. It's almost as if the designers studied the crouching position of Olympian sprinters leaning forward in their starting blocks and then incorporated this into the styling of the BMW X4.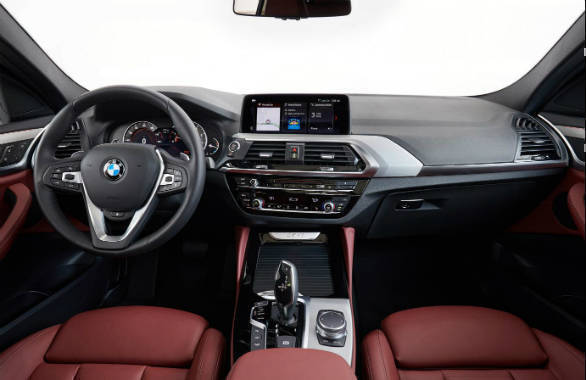 Interiors
Like in most BMW's, the X4's passenger compartment is well built and fairly similar to that in the X3. The cockpit has the driver focused layout which all enthusiast's like and the low dash and instrument panel and slightly raised seating position, provide a very commanding view. The thick and sloping A-pillars do obstruct vision around turns, but the frontal visibility is excellent and enhances the driving experience. The smartly shaped seats hold you well and the assertively contoured side bolsters and knee pads on the sides of the centre console, adds to the sense of sportiness.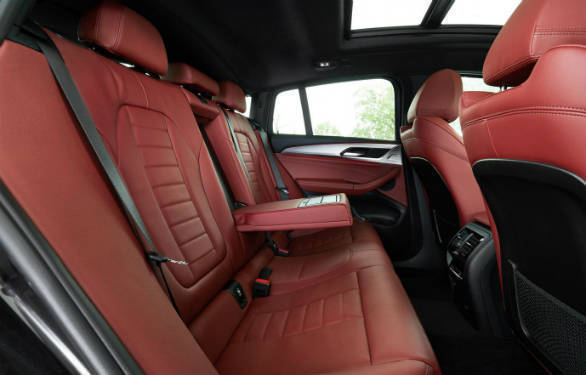 High-class materials, good build quality and a host of features ensure you drive and move in luxurious comfort. Space at the front is excellent and thanks to the increase in overall length and longer wheelbase, the rear seat is comfortable too. The 525 litres of boot space, which can be increased to 1430 litres by folding down the seats, etc, is also much better and all this has made the X4 a more practical family vehicle than before.
Engine & Transmission
The BMW X4 comes with as many three petrol and four diesel engines ranging in power output from 186 PS to 365 PS. All may not be offered in India, but there will surely be enough choice of petrol and diesel power plants to meet our market requirements.
Engines in all variants are mated with a fast and smooth shifting eight-speed Steptronic transmission with shift paddles and the BMW xDrive all-wheel drive that provides considerable amounts of grip and allows one to tackle turns with huge confidence, is also standard. As is to be expected, the X4 is fairly fast and very stable and composed at high speeds. The engines deliver their power in an enthusiastic manner and drivability is good too.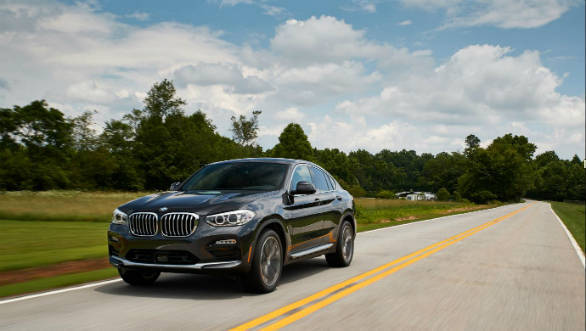 Driving Impression
One of the styling elements that enhanced my driving experience were the ridges in the bonnet. The twin ridges don't just look good, but when you are behind the wheel, you can also use the one that is in front of you, though slightly offset, as a marker to align the X4 with the road.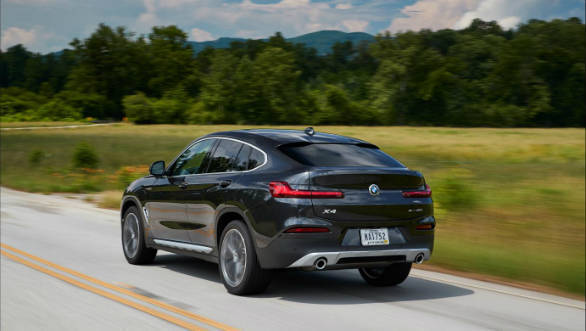 Our driving experience consisted of a scenic drive from South Carolina to North Carolina, through a twisty and thickly forested mountain road that climbed up to 3000 feet. We also drove the new BMW X4 on the test track and skidpad at BMW's manufacturing plant in Spartanburg, and one thing that is pleasantly surprising is how agile this SUV actually is. It feels far smaller and despite its weight and size, its driving dynamics and overall performance are really impressive.
What's also remarkable is BMW X4's ride quality, especially in comfort mode. It is truly comfortable and the chassis and suspension has obviously been refined and honed for the specific requirements of both comfort and sharp handling which obviously gets even keener in sport mode. In fact this is something we are increasingly beginning to see in BMW's; fortunately they now ride much better without compromising on the handling. Some X4 models like the M Performance ones come equipped as standard with specially designed M Sport brakes and an M Sport differential, which generates a precise locking effect at the rear wheels to help the car power out of corners with a refreshing amount of oversteer. Yes, the nanny can be now tamed and you can hang the tail out and have more fun than the electronic driving aids allowed before.
At the same time, BMW have also increased the range of comfort- and safety-enhancing driver assistance systems. The 'Driving Assistant Plus' includes active cruise control with stop & go function, the steering and lane control assistant, the lane keeping assistant with active side collision protection, and the crossing traffic warning and crossroads warning systems. As India is still far from ready for these technologies due to our terribly poor driving conditions and discipline, it's unlikely that we will see these being introduced here. And even if they are, then their utility will be severely limited. But all the new digital services from BMW Connected Drive offering interfaces, with smartphones, smartwatches and voice-controlled personal assistants, etc, should be a hit with our tech savvy generation. BMW also says it's the first carmaker to offer a secure server connection for exchanging and editing emails, calendar entries and contact details – thanks to the Microsoft Office 365 function, which users can select!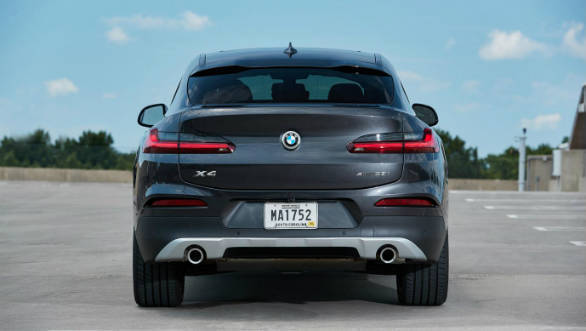 Some More
This is not SUV you buy because of its practicality. This one is all about style and feeling good that you possess a machine with a muscular character and dynamic driving capabilities. If you are the sensible sort, then the more conventional BMW X3 could be your preferred choice. But if you desire something more adventurous and like brave styling, the X4 is certainly for you.
Initial Thoughts
The BMW X4 is a lifestyle vehicle that is an emotional purchase, but not necessarily a sensible one. When it's launched here in 2019, expect it to be priced slightly higher (easily over 50 lakhs) than the BMW X3 on which it is based. As far as I am concerned, it's a great choice for someone looking for a unique and stylish SUV that not only has plenty of aesthetic appeal but also offers oodles of driving fun.
Price (Ex-Delhi)
Starts Rs 70.5 Lakhs
Price (Ex-Delhi)
Starts Rs 59.9 Lakhs