2017 Porsche Panamera Turbo road test review
Magic is pulling a rabbit out of a hat. Sorcery is making a 2-tonne, 5-metre long car carve up a mountain road better than a frigging sportscar. Pardon my French, but that's what the new Panamera Turbo makes you want to do – swear in absolute disbelief!
Let's start with how it looks – B E A-utiful. From the outside, it's this massive, (in this case) blue, gorgeous Porsche 911-looking thing, but with five doors. The old car wasn't the prettiest-looking Porsche, but this one is real eye candy! The front is where the Panamera resembles a 911 the least because of the wider stance, and the larger headlights. But step to the side and you'll see quite a bit of the two-door sportscar's silhouette with the high haunches and the sloping roofline. I love how Porsche has managed to bring that element in without making any of it look out of proportion.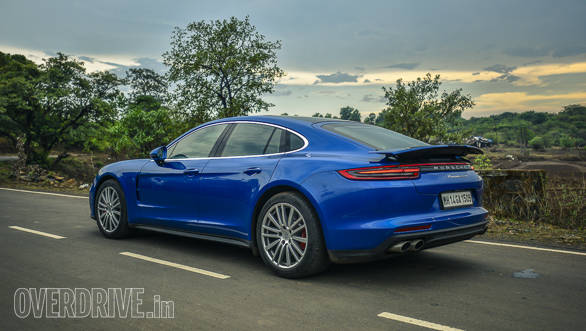 Step inside the car and I guarantee, you'll be drooling – I know I was. The Panamera Turbo's cabin is just as gorgeous as the outside, may be even a little more gorgeous. It's so typically German with its simple and elegant shapes flowing oh-so-neatly into one another. Gone are the 101 buttons placed around the gear lever. What you get now is a pressure-sensitive touch panel which works like Apple's 3D Touch technology – it even provides feedback like a normal button would. The 12.3-inch touchscreen, which flows neatly into the black panel, is crisp and offers a whole lot of information. Reaching the far end of the screen is a bit of stretch when you're in the driver's seat, but you have quick access buttons for almost every function, on the touch panel.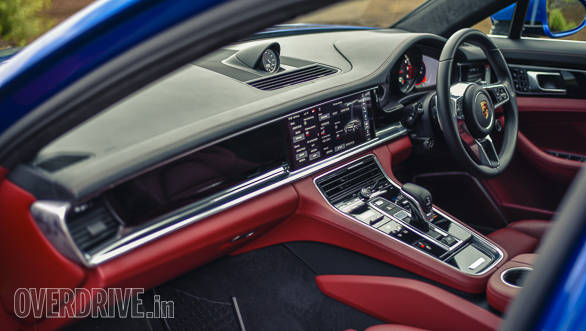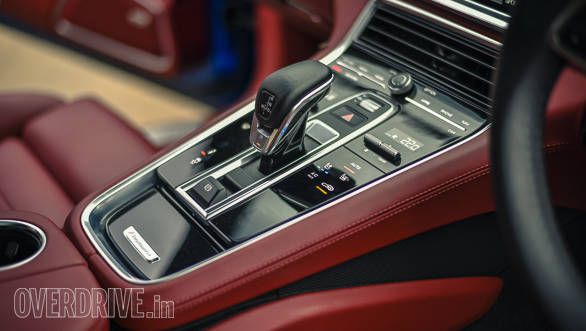 The new instrument cluster, which is designed in typical Porsche fashion, gets an analogue tachometer in the centre, with 7-inch displays on either side of it. These displays can be configured to show all your usual information like the speed, trip data and even navigation. But it can also be configured for more fun stuff like a split lap timer and a G-Force meter. Now who doesn't love a G-Force meter!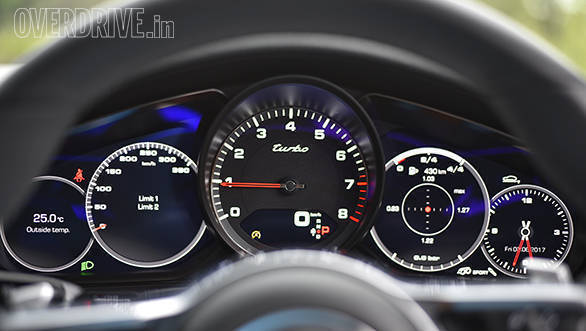 But enough of sitting in the driver's seat - what's the point of having five doors if you don't sit at the back and back-seat drive! Fortunately, the rear end of the Panamera's cabin is just as nice as the front. You don't really feel left out of all that tech, with a touchscreen to control the media and to adjust individual climate control settings. There's quite a bit of kneeroom, and while the seats can't be reclined any further, I think it's already at an ideal angle. The Panamera's cabin might not be as luxurious or as comfortable as a Mercedes S-Class', but I think it's way cooler and feels more special.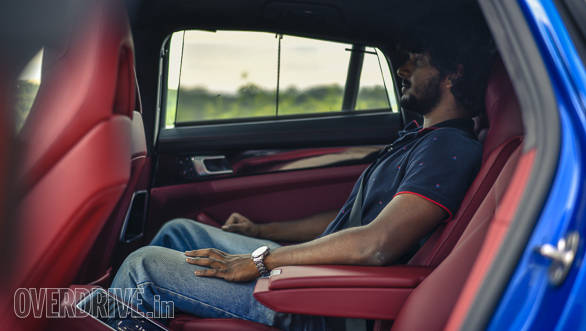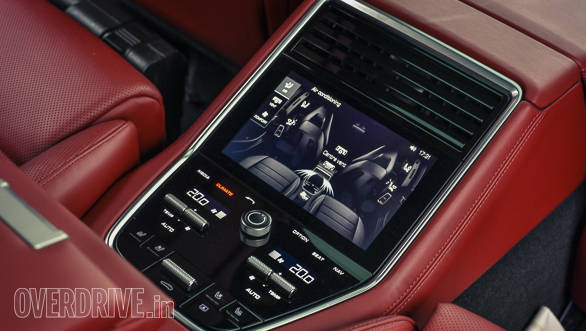 Okay, okay! I'll get to the driving bit! Let's start with the engine. The Panamera Turbo gets an all-new twin-turbocharged 4.0-litre V8 producing 550PS from 5,750-6,000rpm and 770Nm between 1,960-4,500rpm. Power delivery is very linear and crisp, and it will pull ferociously from almost anywhere in the rev range all the way up to the 6,800rpm redline. What it does is a very good impression of a naturally aspirated engine, with no sudden power spikes that will make you soil yourself. The 8-speed PDK transmission is very responsive and offers creamy, ultra-quick gear changes - something I've come to expect from dual-clutch transmissions.
What I didn't expect though is a slightly disappointing soundtrack. It sounds great from the outside, especially with that optional Sports Exhaust system, but from the driver's seat, where it matters the most, it isn't the best-sounding V8 out there. And if you care, the efficiency isn't too good either, even with its cylinder deactivation system - we got 4.56kmpl in the city and 6.62kmpl on the highway. But don't worry, it's got a 90-litre fuel tank so you won't be stopping for fuel that often.
The soundtrack I was complaining about isn't a deal-breaker either, especially with a 0-100kmph time of just 3.7 seconds! That, ladies and gentlemen, is supercar territory! The car's got four drive modes - Normal, Sport, Sport Plus and Individual. Normal is for when you feel like a calm drive, Sport is for when you feel like some enthused driving and Sport Plus is for when you're feeling a little insane. Individual, of course, is for when you're a bit confused about how you're feeling.
Apart from fiddling with the engine and transmission settings, these modes alter how the car handles and rides. The Panamera Turbo gets adaptive air suspension which has three ride heights - low, medium and high. It'll drive around and in the lowest and mid-level settings as long as you like, but the highest setting can be activated only at speeds below 30kmph. That's perfectly alright because you'll only need that when driving over really bad roads, at which point, even 30kmph might be too fast. While the Panamera's suspension is little bit on the stiffer side, even in Normal mode, it certainly isn't uncomfortable. It absorbs the impact well, but there is fair bit of movement inside the cabin.
Switch to Sport or Sport Plus mode, and a spell is cast upon the car. A spell that turns this big luxury sedan into an agile two-door sportscar! With stiffer suspension, a more responsive engine and plenty of electronic sorcery, the Panamera Turbo will put some of your favourite sportscars to shame on a mountain road. It is all-wheel driven, and along with the optional rear-axle steering, it is nothing short of being astounding! No matter what you try, the car will simply mock your efforts to make it step out, and stick like glue to the line you're on. But one of my favourite bits in this car is the Sport Response button - an unassuming little button in the rotary drive mode selector on the steering wheel. When pressed, the Panamera Turbo will drop everything it's doing to give you 20 seconds of everything it's got...20 seconds of pure, unadulterated performance.
The way the spoiler opens up once you get past 90kmph is the most beautiful thing I've seen on a car
Now I know, all of that sounds wonderful. But I still haven't gotten to my favourite part as yet. Yep, something I like even more than all that performance and corner carving. It is, wait-for-it, the spoiler! You probably think I'm mad, but you'll have to watch it with your own eyes to know what I'm talking about. The way it opens up once you get past 90kmph is the most beautiful thing I've seen on a car. I don't think I'd ever get sick looking at that in my rear-view mirror!
Verdict
So, should you sign that Rs 1.93 crore (ex-Maharashtra) cheque to Porsche? No. I'd actually recommend that you spend another Rs 22 lakh for all the necessary optional equipment. That'll get you the Porsche Dynamic Chassis Control Sport with torque vectoring, rear-axle steering, the Sport Chrono Package (without which you won't get a Sport Plus mode or that rotary mode selector) and the Sports Exhaust system. You could also get the Rs 16.87 lakh ceramic composite brakes, but the standard set on our car seemed to work perfectly fine. If you're ready to dish out the extra cash, the Panamera Turbo is one helluva buy. It's reasonably practical, super capable and exclusive, and it has the coolest production car spoiler in the world (heh heh). I haven't driven the previous Panamera Turbo, so I can't really tell you how much of an improvement there is. But I can tell you that this all-new one is pretty much all-fabulous!
Images: Anis Shaikh
Price (Ex-Delhi)
Starts Rs 1.45 Crore
Price (Ex-Delhi)
Starts Rs 1.38 Crore