2017 Mini Cooper S JCW Pro edition road test review
"Umm, you okay? You don't sound right". I, err, am okay. Let me call you back." That's not the usual dialogue between me and the wife. Okay, to be honest, the last part is what normally happens when am at work but otherwise I am always coherent with her. Well, sorry I don't have the time for you right now. Rishabh's call pops up on the second line. I cut that too. Don't have time for helping others when I am busy helping myself. The car I am driving today is my all time favourite the Mini Cooper S JCW, but with a Pro Edition tag to it. Need I say more?
Looks and interior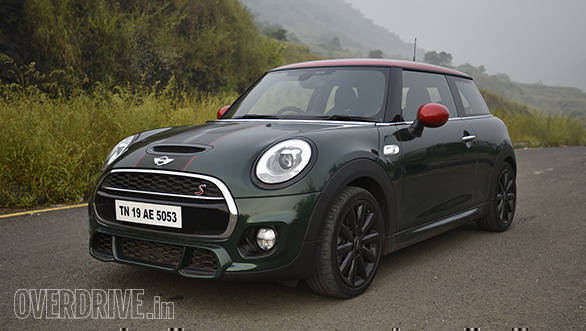 Aggressive body kit and this green and red colour distinguishes it from the regular Mini
The JCW editions of the Mini Cooper S have always come with aggressive body kit - Midnight Black/Racing Green colour palettes, red roof and mirror caps, exterior mirror package that brings in puddle lighting, red upholstery, LED headlamps, JCW embossed carbon fibre tail pipes, JCW aerodynamic kit and 17-inch black alloy wheels. Remember that this is a limited edition model - only 20 are available to be booked through Amazon.in. Unfortunately 20 lucky buggers have already brought this car, with deliveries happening in the next few weeks. The Mini Cooper S JCW Pro Edition attracts all the right attention. Kids wave out to you, wives cast that loving look while their husbands go green in envy. Such is the respect that people mostly give you way. This despite the Mini Cooper S JCW Pro Edition being just a hatchback. Love the feeling, don't you?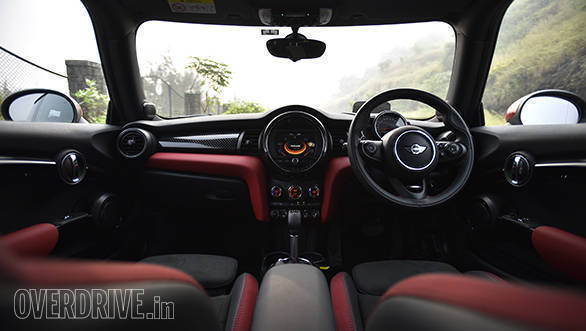 The red and black upholstery looks really cool with the new Mini Cooper S JCW Pro Edition
These lovely door locks are done in the British Union Jack colour
The cabin looks like a mix of green and red, especially in the night when the seven different ambient mood lighting comes to the fore. Settle into the Alcantara seats and you notice the circular-shaped dials with all the information regarding the different modes, music and telephone thrown in. The JCW kit also brings in the head-up display that shows the same information without obstructing the line of sight of the driver. Harman Kardon supplies the music system and trust me, I didn't pay much attention to it - the exhaust system more than makes up for any kind of music.
Engine, transmission and performance
These exhausts are the gateway to heaven. The Mini Cooper S JCW Pro Edition is a proper supercar in hatchback form
I've sampled this car with our Living With A Supercar series. It's a lovely lovely 2,000cc twin-turbo engine that makes 192PS/280Nm. However, with the optional JCW kit, the Mini Cooper S Pro Edition makes 210PS/300Nm. Coupled with a 6-speed automatic, paddle shifters and that offensively loud JCW twin exhausts, its a hoot to drive. Minis have always been known to be a driver's delight and this one takes it a couple of notches higher. Never has a car made me cry out of sheer pleasure except for the Mini Cooper S JCW. After spending a couple of minutes experiencing the car, the wife too seems to agree on why its one of the best cars I have ever got home. Couple this to the sheer coincidence that it was Diwali time. The JCW exhaust will easily suppress any cracker noise that comes its way - on demand. The Bluetooth-controlled detonator as I call it, rests in one of the cup holders and a double tap on it, opens the flaps of one exhaust leading to that glorious soundtrack. Lift off the accelerator and the pops and crackles are enough to thrill the boy racer in you. Just for the numbers, 0-100kmph comes up in less than 7s, with the claimed being 6.5s. Mini claims a fuel efficiency of 17.05kmpl -  we got a combined mileage of 4.45kmpl with frenetic red line shifts. Drive sanely and the Mini JCW Pro will give you around 9kmpl, 1kmpl less than the standard Cooper S.
Ride and handling
The Mini Cooper S JCW Pro Edition handles exactly like a go kart but a very poised and expensive one at that
This generation of the Mini has gone a bit softer and this shows in the ride quality. She isn't bone jarringly stiff but if you go fast over bumps, you still feel them. The optional adjustable dampers mean that depending on the modes, the ride quality becomes soft or stiff. Use Eco mode if y0u want to eke some more mileage or a softer damper setting whereas Sport mode will bring in late shifts and a stiffer ride quality. I like the fact that with 124mm of kerb weight ground clearance, the Mini still didnt scrape over any speedbreakers except once when my family of four was on board and it was a particularly tall speedbreaker that the car had to go over. Speaking of which, the 2-door Mini Cooper can seat four in just a pinch. When approaching corners, you usually mentally calculate the speed that you and the car both will be comfortable tackling it. The Mini however mocks at your logic and instead adds a few kmph to its automated brain and corners as if on rails even at speeds of 120kmph. The Hankook rubber does offer a big hand in this aspect but the chassis set up too is brilliant. What I and other often have complained are the brakes - you really have to step on them to stop the car or use the paddle shifters to get in some engine braking. Mini is happy to provide you uprated brakes but at an additional cost. I will recommend you tick them on the options list if you are thinking of buying this pocket rocket.
Verdict
If I had the moolah, I will not think twice before investing in the Cooper S JCW. Rue the fact that car is already sold out. However, if you want, Mini will be happy to spec a regular Cooper S with the JCW kit. A full-blown JCW will cost you around Rs 10 lakh (Rs 53 lakh on-road Mumbai) more than the bog standard car but trust me,  it will be money well invested. You will be giggling silly most of the times or crying tears of joy like me, everytime you drive the car.
Images by Anis Shaikh
Price (Ex-Delhi)
Starts Rs 38 Lakhs
Price (Ex-Delhi)
Starts Rs 44 Lakhs