2017 Audi A3 Cabriolet road test review
If there was one thing the previous gen Audi A3 Cabriolet had going for it, it was its practicality. As far as small two-door cabriolets went, it was comfortable, spacious enough for two adults and had a decently sized boot too. Audi has just given the car a facelift and apart from the usual business of improving cosmetics, it has also gone ahead and downsized the engine. If I were to give a one-word verdict on this car right now, I'd use the word 'nice'. It's not amazing or overwhelming, and it's not disappointing or underwhelming either -- it's just...nice! Allow me to explain.
The design is almost identical to the A3 sedan, but that's not to say it looks bad
The rear-end of the Audi A3 Cabriolet looks quite sporty and aggressive thanks to the sharp design theme
To begin with, the new design is more sporty and although it is identical to the A3 sedan, save for the fabric top and the two-door set up, it looks really nice. It's the same story inside too -- the dashboard layout and features are the same as the sedan, so you get two-zone climate control, excellent German build quality and the fold out display unit which can be optioned with Apple CarPlay. The front seats are comfortable too, but I do wish they were electrically adjustable considering several significantly cheaper cars get them. As with the sedan, an added feature on the 2017 Audi A3 Cabriolet are the LED headlamps.
The interior layout is very ergonomic and offers quintessential German quality
Rear knee-room is very crammed for an adult, but should be just about alright for kids
One thing about the new Audi A3 Cabriolet that hasn't changed is the rear kneeroom. An adult will absolutely refuse to sit at the back but you should be able to shoehorn a couple of kids in there. Thankfully, boot space is pretty good with a 320-litre capacity, which is almost as much as a large hatchback. This is thanks to the smart packaging of the folding fabric roof. Speaking of the roof, it opens or shuts in 18 seconds at speeds of up to 50kmph, which is...nice!
Even with the all-black fabric roof shut, the Audi A3 Cabriolet is quite a a looker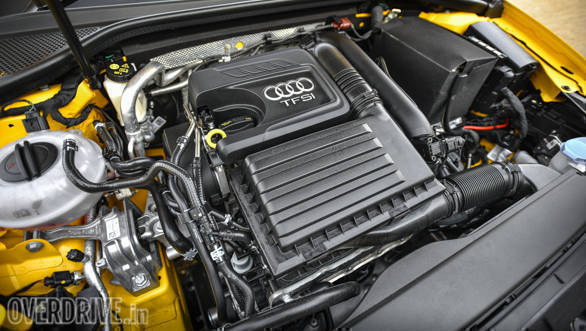 The 1.4-litre TFSI engine has a relaxed nature which goes well with the overall vibe of the car
The 2017 Audi A3 Cabriolet, like the sedan, now gets a 1.4-litre TFSI engine instead of the previous 1.8-litre engine. It produces 150PS from 5,000-6,000rpm and 250Nm between 1,500-3,500rpm. The engine is super refined and you'll barely hear it even at high revs. Effortless, easy to drive and comfortable would the words I'd use to describe this engine, but certainly not exciting. It's got good mid range and the S-Tronic dual-clutch gearbox is delightful to use too. Its 0-100kmph time of 9.5s isn't really a mind-boggling acceleration figure and is about half a second slower than the previous car. But, that's not what the car was designed for and it must be said, the car never feels slow. The Audi A3 Cabriolet was made to be a comfortable two-door convertible which is reasonably practical, and the car remains exactly that, perhaps even more so. Thanks to a cylinder deactivation system which deactivates two cylinders under light load, efficiency is quite good. The car returned an impressive 21.67kmpl on the highway but a more realistic 9.21kmpl in the city, where I found that the system couldn't work as much.
The 205/55 section tyres with the 16-inch wheels make the Audi A3 Cabriolet a very practical daily driver
What also makes this a very practical, everyday car is ride quality. The suspension feels quite supple and this, along with the sensibly-sized 205/55 section 16-inch wheels, makes for a very effortless and relaxed drive in the city and on the highway. However, it's not the most exciting car to drive down a mountain road because there is some amount of body roll during quick side-to-side transitions.
The Audi A3 Cabriolet will do almost everything you'd expect of a small two-door convertible quite comfortably
Like I said before, the new Audi A3 Cabriolet is just a very nice car. It'll do almost everything you'd expect of a small two-door convertible, and quite comfortably too. The new A3 trades some performance for improved efficiency. And in a sportier car, this would have been a problem but the new 1.4-litre engine matches the relaxed nature of Audi A3 Cabriolet well. At Rs 57 lakh on-road Delhi, it isn't cheap (it costs a whole Rs 10 lakh more in Mumbai) but it offers a unique combination of convertible exclusivity and fun factor with decent practicality for our roads.
Price (Ex-Delhi)
Starts Rs 48.52 Lakhs
Price (Ex-Delhi)
Starts Rs 30.5 Lakhs