2016 Kawasaki Ninja ZX-10R first ride review
One of my fondest memories on two wheels dates back to 2013 when I rode the last gen ZX-10R. It was my first litre-class bike and I was scared. But ZX held my hand with her low-speed ease while the relatively comfy ride quality gave me confidence that she wasn't going to spit me off. Just when I started to think that she was a little too easy, the phenomenal high-rev performance shattered my comprehension of what acceleration truly meant. At the time, I was more in awe of what the bike could do than actually in love since its capabilities were wildly out of my realm of talent. Two years later, I am a better rider - thanks to riding schools like Indimotard and having ridden quite a few big bikes since. So when Kawasaki announced that the new 2016 ZX-10R was a sharper and more track focused, I wondered whether I'd feel the same way. Either my memories would prove too rosy for reality, or I'd be drunk in love and scheming up ways to secure Rs 18.9 lakhs to have one in Mumbai.
The very first sight at Kawasaki's plant brought a huge smile to my face. The ZX-10R was just as tiny as I remember, although with renewed aggression. The explosion of green, white and black across the fairing can be a bit too much for some, but it adds a dose of Japanese over the top flamboyance that suits this particular motorcycle well. A slow walk around with a gentle caress reveals a lot is different, despite the familiarity. The twin headlamps sit atop a new aero-boosting chin, and there are subtle intakes in the fairing beside the base of the windscreen that are designed to reduce buffeting. Then the eyes wander to the strange external cartridge mounted to the base of each suspension arm, reminding that this is the first production superbike to feature Showa's new Balance Free Forks which were born on the racetrack. A quick glance at the instrument cluster confirms that it is the same digital unit from the old bike, including that cool rev-counter composed of individual LED bars that go from orange to bright red based on how high the revs are. The petite tail section is all new and somehow even slimmer. Halley says that it reminds him of a Ducati, and I think that sharp edged tail lamp is like an upside down Batman symbol. Either way, super cool.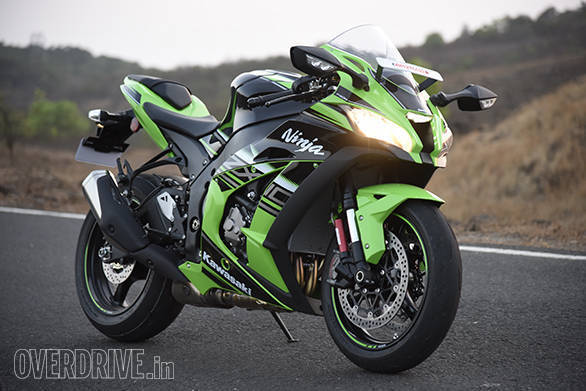 There are a lot of subtle styling changes but you won't be able to spot differences unless you look quite closely
First big difference was when I swung my leg over. The compact feel prevailed but the riding position wasn't as nice - my legs were higher up and I was more scrunched up, racer style. That being said, it works for both short riders and tall as the long seat lets the more gangly stretch back and find a decent comfort zone. A thumb of the starter and the factory fresh 998cc inline four quickly settled into a low hum. Warmed up, we set off to take on the chaotic traffic in Pimpri before joining the highway. And the memories just flooded back - this bike is so easy! In a matter of minutes, we were slicing through traffic, engine heat under control, clutch action light and throttle inputs below 4,000rpm producing very docile responses. Almost anyone with the basic knowledge of how to ride a motorcycle can hop on and potter around on the ZX-10R. It's that friendly.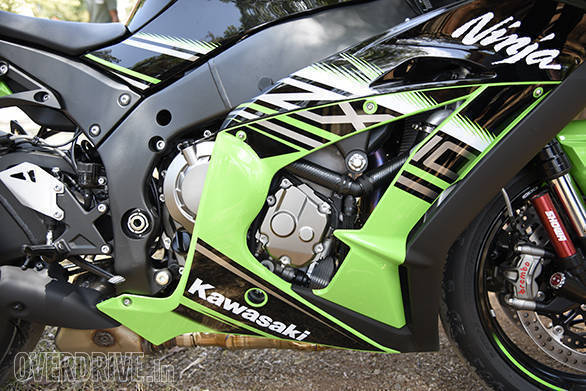 For a 210PS motorcycle, the ZX-10R, like its predecessor is surprisingly easy to ride
While I couldn't feel much difference in the engine in traffic, I knew a lot had been changed. The crank is now lighter, internal mechanicals get new low friction treatments, the intake and exhaust ports are new and all four valves are now titanium. Cam profiles are also new, pistons are shorter and lighter, while the cylinder walls are thicker to boost reliability and engine rigidity. Finally, the airbox is 25 per cent larger.
Despite these changes, the engine still makes the same 200PS (210PS when the ram air effect kicks in), but Kawasaki claims better low and mid range. Gearing has also changed, and 2nd to 6th are now stacked a little closer to each other while 1st  is a smidge shorter. It's still a tall 1st gear, and the 14,000rpm redline has the bike screaming at just under 170kmph. That's a huge bragging right but a little over the top for the race track. Still, it's this tall gearing along with the linear power curve that makes the bike so docile at low revs, so I won't hold that against it.
Past the idiot infested roads around Pune city, I finally had the opportunity to open it up. Dear lord, so fearsomely fast are these modern litre bikes they literally put you into tunnel vision. Acceleration through the gears is shocking.In the run up to our tests, I found that before you know it, you're at the top of 4th gear at about 250kmph with the front wheel skimming the road and the Ohlins steering damper working overtime to prevent the bars from going into a tankslapping nightmare. It's a sensation that I can use the most colourful language to describe but can only fully be comprehended when you feel it for yourself.
But it's not the ferocity of the power that blew me away as much as the capability of the chassis. For 2016, Kawasaki on the request of WSBK riders Tom Sykes and reigning champion Jonathan Rea moved the headstock inwards by 7.5mm and lengthened the swingarm by 15.8mm. Then there's the trick BFF suspension that literally is your new best friend. It works by isolating the damping function on each fork into its own canister which helps regulate the fluctuations that occur in hydraulic pressure balance.  This translates to more feedback and better compliance from the front end. The result is a new found agility at the front end, that I haven't experienced on any faired bike before this, Triumph Daytona included. Turn-ins and side-to side transitions are super fast but precise and exactly what you expect. The front end just feels supremely glued in. The only issue I had is that throttle opening and closings are a little jerky, especially in first gear which demands very precise throttle control in the lower gears. I still can't get over how fast and easy but ultimately confident it feels to corner this motorcycle.
The handling on this motorcycle thanks to the suspension and chassis components is the real star
The factory-fitted Bridgestone RS10 tyres are unbelievably grippy, but that you would expect from a tyre that looks like a race slick with a couple of small grooves carved into it. I doubt it will have a very long life and I wouldn't want to be on this tyre in the wet. Special mention must go to the exemplary brakes. Now running the acclaimed Brembo M50 monoblocs, the front rotors have also been uprated from 310mm to 330mm. Lever feel is taut, and performance is progressive but monstrously powerful. Couple in the sticky rubber and the dialed in front end and I never activated ABS once through the day.
Credit for the cornering performance also goes to the vastly upgraded electronics. The old bike offered three riding modes and three levels of traction control. The new one gets a five axis inertial measurement unit with the sixth axis measured by software. If this sounds familiar its because the 2015 Yamaha R1 has a similar solution, but with all six axes measured. The added rider aids are, hold your breath, five level traction control, three power modes, three level launch control settings and engine braking control. Full Power mode gives you all 200PS, Low power mode restricts it to about 120PS while Middle mode is the same as Low mode until you open the throttle beyond 50 per cent, at which point it gives you all the power. The traction control system is seriously good, but I found that Level 1 (minimum intervention) does allow some slip which can feel a little abrupt and surprising if you aren't expecting it. My favourite addition, though is the quick shifter that allows you to make super snappy upshifts with the throttle wide open by simply nudging the shift lever with your toes. I never faced a false neutral and the system was way faster than manually possible as well as deeply satisfying.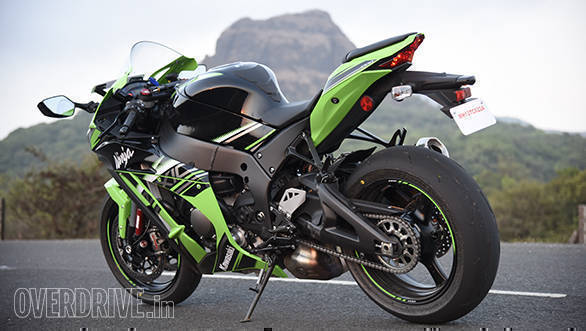 Despite the performance, real world usability is surprisingly high partly thanks to decent ground clearance. Ride feels slightly firmer and more focused than earlier but is still incredibly supple and absorptive on less than perfect roads. Like the old 10R, almost every "oh shit this is going to be nasty" panicked moment on a bad stretch mellows into an "oh that wasn't bad at all" afterthought. Even at reasonably quick pace, unexpected mid corner bumps or scarred tarmac don't upset the motorcycle unless it's at deep lean, which it shouldn't be if you haven't recced the road yet.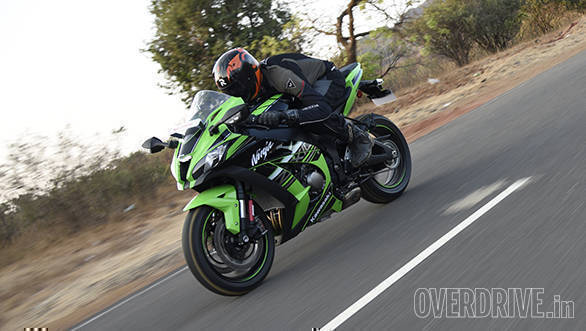 As easy as it is to ride peacefully, the ZX-10R blows you away with its performance when you open the throttle
Wow, what a motorcycle! This is one of the best bikes I have ever ridden and I badly want one. Not only for its easy nature but because, when ridden right, this bike's capabilities far, far outshine my own. It can only make me a better rider while keeping me supremely involved. And I haven't even mentioned the price. At Rs 18.9 lakh on road Mumbai, this isn't just the most affordable new age litre-class bike you can buy - it's actually Rs 23,000 cheaper than Honda's comparatively outdated CBR1000RR. The new Yamaha R1, which is priced just about $1,000 higher in the USA, costs nearly Rs 7 lakh more here, and the BMW S 1000 RR (priced about on par with the Kawasaki in America) costs a ridiculous Rs 35 lakh in India. Let's not even consider the Rs 48 lakh Ducati 1299 Panigale S. Why these motorcycles are priced like this in India is not an answer I have to give to you. But I can tell you this - the Kawasaki ZX-10R is an incredible motorcycle that can easily match any of the above and comes for an equally incredible price. If you're looking for a litre-class motorcycle and money is of value to you, look no further!
Price (Ex-Delhi)
Starts Rs 14,99,000
Price (Ex-Delhi)
Starts Rs 17,90,000
Price (Ex-Delhi)
Starts Rs 18,50,000
Price (Ex-Delhi)
Starts Rs 1,02,700