2015 Yamaha YZF-R3 road test review (India)
If you follow OVERDRIVE, you know that we have a soft spot for the Yamaha YZF-R15. You might also have gathered that we love the new YZF-R3 for almost exactly the same set of reasons as well. What might have slipped past your notice is that so far we have only had a chance to ride the new Yamaha YZF-R3 at the racetrack. Yamaha introduced the YZF-R3 to us at the Buddh International Circuit and since then, we managed to finagle a second one for our track test (versus the Ninja 300 and the KTM RC390). The Yamaha YZF-R3, no surprise, is an extremely impressive motorcycle and there's a lot to like. Does that make this the easiest, most obvious road test ever? Er, I hope not.
Design, finish and build
The YZF-R3 is a striking motorcycle and distinctively a Yamaha. The sleek twin head lamps cut a dashing figure and I'm really disappointed (as usual) that only one head lamp is on at one time. But that's one of my pet peeves rather than a critical issue. A small air vent sits between the two head lamps and above that is a large but not very bright daytime running light. The short screen tops a sharp, clean design of the fairing. The R15 showed that fairings could be made that age gracefully and stay rattle free and if anything, the R3 seems to be even further up the quality ladder. The tail piece is very sharp looking and it completes the picture of a purposeful looking machine that imbibes deeply Yamaha's current design language as well as a sense of sleekness that I really, really like.
But what really impresses is the level of quality on display. The R3 absolutely gleams with well chosen materials, placed together with care and attention. The plastics meet each other neatly and even though you notice that the Yamaha doesn't have cool things like, say, adjustable levers, you cannot see any cheap aggregates that break the quality spell either.
The terrific finish is backed up by impressive build quality but with a couple of niggles. Our test bike's pillion pad was a-rattle and no matter what we tried, we couldn't make it stop. It was locked to be sure but there was enough play to hear it when you hit a bad bump. But even I think that I'm nitpicking rather making a serious point, so I'll stop.
The point is simple. The Yamaha's finish and build are exemplary. Styling is pretty and I do like it but human response to design is deeply personal - so you may think differently.
Powertrain, performance & economy
The Yamaha is powered by a liquid-cooled fuel-injected parallel twin. The two forged pistons operate in an oversquare configuration (68mmx44.1mm) that creates the odd displacement figure of 321cc. The twin combustion chambers are fed by four valves each and in turn their operation is controlled by double overhead camshafts. This is pretty much the current small engine rulebook. Running a compression of 11.2:1 - notably higher for example, than the Ninja 300 (10.6:1) - the Yamaha should, by rights, be able to extract more power and more economy from its engine, at the risk of being slightly more sensitive to fuel quality.
The Yamaha YZF-R3's engine makes power in a smooth, rising curve that really gets a move on once you cross 7-8,000rpm
In actual riding, you'd have to be Valentino Rossi to make sense of all that technical knowledge. Because the YZF-R3's engine is simplicity itself. It makes power in a smooth, rising curve that really gets a move on once you cross 7-8,000rpm. Low rev work produces almost no noise, just enough torque and you could even accuse the R3 of feeling just about adequate. Part of the problem is the motorcycle's utter refinement. There's no vibration to complain off and the twin's grip on noise, vibration and harshness is spectacular. The Yamaha R3 has to be amongst the most civilised of all engines we've tested so far.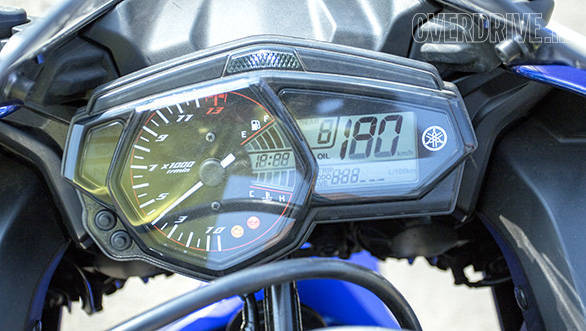 And despite the feelings at the bottom of the revs, the Yamaha is far from slow. Launch it smartly and 60kmph is crossed in well under 3 seconds. 100kmph comes up in 5.5 seconds and actual top speed is 172.8kmph though the optimistic speedo reads just over 185kmph at this point. The nature of the torque spread is revealed in roll-on acceleration - the Yamaha loses ground as you run higher gears dramatically.
Surprisingly, this doesn't make the Yamaha too hard to ride in traffic. Normally, a big difference in in-gear acceleration tends to make riders shift down more aggressively to keep the revs in the power band. But the Yamaha is so civil that you tend to run near the redline only on mountain roads (or in our case, at the racetrack). At most other times, the Yamaha slowly, smoothly encourages you to drop the revs to between 5,000 and 7,000rpm and cruise. I'd complain about this, but the Yamaha is very effective in traffic and it's compact and friendly feel is an in-city asset to be sure.
What I really find intriguing is that the R3 will be one of the best small displacement highway machines too. It's smooth as teflon coated soap between 80 and 140kmph and the screen does just enough to keep you out of the windblast. Put some luggage on the bag and head out, the Yamaha should take to it like the proverbial duck to water.
Ride, handling and braking
Easiest part of the road test? Probably. Because the Yamaha is aces. It's ride quality is surprisingly plush and not at all like the sportsbike we're all used to - the much stiffer RC390. It makes riding about town very easy and surprisingly comfortable. Even two up riding proved to be easier to do than on the R15 with the R3 feeling very much like it was meant to deal with that as well.
The pace at which you have to run to make the softness of the suspension interfere with the R3's handling is not possible for most of us. You might be able to get the R3 to feel unsettled as you come off the brakes and therefore be forced to wait before you begin turning the motorcycle. But the Indian R3 doesn't have grippy enough tyres to reach that kind of pace. So what really happens is that you can get frighteningly fast on the R3 very, very rapidly and then sort of run into a wall where you know the chassis can handle more but you cannot bring yourself to push any harder.
The Yamaha YZF-R3 is an easy to ride big capacity motorcycle
Which is kinda sad because the R3 is a marvellous machine. Each and everyone of our staffers who got on the R3 instantly understood how to ride it. It's a familar, almost instinctive motorcycle that feels like it was created to get along with people of all shapes, sizes, inclinations and skills. From our newest rider to our most experienced, via our tallest, all came back singing about how easy the R3 is to ride. This is an important quality for the segment where a lot of riders are seeing significant power and high speeds for the first time. Their confidence is very important.
Which is why, despite the excellent standard brakes on the YZF-R3, I'm extremely, extremely disappointed that Yamaha did not offer the ABS model here. You can brake very hard with great confidence in the front-end of the Yamaha but for the segment, Yamaha should really have thought this through and offered the ABS version. In my black and white world, India shouldn't get the non-ABS model at all, but since beggars cannot be choosers, I'd even respect Yamaha for offering the ABS model as an option. I'm told that all four Indian Yamahas (yes, they're four companies!) are working hard to offer the ABS model and I'm willing to go with better late than never rather than too little too late on this. If you can wait, I'd suggest that you wait for Yamaha to roll out the ABS model and pay for that vital safety feature.
The other weak link in the Yamaha equation really, are the MRF tyres
The other weak link in the Yamaha equation really, are the MRF tyres. They aren't bad tyres, to be honest. They're grippy and they'll probably last a good while longer than the 8-9,000km that the Metzelers on well-ridden KTMs tend to last. But you know that the R3 can do better with a tyre upgrade. As soon as Yamaha lets us have our long termer, I'm of a good mind to source a Pirelli (ex-Mojo) or a Metzeler (ex-KTM) and see how much better the R3 feels in everyday life.
ABS should have been offered on the Indian motorcycle, atleast as an option
The MRFs have a clearly defined limit and that's perhaps a blessing. You can feel the tyre approaching the end of adhesion and the warnings aren't subtle - most of the time, you'll sense that and back off. But it makes the friendly, forgiving handling of the Yamaha something you cannot fully exploit.
Verdict
There's very little to complain of on the Yamaha YZF-R3. It is a genuine sportsbike but not a hardcore one like the KTM RC390. This makes it easy to live with while still retaining a surprising turn of speed and capability when you do take it to the track. It's a friendly motorcycle that understands its role as a mentor to new riders well. It is also a Yamaha in the sense of feeling well made, robust and like it will age gracefully. And it has, equally clearly, three issues.
The first issue is the lack of ABS. Like I've said already, as much as I think the Yamaha is marvellous, I also think that you should wait for Yamaha to offer the ABS model and then go for that instead of the current one. The additional measure of safety in our changeable conditions will be well worth the wait as well as the extra cost of the purchase.
The second issue is the MRF tyres. They're not really a problem unless you're a regular on a mountain road or a racetrack. But when the first set wears out, get something better - the bike will reward you with so much more speed and traction in corners that it will blow your mind. My suggestion? The Mahindra Mojo's Pirelli Diablo IIs are excellent and Mahindra Two-Wheelers dealers are I'm told, retailing them for Rs 14,000 a set. If I bought an R3, that's where I'd head first.
The final issue, of course, is price. The Yamaha YZF-R3 costs Rs 3.74 lakh on-road Mumbai and that isn't a small amount of money. That's a used Kawasaki Ninja 650R money. Or one KTM RC390 and lots of change kind of money. As we found in the road test, the R3 is vastly better made and finished than the KTM. It's performance is surprisingly close to the KTM (which mind you, does have standard ABS). So if you were to make a case for the R3 over the KTM, I would not dissuade you. Because facts are facts. The Yamaha YZF-R3 is not the best value for your money. But my god it's a terrific motorcycle.
Images by Ishaan Bhataiya
2015 Yamaha YZF-R3 technical specifications
| | |
| --- | --- |
| | |
| Make | Yamaha YZF-R3 |
| ENGINE | |
| Type | Liquid-cooled fuel injection |
| Valvetrain | DOHC |
| Displacement | 321cc |
| Max power | 42PS@10,750rpm |
| Max torque | 29.6Nm@9000rpm |
| Power/Weight | 248.5PS/tonne |
| Gearbox | 6-speed |
| GENERAL DATA | |
| Suspension (F) | 41mm telescopic |
| Suspension (R) | Monoshock |
| Brakes (F/R) | 298mm/220mm |
| Tyre (F) | 110/70 R17 |
| Tyre (R) | 140/70 R17 |
| Kerb weight (kg) | 169 |
| Wheelbase (mm) | 1,380 |
| PERFORMANCE | |
| 0-60kmph | 2.59 seconds |
| 0-100kmph | 5.5 seconds |
| Top speed | 172.8kmph |
| EFFICIENCY | |
| City (kmpl) | 21.4 |
| Highway (kmpl) | 29.7 |
| Overall (kmpl) | 23.8 |
| PRICE (on-road Mumbai) | Rs 3.74 lakh |
| | |
Price (Ex-Delhi)
Starts Rs 3,50,180
Price (Ex-Delhi)
Starts Rs 1,02,700
Price (Ex-Delhi)
Starts Rs 6,24,000
Price (Ex-Delhi)
Starts Rs 20,39,233