2015 Triumph Thunderbird LT India road test review
The Thunderbird LT is a 'light tourer' that Triumph built to break the stranglehold that Harley-Davidson have on the American cruiser market and it's targeted squarely at the HD Road King Classic in particular. This battle finds a new stage in India now but that's fodder for a comparison that we'll bring you at a later date. For a first impression we took the Thunderbird LT for a 'small' 400 kilometre spin to find out what this stunning Brit brings to the cruiser loving Indian market.
Try spotting Varun's reflection in all that chrome
Like the classic tourer that it hopes to better, the beautiful Triumph has clean lines with large fenders, cushy seat, tall wide bars and a sea of chrome that make taking detail shots a photographer's nightmare. In the flesh it's a really large motorcycle that begs for your (and everyone else's) attention. The tall windscreen, pillion back rest and leather saddle bags clearly state that this is a motorcycle for the open road. It's also one of those motorcycles that urge you to keep them clean, just so you can spend hours looking at your reflection in all that chrome or admire the gloss of the two tone Caspian Blue/Crystal White paint job - obsessive compulsive cleaners and Parsis, you have been warned. You may spend more time with this motorcycle stationary than out on the road.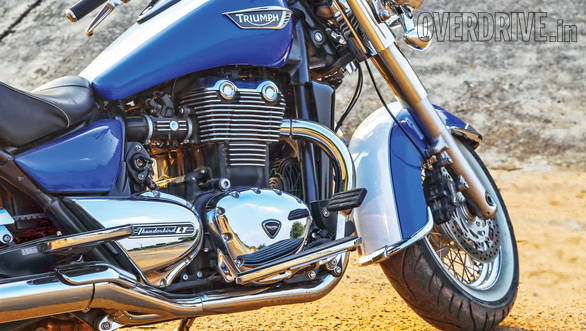 The 270 degree firing order does give the twin a distinct v-twin like off beat note but it's a fairly soft tune
Swing a leg over the low seat (700mm) and your nether regions are cupped in a nice wide comfortable berth. Triumph have made the seat out of multiple density foam layers that they say offer great support and comfort. The riding position is generous though shorter riders might find it a little too stretched out. For my 5'9" frame it was fairly comfortable. Thumb the starter and the 1699cc parallel twin sparks to life with a burble. The 270 degree firing order does give the twin a distinct v-twin like off beat note but it's a fairly soft tune. I'd prefer the soundtrack to my ride to be turned up a few notches on the amp.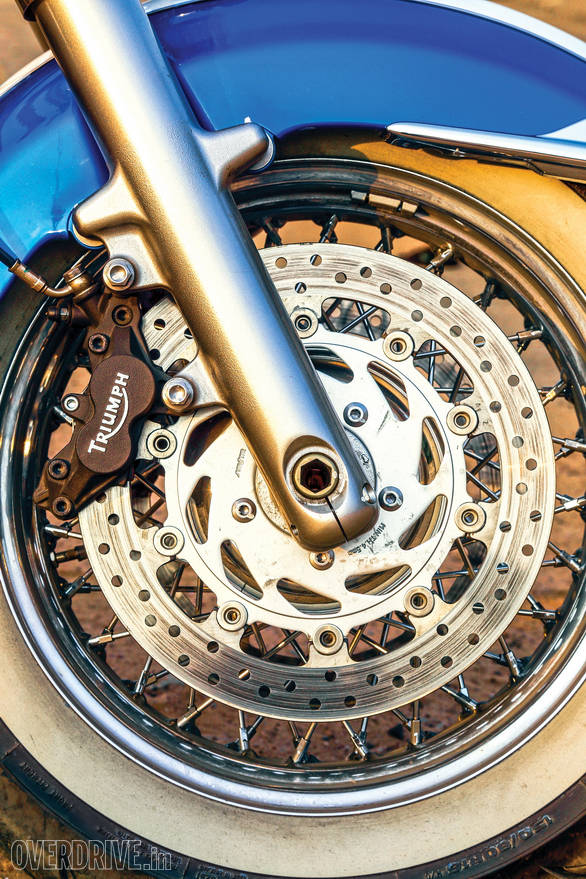 The twin 310mm discs are great stoppers
Pull away and you'd be hard pressed to believe that this is a large powerful cruiser, that is at least from the throttle response perspective. The progressive throttle gives a smooth and gentle response at low speeds making it a very easy motorcycle to control and you won't find yourself lurching forward in traffic every time you get on and off the throttle. It does feel a little heavy at low speeds despite the wide handle bars though nowhere as intimidating as its 380 kilogram kerb weight sounds. Thankfully the low seat height allows you to plant both feet flat on the tarmac so things never get out of hand.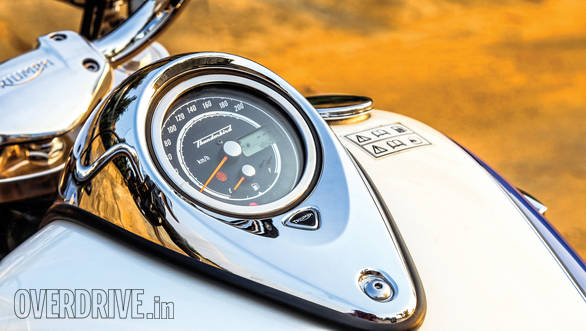 Large dials are simple and easy to read
The Thunderbird LT loves the open road and once the traffic on the way out of Delhi cleared, I was able to let all 94 horses out to play. The engine revs smoothly with just a few vibrations kicking in near the top and quite un-cruiser like, there is a little top end kick to reward you for accelerating through the gears. Once in the tall sixth gear, things calm down and I found a sweet spot around the 110-120kmph mark where the whole package felt happiest. It can hold faster speeds but I found that over 140kmph, the vibrations and the wind noise started to become a distraction. The large windscreen kept the wind off my shoulders but my head did get some light buffeting, not enough to make it a concern though. The positive trade off is that you can see the road over the tall windscreen rather than having to look through it, which is great in general and crucial in the rain.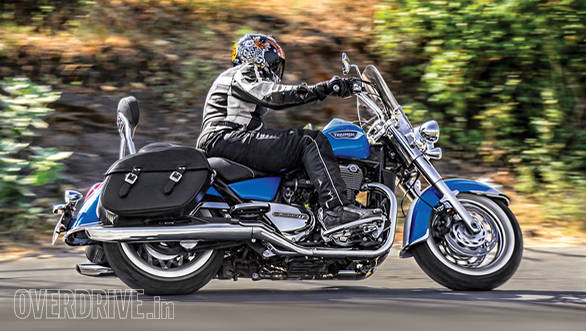 For such a large motorcycle, the Triumph handles really well but like all cruisers, it grinds its floor boards way too soon. With this long and heavy a motorcycle, it's no surprise that it's stable too. In fact, when leaned over it has a slight eagerness to right itself. Not so much that you feel like it wants to run wide but just enough that you lose all fear that it will tip over in the corner. Another confidence inspiring trait is the brakes. The 310mm dual front discs bring things to a stop surprisingly easily. There's not too much feel from the lever but it would require a really heavy hand to activate ABS. The rear brakes bite nicely too but I hardly needed to use them on the ride.
The Triumph scores great on comfort and I have to say that the multiple density cushion seat is one of the most comfortable perches I have experienced on a motorcycle. I had no aches and pains after the first day of riding, having covered a good 400-odd kilometres and just stopping twice, once to refuel and then, for a snack. It's not just down to the seat either, the dual rate springs of the Showa shocks absorb all but the sharpest of bumps and made for a comfortable ride. The large 22 litre fuel tank gives the LT a nice 300 kilometre range and you'll be comfortable enough in the saddle to ride all of them without stopping. Our photographer, Varun also spent some time on the pillion perch as we searched the outskirts of Ajmer for a place to shoot and he rates it as one of the best he's had to sit on.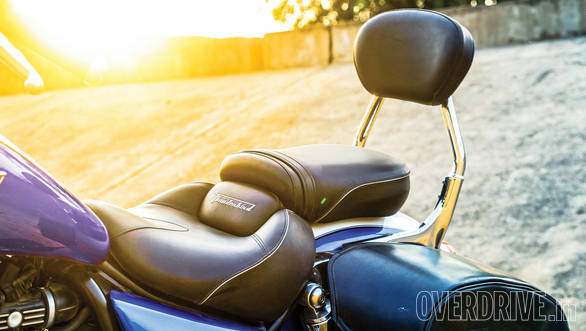 The best seats in the business?
At Rs 15.75 lakh ex-Delhi, it's quite a stretch for the Indian cruiser enthusiast but at that price you do get a great comfortable long distance cruiser that will keep you entertained both on the road and parked in your garage. Just be prepared to answer the never ending stream of "how much?" and "mileage?" questions whenever you do pull over.
Images: Varun Anchan