2015 MV Agusta Brutale 800 first ride review (India)
What is it?
Okay, for those who have been living under a rock and haven't spent their lives drooling over the motorcycles that MV Agusta makes (wait, was that just me?), the Brutale 800 is the naked cousin of the F3 800. Before you ask, the F3 800 is the bigger brother of the F3 675 and the younger brother of the F4. That would also mean that the Brutale 800 is the middle child in the family that is made up of the Brutale 675, the Brutale 1090 and evil twin, Brutale 800 Dragster. Confused enough?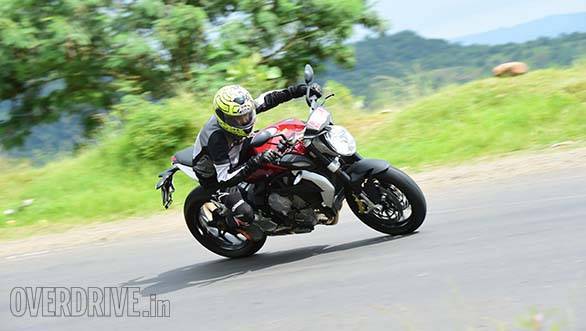 Anyhow, the Brutale 800 uses a 798cc, inline, three-cylinder motor that makes 125PS and 81Nm of torque. The engine gets ride by wire and three maps – Normal, Rain and Sport with Custom (this lets you customise your map with various settings for Gas Sensitivity, Maximum Engine Torque, Engine Brake, Engine Response and RPM Limiter). It's a lot to take in so here's a quick guide. Throttle response lets you adjust the amount of throttle input required to induce velocity. Sort of like an electronic quick throttle. Maximum Engine Torque lets you choose between Rain and Sport modes, which let you use 100 per cent or 80 per cent power, respectively. Engine Brake lets you control how much engine braking the motor gives you. This helps if you like downshifting aggressively without having your tail lock up. Engine Response lets you control how aggressively the engine responds to throttle inputs. And the RPM Limiter, well, that's self-explanatory.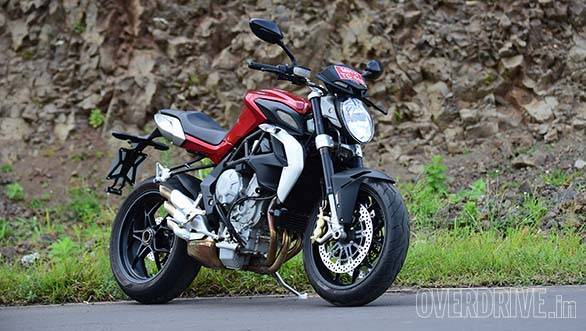 The bike also gets eight step traction control and ABS.
The chassis is the same Cagiva Research Centre developed unit that was used on the smaller 675. It is a tubular steel, trellis number with an aluminium alloy rear swingarm holding the rear wheel in place. Both front and rear suspension is fully adjustable for compression and rebound damping as well as preload. The front fork is a 43mm Marzocchi upside down unit and the rear shock is sourced from Sachs. The bike runs 17-inch aluminium alloy wheels with Pirelli's twin compound Diablo Rosso IIs.
How does it perform?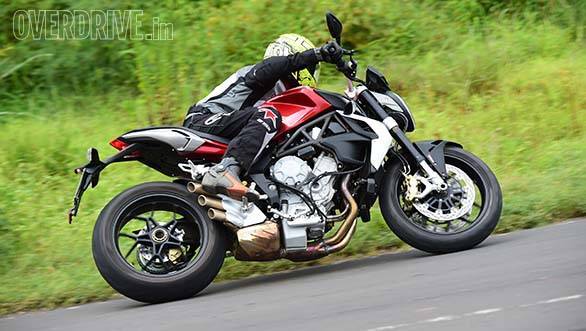 There has to be something up with these Italians that they have to turn every engine they manufacture into a fire breathing demon. The Brutale's 798cc motor delivers power with such ferocity that the first time you hit the powerband, you will scare yourself silly. You will see 150kmph in a blink and it is more than happy to reach for the sky every time you open throttle. The motor delivers peak torque right around 8,000rpm, which sort of makes it catapult away. And once you've hit the powerband (11,600rpm), the velocity is quite scary. In fact, going full tilt through the gears will see the front end going light even in top gear.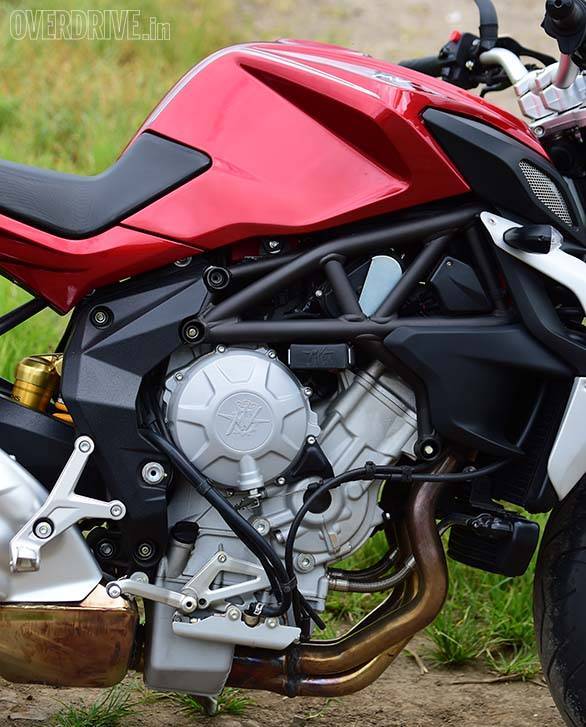 The Brutale's engine is not one of those that stay happy only at higher revs. The motor is happy to trot around in low revs. In the city, I hardly ever went above 5,000rpm and there were no complaints from the engine. It pulls cleanly and without drama from under 4,000 revs even in sixth gear. It is quite a refined motor too. There is only a slight hint of vibration but, the thing is, there is always a sense of impending violence with this motor. The engine isn't unhappy puttering around, but you just know that it is egging you on for some more gas, some more power.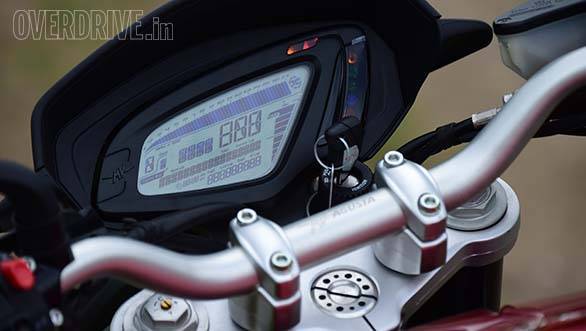 In Sport mode with traction control set to the bare minimum, the throttle response is almost instinctive. In Rain mode and Normal mode, there is a noticeable lag between throttle input and engine response which made it a bit harder to input fine corrections. My advice would be to stay in Sport mode and work on fine tuning your inputs. The Normal and Rain modes suck too much life out of the motorcycle. Same with the traction control. Leave it on the lowest of the eight modes that your courage allows you to and you'll have more fun.
How does it handle?
The Brutale is a ridiculously sharp handling motorcycle. But it isn't as sharp as the, let's say, 899 Panigale (I say this only because the Panigale is the other motorcycle that managed to scare me silly in the recent past). The bike responds to your inputs super quick and changes direction fast too. Sit on it and the overall size reminds you more of a KTM 390 Duke than a big street-naked. Even the seat isn't too large (which might be a problem for larger riders) or too tall. This is quite a nice feeling, especially when you think of how large and unwieldy the Z800 feels once you sit on it. It is effortless to throw into corners and there is a precision about it that doesn't scare you. Tip it into a corner and it holds a line really well and for a motorcycle that is as sharp a handler, it does forgive a mistake or two if they're small ones.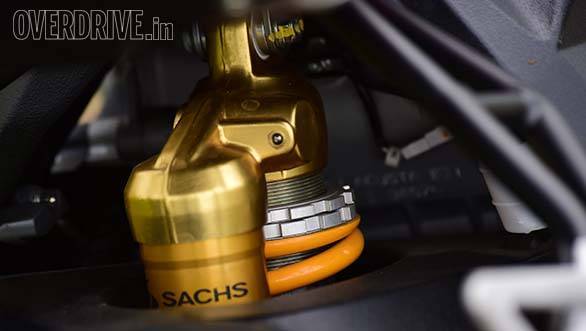 The suspension is set up really stiff and that makes it a pain to ride over bumpy roads. The ride is really that harsh. This also means that uneven surfaces that come at you mid corner become a bit scary. The bike doesn't really absorb anything. It just skips over it. The key is to not panic and continue doing what you were doing while the bad patch hit you. Do this and the bike too will carry on as if nothing happened. Panic and make a correction, and I'm fairly certain there will be bad news.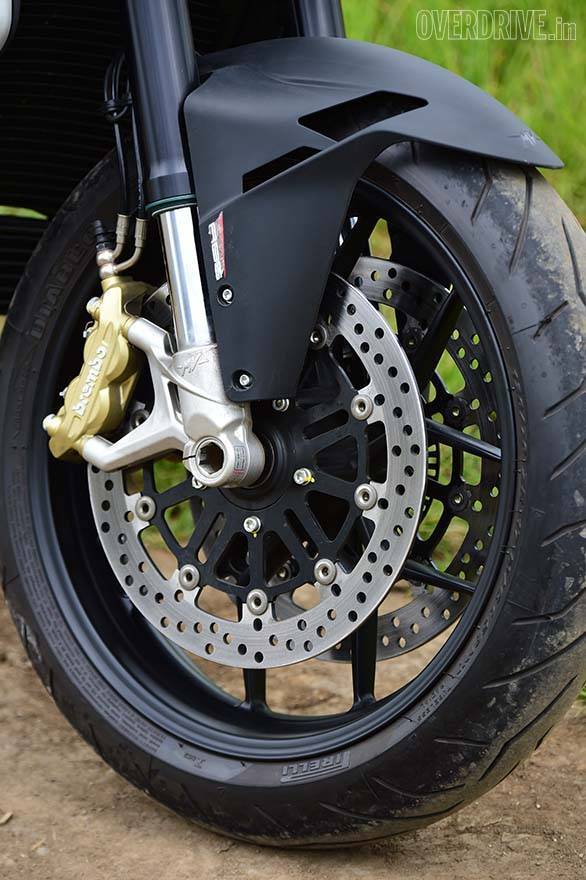 Another aspect of the Brutale that requires praise is the braking. The bike runs twin 320mm rotors with four piston Brembo callipers up front and 220mm rotor with a two piston Brembo unit at the rear. A bit too much of the rear brake will have the tail skipping and sliding, but those front brakes are a thing of beauty. There is so much braking force that you need to constantly remind yourself to grip the bike with all your body so that you don't get thrown over the bars. In fact, brake hard enough and you can even have the rear end catch some air. What is nice is that the ABS only kicks in when you're really in trouble and the tyres and brakes alone are enough to handle almost 80 per cent of the shenanigans you will be upto on this motorcycle.
What's our take?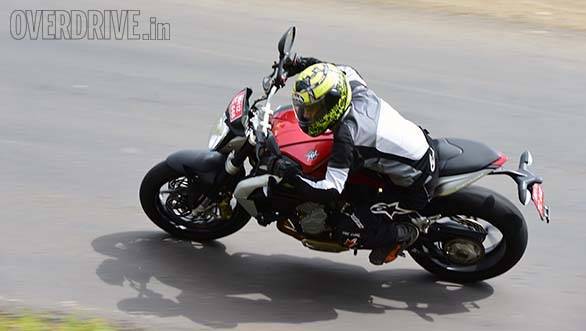 The Brutale 800 is not for beginners. It is one of those motorcycles that need a skilled hand to be truly appreciated. Otherwise, it will just spend most of its lifetime not even exploring half of its capabilities. One could even say that in the wrong hands, this is one motorcycle that will be a bit dangerous. It has crazy amounts of power on tap and handles sharper than almost every other motorcycle in the segment that I have tested. We expect it to cost upwards of Rs 11 lakh when it arrives here. Only problem is that thanks to our ridiculous homologation laws and the fact that the Brutale is two ccs below 800, it will take some time before the bike gets launched here. Till then, we'll have to make do with the F4 and the Brutale 1090. *insert chuckle here*
Price (Ex-Delhi)
Starts Rs 15,59,000
Price (Ex-Delhi)
Starts Rs 2,52,928