2014 Porsche Panamera Diesel India road test
I feel like a stupidly well-paid CEO returning home after a hard day of golfing and drinking whiskey at work. I'm ensconced in soft leather seats with my corner of the four zone climate control system set to a perfect 23 degrees. My aircraft-style reading lamps are on, but I'm not reading up on the stock market's performance for the day. Instead, I'm going through the spec sheet of the diesel Panamera that's smoothly getting me home after a long day of shooting, driving and testing. Naturally, you must think I'm a proper idiot to let someone else drive me around in a Porsche, but let me explain-- this is exactly how a Panamera is supposed to be used.
Sleeker headlamps and larger airdams comprise the changes up front
The Panamera was designed to serve as a limousine in the week and a sports car on the weekend. The owner gets chauffeured around on the banal daily trips to work but takes over when he feels like going for a weekend blast. And the Panamera has the potential to get your pulse racing in a way that almost nothing else this big can. For 2013, Porsche has given the car a small facelift and a couple of new engine options, but we'll focus on the diesel that we have on test. The car essentially gets tweaked headlamps (with optional LED headlamps), larger airdams and repositioned parking lamps upfront. The ORVMs now look sharper and there's a new set of wheels. Smart new Cayman-like lamps, a wider rear window and a larger spoiler sharpen up that controversial rear end, but the overall proportions are still very awkward. Nevertheless the Panamera is very striking and gets countless stares everywhere. The sheer number of camera phones it attracts show the car's potential to deeply satiate the narcissist within you.
Cayman-like tailamps, a new bootlid and a larger spoiler make for a more palatable rear end
Save for the new wheels, the side profile retains the awkward proportions
The interiors are easily the most luxurious of all the cars from Porsche. Opulent cream and black leather with white stitching complements the chrome and satin metal finish detailing. The dash is covered with chrome- detailed buttons, while the lovely optional sports wheel is just like the one you'd find in a 911 and has no buttons on it whatsoever to give you a proper sports car feel. The downside is that the driver has to use the small buttons on the dash to control the audio and that can be a pain with the unnecessarily tall shift lever coming in the way. The standard multifunction wheel makes more sense, but it only comes with those push/pull thumb driven gear shifters. The rear seats are even softer than ones upfront and you get fully controllable air-conditioning, while our car had optional touchscreens with USB and aux connectivity for media consumption. The rear seats also felt too upright, but you can always spec the electrically adjustable rear ones to take care of that.
The Panamera boasts some of the best interiors of any Porsche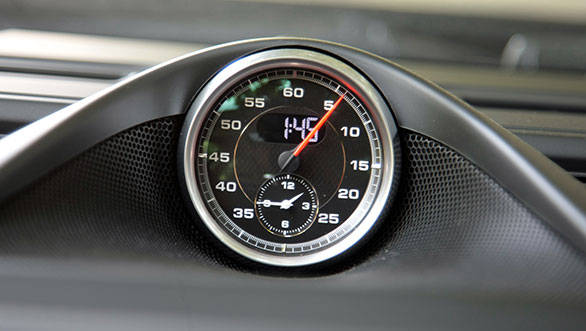 Optional Sports-Chrono dial reminds you that you are in a proper Porsche
Besides the visual tweaks, Porsche have also worked on the chassis for added comfort. Porsche Active Suspension Management (PASM) is standard as well. Ride quality is surprisingly good with impressive sound dampening while ground clearance is adequate for most situations. The two rear seats stay comfy even when the car is driven briskly. However, it doesn't ride quite as well, nor has quite as much space, as a proper luxury limousine like the S-Class. However, behind the huge and awkward proportions (it's over 5m long) lays a true sports car. Step into the driver's seat and the massive dimensions simply don't matter. The Panamera wraps itself around you in the way only a good sports car can. The driving position is high which gives you plenty of visibility, while our car's optional aerial view camera and front and rear reverse camera made parking and navigating heavy traffic a breeze. On a winding road, you can select Sports or Sports Plus (a bit too much for our roads) modes to stiffen up the ride, firm up the steering and quicken the engines responses. The car proceeds to turn in with surprising urgency, and there's a huge amount of grip available before Porsche Stability Control (PSM) steps in to save your bacon. The car feels beautifully balanced and you're overpowered by surprise that this barge can go around corners with such speed and finesse. The Panamera's dynamic ability is truly eye-opening and a proper testament to the awesomeness of German engineering.
Four-zone climate control and a spacious rear make this a proper luxury car
The fly in the pudding is the 3.0-litre V6 diesel. It's the same engine you can get in an A4 or A6 and on its own, this engine is a masterpiece. It makes 250PS/550Nm while still returning respectable fuel efficiency figures. The problem is that it just doesn't feel right in a vehicle as capable and expensive as the Panamera. It is undoubtedly quick - we hit 100kmph in just 6.9 seconds while she pulls beyond 200kmph with ease. An overall figure of 9.45kmpl means a range of close to 1,000km thanks to the optional 100-litre tank. The problem is that there's absolutely no emotion and all you hear is a muted rumble as the car whooshes to speed. Diesel power is understandable in a SUV like the Cayenne, but it just doesn't seem right in the Panamera.
445 litres boot offers plenty of luggage space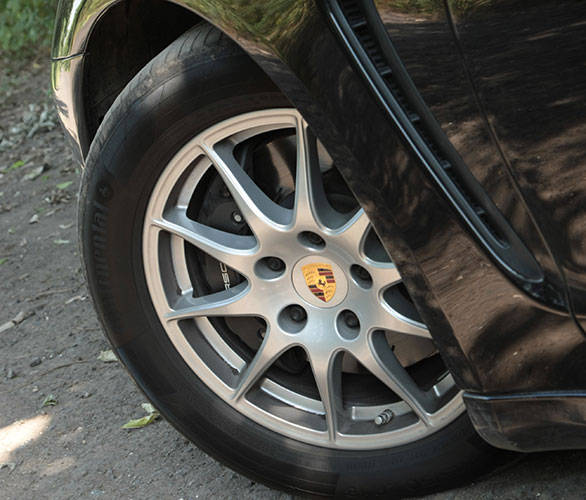 Standard 19-inch wheels with high profile tyres aid in ride quality
Striking front end is instantly identifiable as a Porsche
Porsche has been offering the Panamera with a diesel engine in India for just over a year now, and it's already the best selling model in the range. The new car isn't cheap by any means at Rs 1.2cr ex-Mumbai (all that extra equipment in ours pushes the price closer to Rs 1.4cr). So just who buys a Panamera and why are they willing to pay about Rs 30 lakh more than a similarly powered and spec'd luxury sedan? It turns out that the average Indian Panamera buyer is enticed by the iconic badge, customisability and attention grabbing style but isn't so interested in the car's stand out trait – driver involvement. The logic is skewed but that's what the Indian market situation is. The way we see it is, if you can spend that kind of money on a car that is meant to be enjoyed from behind the wheel then why be seduced by low running costs? Go all out and buy one with a high powered petrol engine this car was always meant to have!
Price (Ex-Delhi)
Starts Rs 1.45 Crore