2012 Toyota Camry in India first drive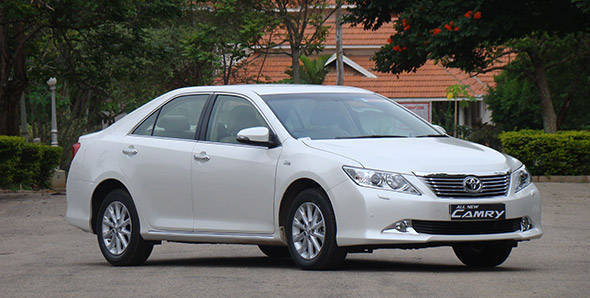 Toyota's flagship sedan and one of the largest selling cars in the world, the Camry, will sport a new avatar soon. We drove this car in Bangalore recently and while nothing much has changed there are a few new qualities that make it endearing.
The most significant of those changes is in the ride quality. The suspension has been stiffened mildly and this has firmed up the ride quality sufficiently to reduce body roll. Travelling over bumps and potholes you barely feel a thing. At the same time it isn't as hard as what you sometimes experience in European brands. The slight reduction of body roll results in better stability, so cornering has improved. I also presume high speed stability should be more composed though we did not get the opportunity to drive this car over any long distances on a highway.
The engine and transmission combination is the other big change that works positively for the Camry. The 2.4-litre engine used previously has been replaced with a 2.5-litre petrol unit belonging to the 2AR-FE family of engines. This engine displaces 2494cc, features dual overhead camshafts and dual VVT-i as opposed to the older 2AZ-FE which had a solo VVT-i. Power has been hiked to 181PS and torque is a significantly better 233Nm. This new engine offers better mileage, claimed improvements are to the tune of some 11 per cent. In our previous tests the Camry automatic returned 12.1kmpl and presently ARAI claimed figures stand at around 12.5kmpl, though we are yet to ascertain that figure. One of its strongest characteristics is its refinement, NVH levels touch a new low and we don't mean that in a derogatory manner. So what you get is an extremely quiet cabin that is only disturbed by the engine once the rev needle stretches itself beyond 5800rpm reaching up to its 6200rpm redline.
Speaking of automatic, the new Camry will be offered with a 6-speed automatic transmission alone though the previous generation car had a manual and automatic to choose between. This new transmission is aimed at providing better fuel efficiency rather than performance. So while the Camry does accelerate quickly to triple digit figures, we did feel that a faster shifting transmission could have worked better in this car.
On the design bit several changes to the exteriors and interiors give it enough of freshness to invigorate its sales in this segment. Despite the Camry sales figures having tanked in the last several months, we do feel it still has some amount of life in it. It stares at stiff competition from the VW group cars, the Superb and the Passat both of which have a diesel engine option which the Camry does not. It's a big disadvantage but Toyota are banking on the fact that the Camry is one of the most reliable cars in the world. That is a big magnet, especially for those looking at their cars outlasting Armageddon, if you need proof of that longevity just look for the last generation car to see how well they are ageing. And if that does not suffice there's Toyota's massive dealer network that the VW group can't match up to at the moment and which is constantly expanding.
The biggest advantage that Toyota will enjoy is that they will assemble the Camry in India now on. That means prices will reduce substantially making it more affordable and therefore able to compete against the Superb and Passat. We expect that price to come down to around Rs 19 lakh, sounds much more appealing now does it not?
Price (Ex-Delhi)
Starts Rs 41.7 Lakhs