2012 Porsche Panamera Turbo first drive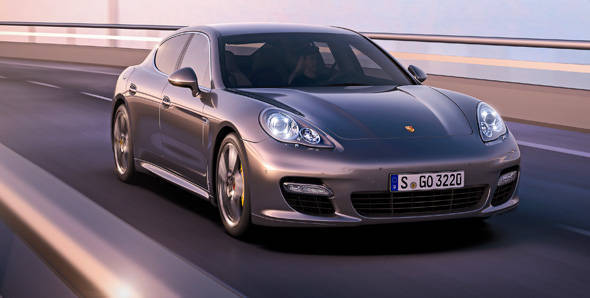 I am not blind but I still love the Panamera. My first taste came at the Chennai racetrack and it was a memorable first fling. And fling it about with impossible abandon is more or less what I did there. And the luxurious four-door fastback responded with a marvelous sense of zest and precision that left me super impressed.
And now I'm on the autobahn, there is no speed limit and my convoy has just passed me at electric speed. I'm doing 150kmph in the middle lane and the cabin is quiet and we are chatting comfortably about this, that and the other. Then I decide to catch up with them. I indicate, pull into the overtaking lane and tickle the accelerator pedal. We are still talking. And then with the smoothness of a gourmet-class chocolate mousse, we're closing in on the other two Porsches ahead. Cars that still are in the top lane, cars whose brake lamps aren't on yet and cars that are clearly squatting a bit under the force of an accelerating engine. It is at this 240kmph moment that one of my passengers notices the speedo. "When did we get to 240?"
That's the beauty of the Panamera, not its styling. It's a delicious car in the way that it surges purposefully to impossible speeds while all the violence of its 500PS engine is employed gainfully without it interrupting the business meeting or whatever is going on inside.
The Panamera Turbo I'm driving is the new one and to be perfectly honest, I couldn't spot any difference from the old one. That's because the difference is tiny, though probably significant in markets where Corporate Average Fuel Economy is a monitored parameter.
You see, the car gets lower rolling resistance tyres and a brake energy regeneration system that boosts economy by approximately 10 per cent. Neither of the updates is something you would notice though, obviously, they produce results.
Which means, simply put, same great automobile, but slightly better economy. Porsche India has now formally announced that they are the sole importers of the brands cars into India and have three dealers across India where you can purchase this lovely four-door luxury express for about Rs2 crore, ex-showroom today.
Price (Ex-Delhi)
Starts Rs 1.45 Crore