2012 Audi A8L 4.2 TDI in India road test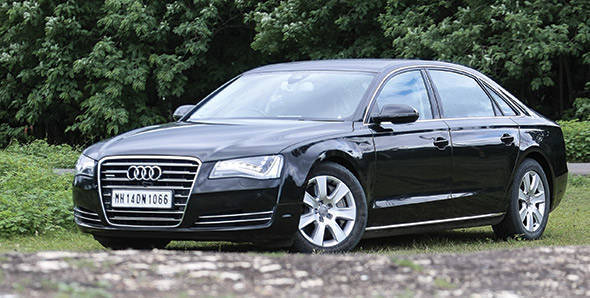 In our anniversary issue, we were mighty impressed with the newest variant in the A8 lineup, the 4.2 TDI, it not just ferried us from the Audi warehouse to Baramati airport in style but when it got to the open runway, the car went out and set a shattering 5.6 second time to 100kmph making it the quickest car in its segment from the 0-100-0 story.
The TDI unit is similar to the one found under the Q7's hood, displacing 4134cc. The engine produces a healthy 351PS of maximum power at 4000rpm and a  mammoth 800Nm of torque available from as low as 1750rpm up to 2750rpm. On the road, power delivery is effortless and silky smooth. It's the ideal highway cruiser. Even at 200kmph the car cruised without complaint. One actually needs to give the speedometer a glance to believe how fast the car is going. Since the cabin is very well insulated and the engine produces peak torque at a low rpm, one just can't hear the engine running. It's almost like a petrol car. The 8-speed ZF transmission shifts without any drama when driven in chauffeur mode. However, if needed the S mode and paddle shifters can transform this luxury limo into a sports sedan.
In terms of numbers, the car even went on to better our previous test figures. This time the car was tested on our usual testing venue and clocked an unbelievable 5.3 seconds 0-100kmph time making it the quickest diesel car we've tested (that's also 0.3 seconds quicker than Audi's claimed figure!). The quarter mile comes up in 13.8 seconds while the electronically limited 250kmph top speed is achieved with minimum effort. Fuel efficiency is impressive too, in town we managed to extract 6.2kmpl while on the highway the figure raised to 10.4kmpl resulting in an overall figure of 7.25kmpl.
The car starts at Rs 1.07 crore, ex-Mumbai and like all other A8 variants available in the country, the 4.2 TDI also gets a long list of optional extras including those massage seats that Ashok loves so much. The A8 has always enveloped its occupants with a sense of luxury far beyond its rivals. Now Audi has gone ahead and given the A8 a scorcher of a motor that takes it fearfully close to much more expensive Grand Tourers.
Price (Ex-Delhi)
Starts Rs 1.29 Crore