Zagato celebrates 100 years of Aston Martin with two special cars
Aston Martin turns hundred this year and as part of its centenary celebrations the British luxury carmaker has swarmed London's iconic Kensington Gardens with over 500 Aston Martin models.
Among the 550-strong vehicles, which include some of the earliest and the latest Aston Martins, are two previously unseen models that are specially crafted for the occasion by Italian design house Zagato Milano - the one-off Aston Martin Zagato Centennial specials.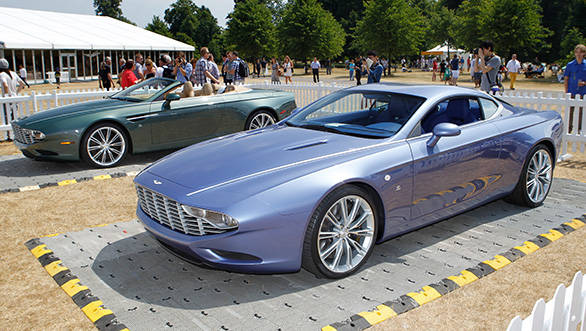 The one-off Aston Martin Zagato Centennial specials based on DBS Coupe and DB9 Volante
Zagato's two creations are based on the Aston Martin DBS coupe and the Aston Martin DB9 Volante.
The Aston Martin DBS Coupe Zagato Centennial is a cross of Aston Martin DNA with Italian stimulus, sporting a 'double bubble' roof design that is typical of Zagato cars.
Around the front the headlights are now integrated into the enlarged grille for a clean look that is reminiscent of old-school sports cars with pop-up lights. The DBS Coupe Zagato Centennial was crafted for an anonymous Japanese entrepreneur.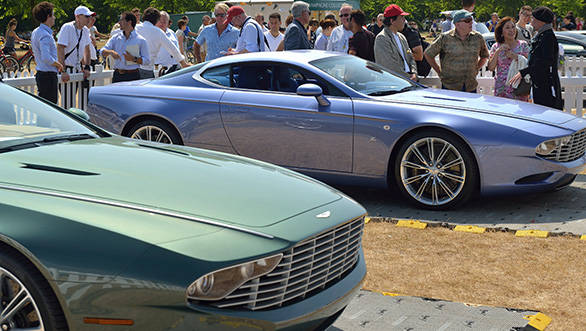 The green open-top DB9 Spyder Zagato Centennial special is based on Aston Martin DB9 Volante
 "Redesigning the DBS was a difficult job. The DBS is already one of the most beautiful modern sports cars around. Our challenge was to bring sporty styling together with a more Mediterranean luxury GT feel, all with typical Zagato quality," said Norihiko Harada, Chief Designer, Zagato.
The Zagato-Aston Martin relationship began from the DB4 GT Zagato from 1960 and the AM V8 Zagato in the Eighties. The same team, comprising Andrea and Marella Zagato and Peter Read,  has designed, developed and produced the one-off DB9 Spyder Zagato Centennial special. The open-top luxury GT was commissioned by Read.
"The DB9 Spyder Zagato Centennial perfectly merges Aston Martin and Zagato's DNA by combining the elegance of design typical of Zagato with the soul, power and prestige of Aston Martin. This car personifies the timelessness of the Aston Martin/Zagato marque," said Read.