X1 Racing League announces drivers for 2019 season
The X1 Racing League, the highly anticipated new racing series thought up by Indian racers Aditya Patel and Armaan Ebrahim, has finally announced the drivers who will compete in the 2019 season. In total, thirty drivers have been selected to compete in the championship, with each of the six teams fielding five drivers. These include one international male racer, one international female racer, one Indian racer with international racing experience, and two Indian racers from the national circuit.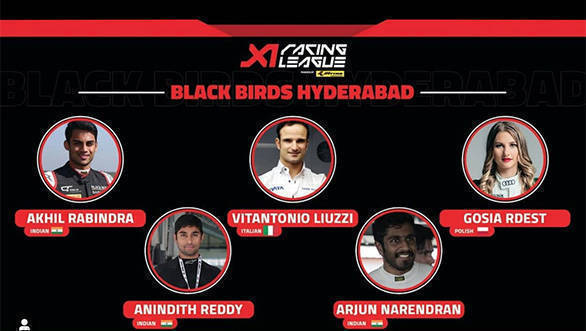 The drivers will compete in two race weekends - one at the MMRT and the second at the BIC - as opposed to multiple street races that was initially proposed. The cars for the 2019 season have also been announced, with the series confirming the use of the Formula BMWs that were once raced in the JK Racing Series. This is a departure from earlier plans to run either the JA Motorsport Inde 2.0 racecars, or Radical SR3s, which were rumoured to be the main cars in contention for the series.
However, Aditya Patel assured us that the cars, which have been redesigned and rebuilt, are only being used for the 2019 season, and are being put into action primarily because of the fact that they are the only financially viable option at the moment. Speaking to OVERDRIVE, Patel also added, "That apart, it's the only available car in which our domestic racers can give the international racers a run for their money. It's a racecar and it makes for good racing!"
Back to the drivers though. One big name missing from the driver roster is Neel Jani, who was announced earlier this year as a possible driver in the series. However, Jani's participation in the X1 Racing League was subject to his commitments to the Porsche Formula E team, with whom he will compete in the 2019-2020 season of the all-electric championship. Other big names to compete in the 2019 season of the X1 Racing Series are former F1 drivers Vitantonio Liuzzi, Narain Karthikeyan, and Alex Yoong, endurance racing stars Oliver James Webb and Christina Nielsen, and IndyCar driver Pippa Mann. The full list of the 2019 driver roster is below:
Team Mumbai Falconss:
Kush Maini
Mikkel Jensen
Pippa Mann
Karthik Tharani
Sohil Shah
DG Racing Ahmedabad:
Krishnaraaj Mahadik
Alex Yoong
Rahel Frey
Ameya Walavalkar
Chittesh Mandody
Bangalore Racing Stars:
Arjun Maini
Oliver James Webb
Michelle Gatting
Nayan Chatterjee
Vishnu Prasad
AD Racing Delhi:
Gaurav Gill
Mathias Lauda
Christina Nielsen
Raghul Rangasamy
Ashwin Datta
NK Racing Chennai:
Narain Karthikeyan
Franky Cheng
Alice Powell
Arjun Balu
Yash Aradhya
Black Birds Hyderabad:
Akhil Rabindra
Vitantonio Liuzzi
Gosia Rdest
Anindith Reddy
Arjun Narendran