WRC 2018: Successful first outing for Gaurav Gill and Team MRF at Rally Sardinia
Gaurav Gill and Team MRF had a successful first outing in the 2018 World Rally Championship, managing to gain valuable experience over the tough stages of Rally Italia Sardegna. The three-time APRC champion ended his outing at Sardinia 28th overall, and 13th in the RC2 category. Gill drove an M-Sport prepared Ford Fiesta R5 on the rough gravel tracks in Italy, with his car running on MRF Tyres.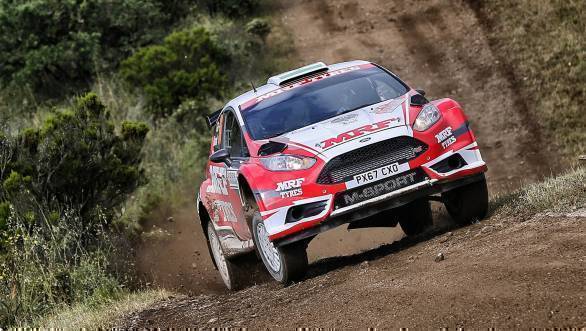 Gaurav Gill and Glenn Macneall on the stages of WRC Rally Italia Sardegna in their Team MRF M-Sport Fiesta R5
"It was a tough event - this is the toughest of the WRC events across the season and the MRF Tyres performed well on the rough roads," Gill said after his first outing in the WRC, where he is a non-priority driver given that he isn't running official WRC tyres, but is instead running on MRF tyres.
"I am very happy with where we sit after our first event. We took fourth in our category on stage 13 and today (Sunday) we continued to set very good times. The conditions today (Sunday)  were very hot, much warmer than over the rest of the weekend but the roads were a little smoother," Gill continued.
M-Sport's Malcolm Wilson with Gaurav Gill at Rally Sardinia
Gill was co-driven by Glenn Macneall who was beside him for two of three APRC titles. The Indian driver was running well until the fifth stage of the rally when a hard landing meant that he had to end his rally for the day, but was able to restart the next day. Despite the glitches, Gill was happy with the progress they made, and the data they collected over the course of their maiden WRC outing.
"It is great to make it to this point and I am looking forward to getting back behind the wheel of the MRF Tyres Ford Fiesta R5 at our next WRC event. Our tyres were able to withstand the tough demand of the WRC - the toughest motorsport competition in the world. The MRF Tyres were able to withstand rocks, ruts and boulders without a single issue," he said.
The Rally Italia Sardegna is the first of four events that Team MRF will compete in in 2018. They now head to Finland for their second attempt at the WRC between 26th and 29th of June, before competing in the Wales Rally GB between October 4 and 7, and ending their season at Rally Australia between 15 and 18 October.