WRC: Jarmo Lehtinen, Toyota's Sporting Director, on the team's progress ahead of its 2017 debut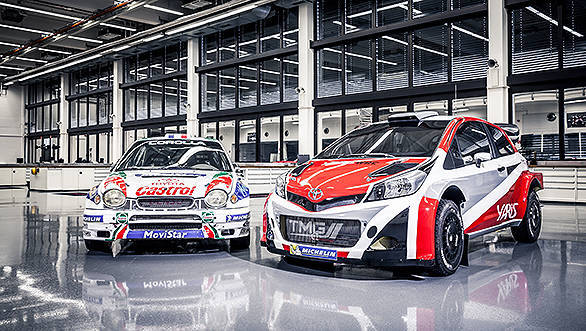 Mikko Hirvonen's former co-driver Jarmo Lehtinen is now the Sporting Director for the new Toyota WRC team and was in Sardinia, reporting in an official radio interview on progress of the team which is due to start competition in January next year.
As to which drivers are likely to be engaged by the team, Lehtinen starting off explaining that existing contractual obligations mean it is not possible to be specific.  "The plan is to run three cars so we are quite open at the moment. Of course we need some established drivers with experience and then we would definitely like to have some new upcoming star. Here in Finland there are already a couple of really upcoming guys like Esapekka Lappi and Teemu Suninen, also Pontus Tidemand from Norway. There are so many other interesting guys in WRC2, Quentin Gilbert for example, Elfyn Evans at the moment is doing really well, so many young talents at the moment that we are in a good position. One problem is that all these guys have existing contracts so it stops them testing our cars this year.  We have a good test driver, that is not a secret. Juho Hanninen is doing the bulk of our testing and he is a busy guy this year but we have some other drivers. One name is very close to me from my history... Other guys can do durability testing but Juho has the main responsibility at the moment on development tests. Just because Juho is a test driver for Toyota doesn't meant he may not have the chance to compete next year. It is no secret he has our eyes on the stages this year. He is doing all of the recces so we can gather current information from the stages. We don't have the luxury of time."
On the challenges of building and readying a world rally machine for competition, he had this to say. "Building a rally car is not really a rocket science but it takes a lot to make it reliable, it takes a lot to make it really competitive but it is still an even a bigger task to build the team. We were six people when we started a year ago, now we are a bit over 70 and by the end of the year we will be 100-110."
Perhaps the challenges are the most for the man effectively in charge of Toyota's operations, the Team Principal, Tommi Makinen. "It is a very steep learning curve for Tommi Makinen as well. It takes time for him to appreciate all his responsibilities but that's what we've been trying to do, building up the team around him. He's not there alone. I must say we've known Tommi for so many years as a fellow competitor and then working as a smaller team manager. My whole work has been an eye opener, working with people who come from other kinds of jobs. If I go back now to a rally car I would not be a better co-driver but I would certainly be a much better behaving and understanding co-driver, not complaining about ridiculous things. I can now understand what is going on behind the scenes for the organisers, the FIA, the (WRC) Promoter, with other teams.  Yes, it's a very interesting perspective I'm seeing at the moment," says Lehtinen.