WRC: Catalunya victory helps Ogier to fourth championship title
32 year old Sebastien Ogier clinched his fourth successive world rally drivers championship title, the fourth driver in the history of the series to achieve this level of success. He won the Catalunya Rally, gradually overhauling Hyundai driver Dani Sordo who gained the lead in very wet conditions at the start of the event, which he held for half the event. Sordo finished second, the 24th time he had finished runner-up in a WRC event. The Drive DMack Fiesta Trophy was won by Osian Pryce, after a remarkable series of misfortunes on the final morning for higher positioned drivers elevated the Welsh driver's hopes to the title. With two more WRC events to run, four drivers still remain in contention for the WRC2 drivers' title.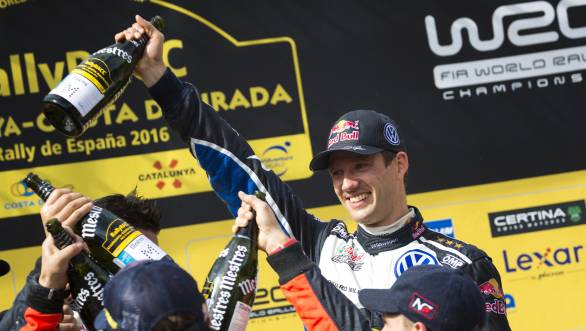 Sebastien Ogier celebrates his victory at Rally Catalunya, which helped him seal his fourth consecutive World Rally Championship title
Ogier retained his title after a first half year season crisis when running order rules made it difficult to win events. More favourable events strengthened his championship hopes in the second half of the season, though on this event his Volkswagen teammate Jari-Matti Latvala was the fastest driver on the rally, winning seven of the 19 stages. Latvala however had missed stages when he went off the road on the Friday and their fellow VW driver Andreas Mikkelsen retired after going off the road. This left Hyundai finishing 2-3-4, while after a relatively technically trouble-free event, Mads Ostberg was fifth in M-Sport's Fiesta WRC.
The Catalunya Rally is an unusual rally, not only because it has a high proportion of stages on gravel as well as the majority of stages on asphalt making this the only truly mixed surface rally in the series, but also because there was one important stage held fully in the darkness for the leading drivers. Run in the region down the Spanish coast south of Barcelona, it created considerable national interest because the Spanish driver Dani Sordo was currently in top form. No Spanish driver had won the event for 25 years, the first time it was held as a WRC qualifying event. Volkswagen could afford to play a cautious team, their manufacturer championship hopes depended simply of containing the challenge by Hyundai, while only a remarkable turn of fortune could deny Ogier his drivers' title on this event. The pressure from the Hyundais however forced two of their drivers into errors – all the team except for Ogier.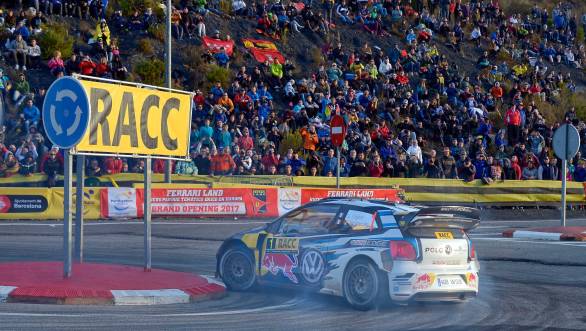 It was an error-free rally for Ogier, while his team-mates baulked under pressure
Hyundai brought four cars to Spain, for the usual three drivers plus and an old 2015 car for their test driver Kevin Abbring. All of them finished in the top seven and all completed the full route. The reliability of these cars however was affected as all three of the 2016 specification cars suffered severe understeering problems, which arguably cost Sordo his chance of beating Ogier and winning. Abbring did not have this trouble, but he suffered coil failure on Day 1 which caused bad misfiring and he dropped out of the top ten for a while. After their impressive turn of speed in Finland and Corsica, there were high expectations from the non championship Abu Dhabi Total team Citroens, who this time fielded Kris Meeke and Craig Breen as well as team patron Khalid Al Qassimi. Meeke made a few driving mistakes, including a spectacular roll and finally retired with electrical trouble, Breen had been lying eighth before losing a lot of time with driveshaft failure, though finally he recovered back to finish tenth.
The M-Sport team continued their troubled path through the WRC but although Ostberg suffered an upsetting transmission problem on Day 1 "I can only attack round right handed corners!" he explained the car wanted to change direction unexpectedly but happily these issues did not seriously delay him. The result was an encouraging fifth place, his best result for almost six months, behind the VWs and Hyundais. Teammate Eric Camilli was less fortunate, gearbox trouble forcing him to lose stages on Day 2, but there were smiles in M-Sport during the extraordinarily wet opening superspecial stage on the Thursday evening. Ott Tanak's run round the famous Magic Fountain gardens of Barcelona came in between downpours, and the DMack team driver was fastest of everyone! Tanak finished the event sixth overall while the private Fiesta driver Lorenzo Bertelli was eleventh. So ended the final time the teams bring out their 2016 specification cars for an asphalt WRC event and the sport rounds off their current formula with gravel rallies in Britain and Australia.
Julien Ingrassia and Sebastien Ogier celebrate their fourth rally world title and seem overall pleased about their driver-codriver partnership!
The race for WRC2 honours continues its circuitous path through the season with competitors trying to maximise their points scoring opportunities by avoiding unnecessary confrontation with rivals. Points leader Elfyn Evans had already competed his maximum available score but rivals Teemu Suninen, Esapekka Lappi (who was not entered on this event), Jan Kopecky and Pontus Tidemand still retained the chance to increase their points. Suninen initially led but then had turbo failure, missing four stages and dropping to ninth place in the category, his good luck being that many other WRC2 rivals were also being heavily penalised for missing stages. One day later he was lying fifth, where he finished a position in which he was able to keep his championship hopes alive. Meanwhile the race was on between the Skoda Motorsport team drivers, Kopecky and Tidemand, who pulled well ahead of the rest of the WRC2 field. Kopecky was quicker on asphalt but Tidemand momentarily led at the end of Day 2 when Kopecky punctured. The Czech driver pulled ahead on Day 3, leaving the Swedish driver in second place. In his case this was not good enough to remain in contention for the title.
This event did not qualify for the FIA's Junior championship which meant that the entry for the WRC3 category, intended for R3 cars, was low level, indeed first and third cars were in fact Peugeot R2 cars of Fabio Andolfi and Damiano de Tommaso. These two drivers won every stage in the category except for two. Much more exciting was the race for the Drive DMack Fiesta Trophy for which this was the final round. Available was not only the outcome of the title series but also special prize drives in R5 cars. Osian Pryce and Max Vatanen were favourites for the title, in which points were earned not only by category finishing positions but for winning individual special stages. Pryce lost nearly a quarter hour with electrical trouble on Day 1, dropping him to ninth in the category. All seemed lost. He stayed in that position through Day 2, out of obvious contention. Vatanen's hopes were mounting, but then on an incredible final morning the fifth, sixth and eighth drivers all had to retire and Pryce found he had won the title!