WRC 2019: Ott Tanak wins Rally Finland and extends championship lead
Toyota drivers dominated the traditionally high speed and closely fought Neste Rally Finland with Ott Tanak overcoming the disadvantage of initially running first car on the road. He now holds a 22 point championship lead in the Drivers' series. After lying second in the early stages teammate Kris Meeke (on his 100th WRC event) crashed twice, and Jari-Matti Latvala was ordered to secure a podium position after Meeke went off.
Ott Tanak on his way to victory at Rally Finland 2019
Hyundai now have a reduced lead in the Manufacturers' series, 24 points ahead of Toyota after a poor event. Hyundai's Andreas Mikkelsen finished fourth and WRC title challenger Thierry Neuville relied on team orders to finish sixth. Citroen driver Esapekka Lappi finished an impressive second while team leader Sebastien Ogier was in poor health and struggled to finish fifth. M-Sport had an unlucky event after late team driver changes and a lacklustre drive by Teemu Suninen. Eighteen year old Kalle Rovanpera was unchallenged in his new Skoda R5 Evo car ahead of Nikolay Gryazin's original generation Skoda, with different models taking the top five places.
The Estonian flag flies high in support of Toyota's Ott Tanak
Toyota went to the rally as odds-on favourites as although their team Toyota Gazoo Racing is run out of neighbouring Estonia, their development centre is based only 20 kilometres north of the rally headquarters at Jyvaskyla and the region around their base is the team's designated testing area. When the team started out with the Finnish team director Tommi Makinn their drivers were exclusively Finnish, their team is now fully international with Estonian driver Tanak teamed up with the Finn Jari-Matti Latvala and the British driver Kris Meeke, and all their current drivers are now winners of this event. For some way into the event Toyota drivers were lying 1-2-3 challenged only by Esapekka Lappi and were unrestrained by team orders, even though it was Tanak who was the team's most likely hope of the World Drivers' title. This situation continued up to the halfway mark when both Meeke and immediately afterwards the rally leader Latvala impacted the same rock on the edge of the road. Meeke wrecked his suspension and was out for the day, Latvala punctured and dropped to second behind Tanak. This focused the attention of Makinen on the hopes of the two remaining points scoring Toyotas finishing the rally intact were threatened. Orders were given that Latvala, who had not won a WRC event since the end of 2018, must ease his pace, even risking Lappi finishing second. So it was that Tanak was on his way to his tenth WRC win.
Victory at Rally Finland has enabled Tanak to open up his lead at the head of the standings
All three team Hyundai i20 WRCs lasted the course finishing the event in 4-6-7 positions, their only sight of a podium result being after the opening downtown stage which was won by Thierry Neuville. Through the rest of the event however he was off the pace for no known reason and was far from showing the pace of a serious championship contender. Andreas Mikkelssen was their star driver this time and by making consistently good times on orthodox stages finished within a minute of the winners. Craig Breen proved himself a useful supporting driver enlisted for this event, enjoying competing on his first WRC event since the end of 2018. He was steadily in sixth position until ordered by the team to sacrifice a position to improve Neuville's championship chances. Citroen had a fraught event with Sebastien Ogier struggling with sickness on the Saturday but happily made no mistakes. Happily this time Esapekka Lappi was in fine form, the 2017 rally winner unable to beat the Toyota on speed but benefitting when Latvala was told to take no risks. Lappi enjoyed his first podium result since Sweden this year while Ogier finished fifth after a long battle with Mikkelsen.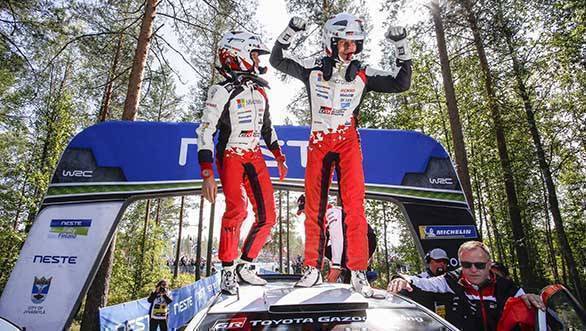 Tanak and Martin Jarveoja celebrate the win at Rally Finland
It was sad to see the difficulties at M-Sport. First problem was that Elfyn Evans had to withdraw because of an injury incurred on a jump on the non-championship Estonia Rally, something which might put him out of action for several events. His entry was taken over by Gus Greensmith who drove steadily and sensibly until two stages from the end when he impacted a roadside tree. This left M-Sport relying on the Finnish driver Teemu Suninen who had finished second in Sardinia but his flair was completely missing and he cruised round to finish an uninspiring eighth. Such was the pace set by the World Rally Cars that no privateers had a hope of a top position on this event and behind Suninen there was a long line of R5 cars. The new second generation R5 cars were being delivered to the teams as fast as Skoda and M-Sport could produce them, this event being the WRC debut for the new Fiesta R5 MkII. In WRC2 Pro two such cars were entered by M-Sport for Eric Camilli, and for Gus Greensmith but then the English driver was given consent to drive M-Sport's vacated World Rally Car entry instead. For M-Sport this was a vital chance to see how their new car performed. In the end the recently introduced Skoda Fabia Evo ran away from the R5 opposition. Kalle Rovanpera was in a league of his own being hounded by Pierre-Louis Loubet's new Skoda before crashing on Saturday evening which allowed Nikolay Gryazin's original generation Fabia to finish second. Eerik Pietarinen crashed his new Skoda Evo early on while the veteran Henning Solberg finished seventh R5 car in his new Skoda. Camilli finished fifth in his new Fiesta while Katsuta went off the road in his new Fiesta MkII. Third R5 place for the Hyundai of Jari Huttunen was a fine result, ahead of rallycross driver Johan Kristoffersson's VW who had an early delay with a puncture. Tom Kristensson regained the lead in the JWRC series ahead of Jan Solans who also spent time recovering after a puncture. Only one more JWRC event to follow, the double-event at Wales Rally GB.
Price (Ex-Delhi)
Starts Rs 6.8 Lakhs