WRC 2018: Tanak victorious for Toyota at Rally Finland
Thirty-year-old Estonian Toyota Yaris WRC driver Ott Tanak's fourth WRC win came when he ran away with Neste Rally Finland, leading for all except four stages and the Toyota team's cars winning all except six stages. Tanak beat Mads Ostberg's last minute entry, in a revitalised Citroen C3 WRC, who had been leading on Day 1 and then held second place resisting pressure from Toyota driver Jari-Matti Latvala. It was a disastrous event for the two leading WRC teams Hyundai (Neuville and Mikkelsen losing time off the road) and M-Sport (where Ogier struggled with new technical improvements on the car). Between these teams the reigning world champion only scored one best time, which was on a short mixed surfaced superspecial. The other sensation of the event was the speed of WRC2 driver Kalle Rovanpera who led the category but nearly retired five stages from the end when his Skoda's suspension collapsed. Because of his age the seventeen-year old needed a special licence to drive on his home country's public roads. The WRC2 category was eventually won by internationally little local driver Eerik Pietarinen in a Pirelli shod Skoda, while the Junior/WRC3 category was won by another Estonian, Ken Torn, protégé of Tanak.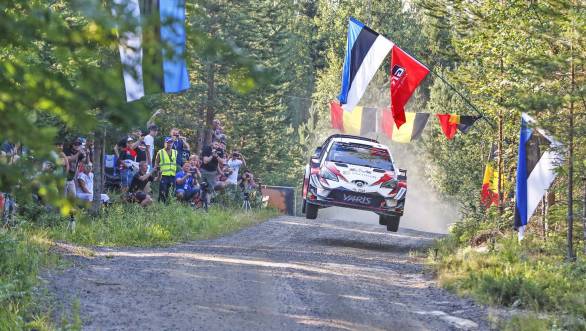 Ott Tanak on his way to victory at the 2018 Neste Rally Finland
Toyota had almost everything going for them on Neste Rally Finland. Winners last year. Their headquarters based adjacent to the base for the rally. Their local area was the authorised area for unlimited rally car testing. Furthermore their cars had a new engine upgrade aimed at improving drivability. They had never expected however to be challenged on this event by either Hyundai or M-Sport but there was one unexpected factor. Neither they, or anyone else in the Finnish Service Park had any reason to anticipate a challenge from the two young drivers at Citroen. The pace of Mads Ostberg was not scheduled! It had been more than two years since the Norwegian had been on a WRC Podium, back in his days with M-Sport, and recent struggles to make the C3 WRC handle competitively eliminated the team from serious consideration. Wrong! Right out of the box Citroen's recent new rear suspension geometry and the very new front suspension redesign had spectacularly produced the desired result.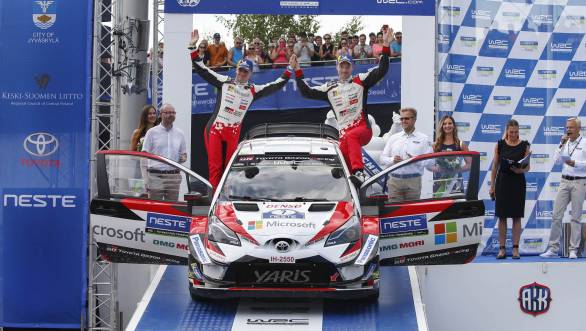 Tanak celebrating victory at the 2018 WRC Rally Finland
Citroen's team had mixed fortunes. Craig Breen lost time early on with a puncture, then when his car suffered fuel troubles on the superspecial on the evening of the first full day. All of this put the Irishman running the rest of the rally too close to the front of the rally for comfort. Ostberg had it good run on Day 1, running in cleaner conditions than the first cars (Neuville, Ogier and Tanak), but Tanak was in blistering form, refusing to accept his handling. The rally became a two driver show with Tanak and Ostberg alternating in the lead. On Day 2 Tanak's disadvantages had gone, thanks to the reseeding rules, and he was unbeatable. Ostberg found himself instead having to repel a challenge from Tanak's teammate Jari-Matti Latvala, which finally he did by 2.5 seconds. Their only misfortune was when Esapekka Lappi crashed on the final morning lying strategically important fourth and retired.
After considerable development design work, M-Sport went to Finland with new ideas. Firstly a new aero package, secondly a change of damper supplier from Reiger to Sachs. Lack of time prevented the chance for elaborate test work and also the chance to supply sufficient parts for all three of M-Sport's WRC cars, so the only available parts were used by Ogier. Loose surface gravel on Day 1 hindered Ogier and he never had the chance to make the car work well thereafter. Fighting to maintain M-Sport team honours were Elfyn Evans and Teemu Suninen. Suninen drove steadily though never competitively but during the final morning he was lying fifth with Ogier right behind, so a time control manoeuvre got the world champion one place higher. While this was going on the Hyundai of Hayden Paddon in fourth place was their only driver going well. In time for this rally the team had developed a new activation valve for their central differential which the New Zealand driver, well experienced in fast sweeping and loose surfaced roads, said worked well. On Day 1 Thierry Neuville went off the road and damaged his car while Andreas Mikkelsen rolled. Both were able to carry on but well down the order. On the final morning all three cars were in the top ten, Neuville particularly frustrated that Ogier was taking championship points off him despite having a bad rally.
Victory in the WRC 2 category went to Pietarinen
The support WRC2 championship produced one of an intriguing situations when the under-aged driver Kalle Rovanpera was running away with the category until his Skoda's front suspension collapsed on the final stage on Day 2. He struggled to the end of the stage with the help of emergency work with straps but to add to his miseries the bonnet flew open and blocked the windscreen. Until then Skodas had been lying 1-2-3, but on the same stage Rovanpera's teammate, the third placed Ole Christian Veiby crashed spectacularly and retired, and the privately run Skoda of Eerik Pietarinen was ahead, leading the Hyundai of Jari Huttunen. Rovanpera had fallen to fourth but next morning he set about catching third placed British Fiesta driver Gus Greensmith, which he finally failed to beat by 1.9 seconds. In WRC3, Estonian driver Ken Torn beat the Swede Emil Bergkvist after a rally long battle in which punctures decided the result.
The championship standings show Hyundai and their driver Thierry Neuville continue to lead the Makes' and Drivers' series by 26 points and 21 points respectively. M-Sport and Toyota are separated in the Makes' series by just one point. The absent Pontus Tidemand continues to lead WRC2. In WRC3 Jean-Baptiste Franceschi extended his lead while in the Junior series Emil Bergkvist took the lead.
So ended the fastest rally in the WRC and teams left Finland with only a clear two week gap before the asphalt Rallye Deutschland. Finland produces the same sort of excitement every year, like nowhere else in the sport, and there is always an element of deja vue. This time Tanak's winning lead was 32.7 seconds, last year Lappi won by 36. Last year the fight for second place had been won by Elfyn Evans by 0.3 seconds, this year by Ostberg by 2.5 seconds. Neste Rally never changes. It is always very closely fought and is one of the best visual experiences in the sport. Only the people change, the excitement is always the same.
Price (Ex-Delhi)
Starts Rs 9.29 Lakhs