WRC 2018: Successful outing for Gaurav Gill and Team MRF at Wales Rally GB
Gaurav Gill and co-drive Glenn Macneall took part in their third outing of the 2018 World Rally Championship at the Wales Rally GB. The Team MRF crew, who were piloting an MRF Fiesta R5 car ended the rally 22nd overall and 12th in the RC2 category.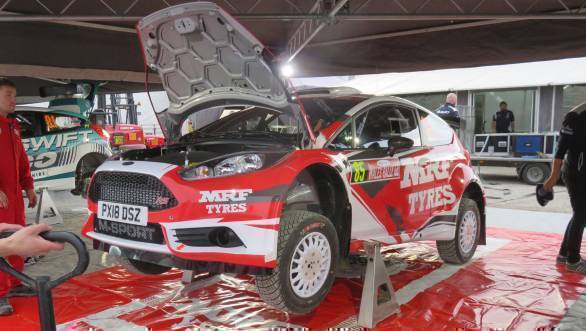 Gaurav Gill and Glenn Macneall's Team MRF Fiesta in the service park at the 2018 Wales Rally GB
It proved to be their best outing in the WRC2 class so far, in which they compete as a non-priority entry. The aim for 2018 is for Gill and Team MRF to gather as much data as possible, with a possible full-season entry in the championship in 2019, with MRF likely to become one of the official tyre suppliers for the championship.
The Wales Rally GB, however, was not without its challenges for the MRF crew. Gill had to contend with the new surfaces that the rally threw up, with slippery sections, and very difficult afternoon and evening stages on the Saturday of the rally. This also meant that the team needed to struggle as far as set up went - finding what set up would work with their tyres was one of their main focusses. They were also running without service support from M-Sport, making the event all the more challenging.
Gill also admitted to not being able to push one hundred percent over the course of the rally, because his aim wasn't so much to climb the timing sheets, as much as it was to participate in development work - crucial as far as R&D for their tyres for the 2019 season goes.
The next rally that Gill and the MRF crew will compete in will be Rally Australia which takes place between the 15th and 18th of November 2018.