WRC 2018: Ogier clinches sixth title as Latvala wins Rally Australia
Sebastien Ogier clinched his sixth World Rally Drivers' title on the penultimate stage of Rally Australia after his challengers retired, Thierry Neuville with damaged suspension and Ott Tanak who went off the road with driving errors created in treacherous weather conditions. Jari-Matti Latvala won his first WRC event for 21 months, and Toyota's 50th WCR victory, leading the Toyota Gazoo Racing Team to the FIA Manufacturers' title after only the Finnish based team's second year in active competition. All three Toyota drivers led the event, the only other team to lead was Citroen, for whom Mads Ostberg was in front for a third of the rally before slowed by handling difficulties. Ogier eased his early running order handicap when M-Sport team strategy reduced this problem on the second day by arranging for both Elfyn Evans and Teemu Suninen to sacrifice their overall positions. Ogier became champion by not being fazed by circumstances and making no errors despite having few opportunities to show his pace on this rally.
Sebastien Ogier managed to take a fifth place finish at the season-ending Rally Australia, which gave him his sixth WRC title in a row (Photo: Alan MacDonald)
This was the title which the Frenchman Ogier progressively thought this year he could not gain. He had to overcome firstly the regulatory consequences of three victories early in the season, being forced to run ahead of the field, on the first Day of rallies, usually at a severe disadvantage. Then he had to conquer the mental shock caused by the highly controversial removal of supplemental championship points because of a chicane infringement in Mexico. Through all of this his resolute strength of purpose won through and on the final day in Australia he showed the title truly went to the most impressive driver of his generation. It was an especially emotive occasion at the rally headquarters in Coffs Harbour as he had already been contracted to leave the M-Sport 2017 Manufacturers' championship team and returning to where he started his career in 2008 to drive next year for Citroen, who finished this season fourth and last in the Manufacturers' series.
Ogier started the event marginally favourite for the title and as the rally progressed he needed to finish ahead of Thierry Neuville while Ott Tanak not only had to win but Ogier had to finish in around sixth place overall, depending on who would gain extra points at the Power Stage. As the handicap of his running order kicked in on the Friday afternoon Ogier was lying only tenth overall, with the expectation of an extended handicap the next day, because the reverse order rules for Days 2 and 3 meant this handicap was likely to carry on for the rest of the event. M-Sport made the necessary orders but this only elevated Ogier to seventh. On stage 11 fifth placed Craig Breen punctured, dropped to eighth and Ogier was through to sixth. The Tanak threat was now on hold, so long as the Frenchman himself made no mistakes. Tanak was meanwhile doing himself no favours, jumping badly and almost rolling, then damaging his car on a gatepost. Then there remained the Neuville problem. On the Friday afternoon the Belgian Neuville was lying seventh but then he dropped to tenth when he slid into a roadside bank which punctured a tyre and then damaged his aero attachments in a water crossing. Friday night saw Ogier in a strong strong position for his title but not for victory on the event but the Tanak treat re-emerged. There was now every chance Toyota could ensure he won the rally…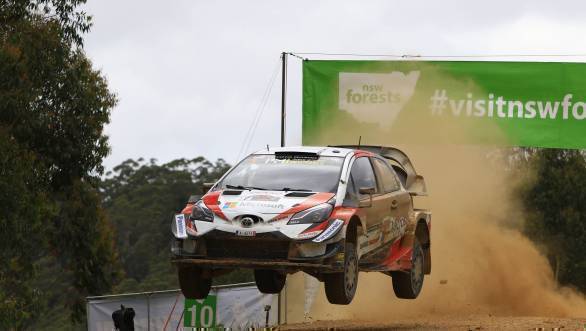 Jari-Matti Latvala took victory at the 2018 Rally Australia (Photo: Alan MacDonald)
From Saturday morning through to two stages from the finish, Toyota drivers ran 1-2 and their Manufacturers' title was assured. Their secondary concern was whether to allow Tanak to overtake the leader Latvala even if that manoeuvre ditched Tanak's title hopes and prevented him being Drivers' champion. This dilemma was sort out on the final morning when Tanak went off, and through the patient support of their third driver Esapekka Lappi Toyota still won the title they craved. Despite Neuville's retirement and Mikkelsen's missing stages after going off road Hyundai held on to second place in the Manufacturer's series, thanks to second place by Hayden Paddon. M-Sport gained points with fifth place (Ogier) and sixth (Evans) after Teemu Suninen's seventh placed car was too damaged during the penultimate stage to be allowed to tackle the PowerStage. As for Citroen Ostberg took full advantage of his running order and led the event from stages 3 till ten before the changeable conditions led to tyre choice and handling problems which delayed him, "The C3 WRC car is highly sensitive to changing conditions, but my result was satisfying given that I had not made any rallies for two months (he missed Catalunya) and we made no pre-event testing with Australia in mind". His third place made a smokescreen around an appalling rally for teammate Craig Breen. Whilst the clear conditions on the Friday with the major issues concerned tyre choices helped the two Citroen drivers to be lying 1-2 overall before Breen suffered a sticking throttle and then damaged the suspension which was compounded by a puncture. From then onwards, Breen was in freefall losing road time after being stopped by Police, being unable to handle the car on the conditions on the Sunday and frequently going off the road but still finishing seventh overall.
Team MRF's Gaurav Gill was in the lead of the WRC2 category until he touched a bank on SS11. (Photo: Alan MacDonald)
Only four cars were entered in WRC2 with the Chilean Fiesta teenager Alberto Heller winning the category by over twenty seven minutes from the veteran Subaru driver Gianluca Linari. After various cancellations only one WRC3 started, a rented Citroen DS3 R3 for recently proclaimed WRC3 champion Enrico Brazzoli who went off the road and did not finish.
Sebastien Ogier and Julien Ingrassia celebrate their sixth straight WRC title at Rally Australia (Photo: Alan MacDonald)
The season finished with many unanswered questions, among which were the future for both second and third finishing drivers in Australia who still waited to know what programmes to expect to be offered in 2019. The Citroen lineup was unsettled while Sebastien Loeb decided what to do – wondering if he fancied returning to be teammate with Ogier, what programme M-Sport might sign up to or not and Toyota wondering what will be the fall out when Kris Meeke makes his return to the sport. Never a dull moment in the WRC, even in the so-called off-season!