WRC 2017: Thierry Neuville takes victory at Corsica
By the end of a dramatic Tour de Corse, all four teams had now won a world championship rally this year. After disappointments on both Monte Carlo and Sweden, Thierry Neuville brought Hyundai a win with a 2017 car but victory only came after Citroen driver Kris Meeke had led the way for half the event when world champion M-Sport driver Sebastien Ogier was chasing him hard. Meeke's engine blew up and Ogier's hydraulics and electrics faltered. This gifted Neuville the win his team craved.
Thierry Neuville took victory for Hyundai at Corsica
No fewer than five of the eleven top WRC team drivers ran under Rally 2 rules, due to mechanical and driving errors which afflicted both M-Sport and Citroen while Toyota also had driver related missed stages. Neuville's teammate Dani Sordo had been lying second before being passed by Ogier on the final stage, despite like the other M-Sport drivers Tanak and Evans, suffering from hydraulic troubles which left his Fiesta down on power before the Power Stage, with no anti-lag, locked differential and no handbrake!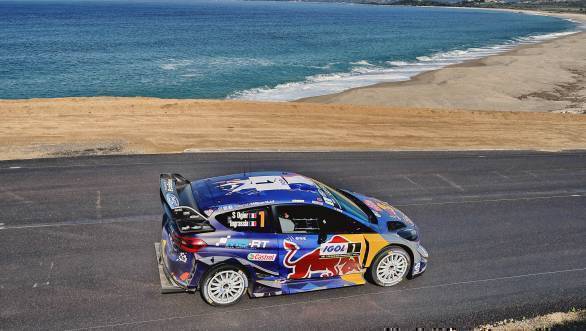 Sebastien Ogier's M-Sport Fiesta had hydraulic issues that meant he finished second
Latvala's fastest time on the Power Stage gave him fourth place overall and enabled him to hold on to second place behind Ogier in the Drivers' championship while M-Sport still heads the Manufacturers' charts. Craig Breen once again finished best Citroen driver, this time fifth ahead of Hayden Paddon who had an unhappy rally. For the second time this season Mikkelsen was unbeatable in WRC2 and had got himself into the top ten of the Drivers' standings, Raphael Astier won WRC3, Nil Solans won JWRC and Romain Dumas won R-GT.
In many ways this was perhaps the most anticipated event of the season, the event which is recognised as the purest all-asphalt rally in the sport. The stages averaged over 30km in length, a test as much for the physical efforts of the drivers as the reliability of the cars. This year's event was also the first time that the exciting looking low slung 2017 World Rally Cars were sent out in the environment in which their dramatic designs could be shown to best effect. Citroen now followed suit with Hyundai and M-Sport and came out with three 2017 cars for the first time, only Toyota fielded just two cars. Given the amount of testing decreed for teams, what was surprising was the extent of unreliability shown by some of the teams but the strangest aspect through the event was the unpredictable behaviour of the cars. A most frequent comment was that the times were bad though the car felt good one day, and cars in a given set-up could work well another day!
Kris Meeke led half the rally, before a blown engine sent him into retirement
Right from the start this was a two-driver battle between Kris Meeke and Sebastien Ogier, with Meeke winning three of the first day's four stages and Ogier the other, with Thierry Neuville heading the also rans. Neuville only started to be competitive on the second day when he suddenly won three of the four stages that day, which was when Meeke's engine failed and Ogier started to have troubles with his car. Ogier finally lost touch with Neuville on the final stage of Day 2, when he suddenly found himself more than a half minute behind because of hydraulic issues, which had already affected the Fiestas of Ott Tanak and Elfyn Evans. Ogier started off the final morning hoping for the best but the problems continued while Neuville was faraway in the lead, it took all of Ogier's brilliance to nurse his unhappy car, with its intermittent problem, into second place.
Keeping the cars working was one thing, keeping the cars on the road, even in the ideal conditions, was another. Ogier's team-mate Tanak went into a ditch on the first morning, Juho Hanninen then went off in the second Toyota while Stephane Lefebvre in the third Citroen lost a wheel when he impacted a bridge. Looking back on the event, this was a rally of two distinct halves. The first half saw Kris Meeke completely in command, not showing any of the little incidents which frequently cause his fans to worry, until the engine failed. What was noticeable was the lack of confidence from Ogier, when under pressure from Meeke. The second half saw fans now worrying about Neuville, remembering his second day disasters on earlier rallies this year, but third time lucky, all went right for him.
Dani Sordo on his way to third place at Corsica
Andreas Mikkelsen had no rivals in WRC2. An early challenge came from Eric Camilli but Camilli hit a bridge, and this put Teemu Suninen into second place, albeit finishing one minute behind. Fastest in Shakedown was Mikkelsen ahead of Camilli and Kopecky. Mikkelsen finished the first day only 20 seconds ahead of the unregistered R5 of veteran sportsman 41 year old Stephane Sarrazin who was on his first event since Corsica last year, driving another Fabia. Mikkelsen said he had been careful, "It was impossible to commit because we had no gravel note crew. I backed off in every corner when I could see there was some dirt in the road. Not very enjoyable!" Mikkelsen's Skoda teammate Jan Kopecky held third place early on but then suffered power steering trouble. Bryan Bouffier retired from fourth place while Simone Tempestini had gearbox trouble. Through Days 2 and 3 Mikkelsen continued on his winning way ahead of Suninen, Rossel and Veiby. WRC2 drivers Martin Koci and WRC3/Junior drivers William Wagner both crashed heavily, causing stages to be stopped while the injured crews were evacuated to hospital. The final day saw three Skodas, two Fords and two Citroens finish in the top seven.
Thierry Neuville celebrates victory at Corsica
WRC3 had 13 starters which included ten running in the new Fiesta-based WRC Junior category, for which this was the opening round, and in which DMack became an official FIA rally championship partner for the first time. Raphael Astier led the WRC3 class in his Peugeot throughout ahead of Junior driver Nil Solans and Terry Folb and Nicolas Ciamin who swopped places for third and fourth on the final day.
Although there were no WRC Trophy cars, there were two R-GT entries for Romain Dumas (Porsche) and Francois Delecour (Abarth). After the first day's competition Dumas was a couple of minutes ahead of Delecour. Dumas eased his pace on Day 2 when his tyres overheated which allowed Delecour to push hard but he was unable to overtake his rival.