WRC 2017: Thierry Neuville claims victory at Rally Australia
Thierry Neuville rounded off a most exciting WRC season as championship runner up despite being the winning-most driver of the year – this was his fourth victory of the year - after his Hyundai team led the East Coast based Rally Australia from start to finish. Bad weather provided tricky conditions, there were many crashes and extensive bodywork damage to the new 2017 aerodynamically modified rally cars. The already crowned 2017 world champions M-Sport and their driver Sebastien Ogier had troubled events down under, all three Citroens went off the road and Toyota lost a certain second place when Jari-Matti Latvala crashed on the final stage. All this provided a quite unexpected reversal of fortunes in the top placings. The World Champion was lucky even to secure fourth place after various misfortunes, a podium result for Hayden Paddon who had felt ill at ease all event, seventh place for Richie Dalton, the top non World Rally Car on his first R5 rally while eighth place was the best result yet in the WRC for a national ASN rules car went to Nathan Quinn's Mitsubishi Evo IX which ran with MRF tyres.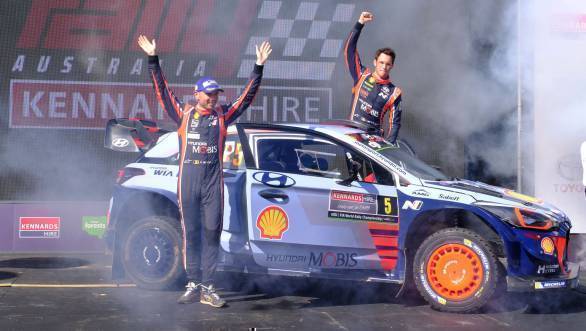 Thierry Neuville and Nicolas Gilsoul celebrate their win at Rally Australia, which helped the Belgian driver seal second place in the championship
There seemed little competitive point in going to Australia as all the three main WRC titles had been settled at Wales Rally GB, but the Australians traditionally did their best to provide a welcome for long haul travellers. The organisers and their fans did their bit, with a repeat of last year's end-of-season gala celebration in Sydney the day after the finish. Their weather however towards the end of the event got worse and worse and two stages eventually had to be cancelled. Toyota only sent two cars, with nothing for Hanninen (his codriver Kaj Lindstrom now has the job as the team's Sporting Director) while Hyundai rested Sordo to provide a car for Mikkelsen. Last year Mikkelsen ran away with the event, benefitting from his then teammate Ogier's first car running position. This year Mikkelsen was in heaven, starting ninth on the road and took full advantage until the second stage of Day 2 when he had a double puncture and carried only one spare. Hyundai Motorsport had been lying 1-2 and had fears that their drivers would self destruct their opportunities as Neuville went off the road and broke the gearbox but which he could replace at service straightaway. Hyundai's worries now was the pressure from Jari-Matti Latvala's Toyota but Neuville went on the attack and ended the second day with a twenty second lead.
Neuville in action during Rally Australia
Toyota had an inconsistent event with Latvala but eventually steadied up to keep Neuville driving protectively until Latvala's disastrous final stage mistake while teammate Esapekka Lappi struggled on Day 1, having a spin and suffering power steering failure. He only managed to reach the top ten on Day 2 and the finished sixth overall, the last of the 2017 WRC cars which had completed every stage. This was another event that Citroen Racing would like to forget with only one finisher, Kris Meeke, who missed two stages after wrecking the suspension on his C3 with the other two cars of Stephane Lefebvre and Craig Breen failing to finish after accidents. Until the weather worsened and made the conditions treacherous all their cars were lying in the top ten, Meeke lying second for almost all of Day 1.
After the joy and elation at the end of Wales Rally GB it was quite a different scene at M-Sport in Australia. It was only at halfway did one of their cars (that of Ott Tanak who was driving his last rally with the team) settle down in a steady top three position while Sebastien Ogier scored only one fastest time all event, which true to his style was the PowerStage! Elfyn Evans was in quite a different zone in Australia. Although Day 1 and Day 2 he did not score a single top six stage time, being resigned to using hard compound DMacks, as the special soft compounds which were so successful in Britain did not work in the warmth of Australia. Then both Ogier and Evans had gearshifting problems as well but on Day 3 both managed to score fastest times. The team suffered dramatic amounts of bodywork damaged during the event but like Hyundai, none of their drivers went off the road! After everything, it was remarkable that three Fiestas finished in the top five!
The Hyundai WRC on its way to Rally Australia win
On this event there was only one entry in WRC2, this was Kalle Rovenpera's Fiesta, which was going steadily in eleventh place before he had to stop with two punctures and one spare. This meant that the best (and only other!) R5 car was Richie Dalton's ex-works Fabia R5 which finished eighth overall Jourdan Serderidis competed in his 2016 specification DS3 WRC and finished 11th overall, enabling his colleague Frederic Miclotte to win the WRCT Codriver's title. There were no entries in WRC3, the best two wheel drive car (of only two finishers) was Mike Young's Citroen DS3 R3 and the top AP4 (ASN category) car to finish was the Peugeot 208 of popular veteran Italian driver Fabio Frisiero.
When speaking about the leading contestants in the rally, however, a special mention must be made about the incredible weather which inflicted itself on the event in Days 2 and especially Day 3. It wasn't just the intensity of the downpours which were notable, so much as the sudden way the weather could change the stages from warm and sunny moments and hard firm special stages to mudbaths. On Day 2 one stage had to be cancelled because a bridge had been damaged and the ambitious plan to use one particular stage four times (two on Day 1 and twice in the opposite direction on Day 3) was unachievable because of the weather. And the final word came from the winner. "This one is a special one, this one goes really to the whole team of Hyundai Motorsport. They've worked so much during the whole season and it wasn't always easy but we managed to keep the motivation high and push hard even if we lost the championship. Now we secure this win and second place in the (Drivers') championship so thanks to the whole team not only the people who come to the rally but those who are all working in the factory, great job guys, thank you very much".
Price (Ex-Delhi)
Starts Rs 6.8 Lakhs