WRC 2017: Sebastien Ogier claims victory at Monte Carlo Rally
Sebastien Ogier celebrates his fourth successive and fifth overall Monte Carlo Rally win, this time for M-Sport
Sebastien Ogier scored his fourth successive and fifth overall Monte Carlo Rally victory, this time in style, in a new team, in a car which he only first drove a month ago.  It was the first WRC win for Ford for over four years and the eighth win on this highly prestigious event.  Malcolm Wilson, M-Sport  Team Principal, "I can't put into words the feeling for the whole team.  Obviously to get Sebastien on board was an incredible feeling for me personally and I think you've seen the reaction from the staff.  It's the boost we needed as a company."  The ten 2017 specification cars at the start presented a spectacular sight but teams suffered technical or driver related problems, though six of these finished in the top ten with three different makes in the top four.  There were many important indicators.  Neuville's Hyundai led for 12 of the 16 stages, Tanak impressed by supporting Ogier and lying in the top three for three days then showing a special fighting spirit on the final stage when engine trouble threatened a podium result.  Elfyn Evans scored three scratch times in conditions which favoured DMack tyres while Jari-Matti Latvala presented Toyota with second place.  Disappointments came to Hyundai, first when Hayden Paddon was involved in a first stage spectator fatal accident and then Neuville made a slight but expensive error, and to Citroen for whom Meeke had a troubled event and after a long delay his rally ended in a traffic accident.  Craig Breen was Citroen's highest finisher in a non scoring 2016 World Rally Car.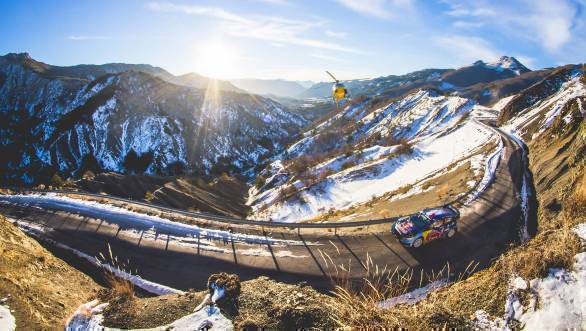 Sebastien Ogier in action at the 2017 Monte Carlo Rally, the first round of this year's World Rally Championship
Surely there had never been so much pre-event excitement in the WRC.  All four registered teams produced their new designs of car, and like icing on a cake, for two days there were clear skies and snow all around in the mountains around the service park at Gap.  When would we know which team had the best car?  We had to wait.  The short pre-event Shakedown test was run over a course with a mixture of conditions, and teams took the chance instead to test various tyre options.  The first two stages were held the next day, in the dark in typical Monte Carlo conditions and there was tragedy when Hayden Paddon's Hyundai slid on ice, bounced off a rock and blocked the road.  Sadly a spectator was involved, Paddon withdrew.  When the rally continued there was a clear leader, Paddon's teammate Thierry Neuville who for nearly two days led the rally until a slight misjudgement led to suspension damage.  From then on it was Ogier in the Ford all the way, leading comfortably.
Ott Tanak on his way to third place at the 2017 Monte Carlo Rally
It is hard to over estimate the effect of the M-Sport team's success, especially while Ogier's teammate Ott Tanak was holding second place, proving that Ott's impressive performances in the DMack team car in 2016 was not only the consequence of superior tyres.  Third team member Elfyn Evans, this year driving the DMack sponsored car, provided three fastest times when the conditions suited, when these tyres were unbeatable.   Three stages to go Tanak had serious misfiring trouble and lost his second place but on the final stage, he drove magnificently downhill in increasingly wintry conditions on the Turini stage to safeguard third place.  So finishing first, third and also sixth meant M-Sport went home with a handy 16 point championship points lead but it was an embarrassment when Ford personnel confirmed the new Fiesta was based on a production model which was still not on the market!
Jari-Matti Latvala took second place for Toyota Gazoo Racing at Monte Carlo
Jari-Matti Latvala's second place was a delightful encouragement for Toyota Gazoo Racing, representing Toyota's first official WRC entry for 18 years. It had been a surprise when it became apparent that Toyota had carried out twice the amount of test work of other teams, with M-Sport probably the least. Juho Hanninen was initially lying third overall before he went off the road on stage 5 on only his second rally in over two years. Despite minor troubles Latvala held fourth place for half the event before benefiting from the problems of Neuville and Tanak. M-Sport and Toyota were the success stories of the new formula. Less happy were Hyundai, who in Neuville's hands had been impressive but whose top finisher was Dani Sordo, and Citroen. There was considerable fan support for Citroen's veteran driver Kris Meeke but he had a disastrous event, going off the road and breaking his suspension on stage 4, then stopping with an ignition fault on stage 10 before suffering a traffic accident on the Saturday evening en route to Monte Carlo which wrecked his rear suspension. Teammate Stephane Lefebvre went off the road momentarily on the second stage but this damaged his clutch. He finally climbed back to ninth place while the team's third entry, Craig Breen in an old DS3 WRC which was not eligible for Manufacturers' points, finished fifth after being embroiled in a battle with Sordo's new Hyundai. By the end of the event the stage victories stood at eight for Hyundai (seven for Neuville plus one for Sordo), seven for M-Sport (three each for Ogier and Evans plus one for Tanak) with one for Citroen (Lefebvre). Note: none for Toyota.
After the excitement of 2016, the WRC2 category started off at a lower level, with Andreas Mikkelsen back in the formula where he really cemented his international mark and he was in a class on his own.  He led all the way ahead of his Skoda teammate Jan Kopecky while Bryan Bouffier's Fiesta was ahead of Eric Camilli and Quentin Gilbert.  Driving out of the championship points was the Skoda of Pontus Tidemand who finished the event between Bouffier and Camilli in the RC2 class.  Kevin Abbring drove the Hyundai N Motorsport's NG i20 R5, missing stages after a suspension part broke but scored two fastest times in his class.   In WRC3 the domination was even more pronounced with Raphael Astier's Peugeot 208 R2 winning eleven of the stages ahead of the Renault Clio Turbos of Luca Panzani, Charles Martin and Surhayen Pernia.  In the sole entry in the WRC Trophy Jourdan Serderidis cruised round in his DS3 WRC to maximum points while in R-GT Romain Dumas scored maximum points in his Porsche ahead of Gabriele Noberasco, the only finisher from the three Abarth 124s starters.