WRC 2017: Ott Tanak claims victory at Rally Germany
Correct tyre choices in wet conditions helped M-Sport driver Ott Tanak win Rallye Deutschland and walk away with his second WRC win in a little over two months. He outpaced Citroen's guest driver Andreas Mikkelsen, who on his third event with the team had a most impressive run. Ogier outdistanced Thierry Neuville, who wrecked his Hyundai's suspension when cutting a corner. World champion Sebastien Ogier retained the WCR Drivers' lead after a measured drive, after winning his first WRC stage in four events. No fewer than ten drivers scored a fastest stage time – in five different makes of car. It was not only the first time an R5 car had won a WRC stage – but Jan Kopecky's Skoda had actually, momentarily, led outright. Swedish driver Pontus Tidemand clinched the FIA WRC2 title. Special performances came from Juho Hanninen, the top Toyota, while Hyundai's Dani Sordo equalled Tanak by making five best stage times. M-Sport claimed a special delight, Germany had been the only round in the current WRC calendar which they had not previously won.
Ott Tanak en route victory at the 2017 Rally of Germany
Remarkable how that the shape of the WRC has started to fluctuate so radically this year, with fortunes swinging wildly from event to event and even stage to stage. Here in Germany the fastest drivers in Finland Jari-Matti Latvala and Esapekka Lappi were hopelessly inconsistent. The (joint) championship leader Thierry Neuvile suffered a fate remarkably similar to his misfortunes in Monte Carlo and similarly needless as in Sweden. The weather played its part. Consistency was widely awry. Elfyn Evans scored no top three stage times at all but had been lying fourth in his DMack tyred car before suddenly dropping back when the roads dried out at the end. Dani Sordo was momentarily leading on Friday morning only to have a spectacular off down a traditionally terraced vineyard. On the Saturday he was heavily demoralised but on Sunday he was suddenly on form again and by the end of the rally had scored five scratch times, equal with the rally winner, including the PowerStage. Hayden Paddon only got up to speed when the stages were allowed to recover from the rains. Through all this one driver shone out, Tanak, whose only captured misdemeanour was when he drove along the grass beside the road before eventually steering the car on course again. At every other moment he looked like a champion in waiting, his stage 4 misdeed in Finland long forgotten, like that had never happened. One driver doing no misdeeds was Sebastien Ogier, like a driver who knew by experience what it takes to be a champion.
Sebastien Ogier took third place at the German round of the championship
Rallye Deutschland has a unique format, getting the best out of three completely different styles of stages. This year the number of spectacularly hilly vineyard stages, where the roads cling to the side of the Mosel valley hills, were reduced so greater emphasis was placed on increasing the spectator friendly, often multi-lap stages, though many of these were held on the day when the weather did its worst. The weather brought mud down the hillside and in places made it seem like it was a gravel rally. The second full day saw the rally going to the very special Baumholder stages, a massive maze of concrete military tracks, often lined by treacherously immobile concrete blocks known as Hinkelstein stones. The short final day continued to use the Saarland region closed public road stages which had also served as spectator stages earlier on. These were the options which have featured on the event since it was first admitted into the WRC 15 years ago. It was interesting to note that all the teams except Citroen spent little or no time testing on the Saarland roads, concentrating instead on the vineyards and the military stages which make tougher technical demands.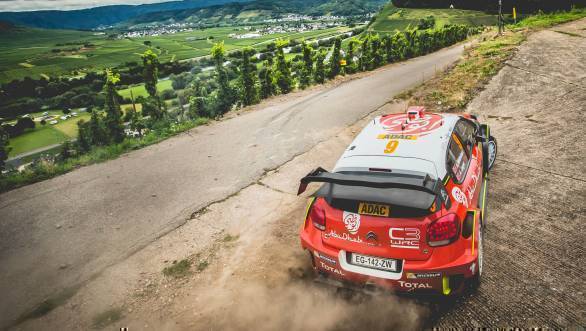 Andreas Mikkelsen's second place has helped him make a strong case for himself with Citroen
Citroen must have gone home completely confused, wondering what to do next. Mikkelsen's second place did everything to show he is the driver they should employ in the future for speed, for consistency they had Craig Breen who finished fifth on a WRC event for the seventh time in ten months, for wisdom they have Sebastien Loeb wondering if a return to the WRC would be too much hassle and Kris Meeke – just don't mention his name… Some good performances of the C3 WRC on asphalt had been expected, and it was far better here than in Monte Carlo or Corsica, but this time it was achieved in highly changeable grip conditions which Loeb had identified as the car's weakest environment. Hyundai and Toyota were crying out for consistent drivers, so the only happy manager going home from Germany was M-Sport's Malcolm Wilson, whose German Rally jinx had been finally conquered and whose drivers won WRC, WRC2 and WRC3.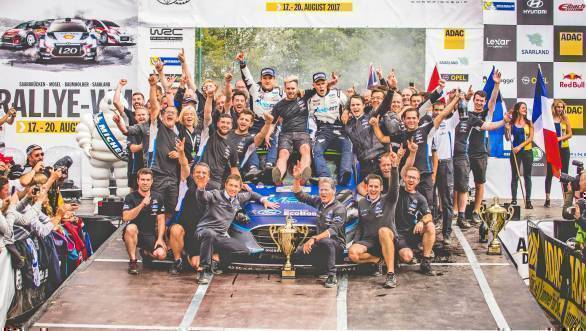 The M-Sport team celebrates their win at Rally Germany
Pontus Tidemand was the driver who went home at a new peak in his career, having clinched the WRC2 World title with three rallies still to go – not that the complicated regulations would have allowed him to score points on all the rallies waiting to be run. It was yet another title for the Swedish driver, adding to Skoda's impressive collection of champions. Success comes to Pontus every other year. In 2011 he was Swedish champion, in 2013 he was FIA JWRC champion, two years later he was the FIA's Asia-Pacific title holder and now at WRC2 he is only one step down from the top rankings. However, it was Eric Camilli who won WRC2 in Germany, taking over the lead when Jan Kopecky stopped to change a flat tyre. Despite punctures Pontus cruised through to third, more than sufficient to win the series as his closest rival Teemu Suninen had to win to stay in contention. Julius Tannert won both the WRC3 and the Junior categories by nearly a quarter hour but both these titles remained open, to be settled in Spain.