WRC 2017: Ogier wins fifth consecutive title as Evans claims victory at Wales Rally GB
What a final day to remember! In the space of an hour the three remaining major WRC titles were secured, with first M-Sport winning the Manufacturers' title, followed shortly by Sebastien Ogier gaining his fifth successive Drivers' title and a little later Jourdan Serderidis the first Greek driver to win an FIA World or regional rally title winning the FIA's new WRC Trophy.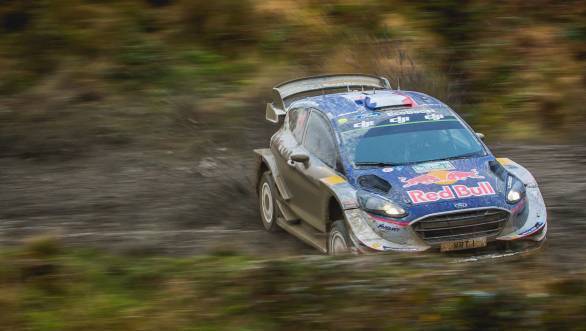 Sebastien Ogier claimed his fifth consecutive WRC title at the Wales Rally GB
In the midst of all this, Wales Rally GB became the first WRC victory for the 28 years old M-Sport Welsh driver Elfyn Evans and provided a hard earned first WRC win for tyre supplier DMack, who provided a new design specially aimed for success on this wet and cold forest event with Evans in mind. For Evans it was fitting revenge for the last stage defeat in Argentina and it was the first full WRC event not won by Pirelli or a Michelin company for 35 years.
Evans in action en route victory at Wales Rally GB
Hyundai team pushed M-Sport hard but finally Thierry Neuville painfully suffered for small problems and Ott Tanak's championship challenge petered out on the second day. The WRC2 category was led end to end by Pontus Tidemand while the poorly supported WRC3 category was taken by Raphael Astier's Peugeot 208 R2, but best two-wheel-drive car was the Opel Adam of Chris Ingram.
Welshman Elfyn Evans, the number three driver in the M-Sport team, took victory at his home event
It is hard to exaggerate the significance of Evans' victory. Evans is the number three driver in the M-Sport team, the only driver forced into run the same car all year, the DMack tyres specialist in their application rather than the internationally acclaimed tyres of rival companies. With his team-mates Ogier and Tanak eyeing the opportunities to win the World Championship for Drivers' and an awareness of the importance of a good back-up result should the rivalry of his team-mates have a bad ending, Evans did not have an open book about what M-Sport team expected from him. As he continued to lead the event he became Ogier's ally, knowing that while Evans headed the rally he reduced the points score of both drivers, standing to hurt Tanak's championship chances more that Ogier.
On what is traditionally expected to be a wet cold event the rally started off unexpectedly mild with conditions completely different to the wet conditions found by the teams during pre-event tests. The weather however changed when the rally reached the two darkness stages on Saturday evening, run with inconsistent fog patches. The stage was very difficult. On the first of these stages Ogier was fourth quickest jumping up to second â€" albeit at the cost of a puncture which broke his front left brake disc and which he and co-driver Ingrassia had to repair before the final stage. Tanak was fazed by the fog and dropped from third to sixth. As his efforts faded away, Ogier found he had a different championship challenger which was Neuville. This threw a new emphasis on the supplemental points from the final Power Stage. Could Ogier settled the series in Wales without waiting for Australia? In the end Ogier won his fifth world title in Wales.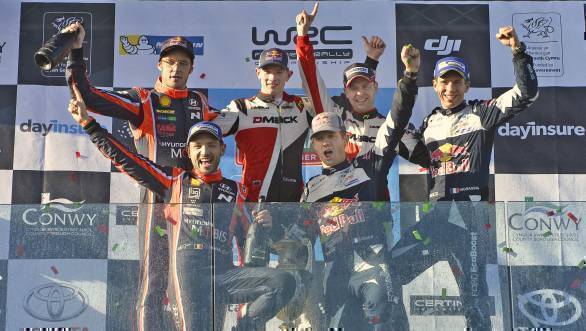 The podium at the 2017 Wales Rally GB
Where Ogier will go in 2018 is another question, and Citroen's widely expressed desire to take Ogier back into their team now seems likely to be as unrequited. Citroen had suffered another unconvincing event with Kris Meeke inconsistent as ever, and sadly Craig Breen missing a stage when he slid off the road on Day 1. By now M-Sport now longer had a 1-2-3 domination and the attention therefore was on Hyundai but Thierry Neuville had an unsettled event, caused firstly by a 10-second penalty incurred before the start of the first stage because the car would not immediately start, then by the imposition of the jump start penalty. Removal of that penalty restored Neuville's championship chances. His team-mate Andreas Mikkelsen gradually gained confidence with the car and on the final day, scored two scratch times, eventually climbing back up to fourth place, passing the Toyota of an unhappy Jari-Matti Latvala. Finally Hayden Paddon had a steady run into eighth place.
Over at Toyota this was to be the final rally with the team for Juho Hanninen who was lying tenth before impacting a heavy straw bale at the Cholmondeley Castle superspecial on Saturday while Esapekka Lappi was uncomfortable but finished ninth, splitting the Hyundais of Paddon and Sordo. Elsewhere in World Rally Cars Mads Ostberg entered his non-championship 2017 Fiesta but suffered many problems trying to trace electrical issues which seriously affected the car's handling, while Yazeed Al Rajhi brought his 2016 version Fiesta only to have a spectacular roll on the Sweet Lamb spectator stage. The only running WRC Trophy car was now Jourdan Serderidis' Citroen which ploughed on and finally took the Trophy, with one available entry still left.
With both the WRC 2 and the WRC3 titles already settled in Spain, this was the chance for fresh faces. The Skoda factory entry for the WRC2 champion Pontus Tidemand sounded like a certainty for success and he walked away from the opposition. His team-mate this time was Ole Christian Veiby who this year had been sent to Asia Pacific to gain experience. He was lying second when he lost time off the road. A battle developed for second place between the Fiestas of Eric Camilli, who was chased by the Welsh driver Tom Cave before Cave lost time on the final morning with a spin and dropped back to third. Eyvind Brynildsen was holding fourth position before suffering engine problems, letting the Scottish driver David Bogie rise to fourth in front of the new trainee Skoda driver Jusso Nordgren. Teemu Suninen had electrical trouble, Matthew Wilson (on his first WRC event for two years) missed stages when he had a double puncture, Simone Tempestini had steering problems while 17 year old Kalle Rovanpera broke the radiator. WRC3 was poorly supported with just two entries in Peugeot 208 R2s with Raphael Astier leading throughout from Enrico Brazzoli.