WRC 2016: Kris Meeke wins Rally Portugal
Kris Meeke held the lead through three full days, impressively withstanding the pressure of the battling Volkswagen drivers Andreas Mikkelsen and Sebastien Ogier. His unregistered Citroen providing the third different winning make of car in successive WRC rallies, and he drove a four year old DS3 WRC, chassis 17 in earlier years rallied by Sebastien Loeb, scoring its eleventh outright WRC rally win. Obliterating the many moments of disappointment earlier in his career, 36 year old Meeke drove a faultless event, taking full advantage of his favourable running order position to which he was entitled by lack of earlier results this season. It was a disappointing event for Hyundai with only Dani Sordo's fourth place to savour, but M-Sport's fifth placed Eric Camilli finally showed his long anticipated promise, while his team-mate Mads Ostberg was troubled by transmission and gearshifting trouble. Ostberg however retained his third place in the Drivers' championship, behind Ogier and now Mikkelsen.
Kris Meeke powered through to win Rally Portugal, maintaining his lead over rivals all through the rally
It was great to see Citroen back again for the first time since Sweden. This time they had Meeke, Stephane Lefebvre and the team's patron Khalid Al Qassimi driving. His recent championship absence had served Meeke well. Noticeable was a new demeanour for Meeke. It was the first time he had been through a WRC event with an even mind, open to enjoying the occasion, not complaining about the misfortunes of his career. It was a disappointing occasion for sixth-placed Lefebvre. Just as soon as the real action started for the second day he was off the road while Al Qassimi went off himself a little while afterwards. But all the while Meeke drove in a most professional and competent style. It was a real pleasure to see his success.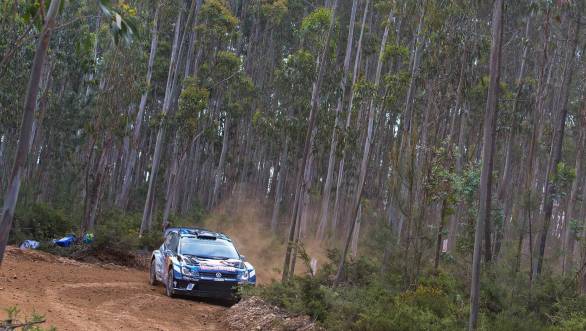 Reigning world champion Sebastien Ogier could do no better than third overall at Rally Portugal
It was also a pleasure that we were not treated to the usual tirade of the problems of the life of a multi world champion from Sebastien Ogier. Once again running two full days first car on the road was no pleasure, but true to his talent he held second place from the middle of Day 1, once he had shaken off the challenge of Dani Sordo, until he came under pressure from fellow VW driver Andreas Mikkelsen. So Ogier finished third overall which was unusual, and even then he was extremely fortunate. On the final morning he had a slow puncture when he only had one spare, which demanded caution until the end of the event, and then he had another slow puncture. He was able to reach the finish. Mikkelsen started the rally in his usual measured pace but when his VW team-mate Jari-Matti Latvala had power steering problems on the Friday afternoon and fell back, Mikkelsen was given the order to attack, ultimately ending up overtaking Ogier!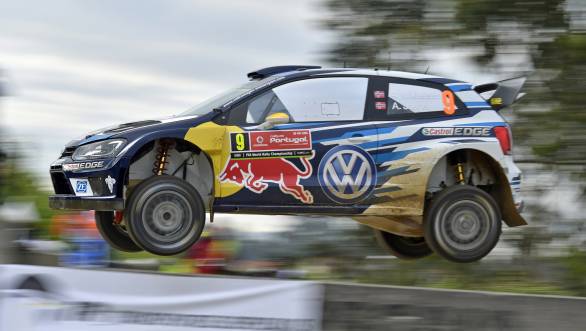 It was a good showing from Andreas Mikkelsen, who, once given the order to attack, was able to get the jump on Ogier and end Rally Portugal second quickest
Hyundai came away from South America believing they were genuinely capable of challenging VW. They entered four cars, Hayden Paddon and Sordo in the main team, with Thierry Neuville as the second team driver. The team also tried to register Kevin Abbring as a second driver in the lower level team, which the Stewards refused to allow because Abbring was driving an old 2015 design of car. This was a rally Hyundai will wish to forget. Abbring was allowed to start as a non-championship driver, but went off the road in similar circumstances on two days. While Sordo was lying third at the end of Day 1 Neuville was two places behind but then on Day 2 Neuville ran out of fuel for what was described as "human error". Hyundai's major disaster however was the loss on only its second event of Paddon's car which caught fire and was destroyed after going off the road on Friday morning. This left Sordo to uphold the team's honour, which he did splendidly, but was unable to resist the attack of the newly charging Mikkelsen.
Encouraging for M-Sport was the result for Eric Camilli after disappointments on earlier events. Unwelcome news was renewed downshifting problems for Mads Ostberg, which was then followed by a driveshaft failure on Day 2, followed by differential failure. Unfortunately all this dropped him from sixth behind Latvala. But by the end of the rally, far too late to recover, Ostberg was going better by the finish and ended up seventh. M-Sport was also running the DMack team WRC of Ott Tanak which crashed at the same place on stage 5 as Paddon, which only quick reactions from the crews of these cars and spectators saved from also being destroyed. Tanak's car was too badly damaged to continue. Henning Solberg also went off the road and again narrowly escaped serious fire damage.
WRC2 was a runaway success for Skoda whose cars took five of the top six places. M-Sport placed their trust in Elfyn Evans but all through Day 1 he was struggling with power loss and on Day 2 he went off the road. Pontus Tidemand was unbeatable, his only misfortune being a puncture on the afternoon of Day 2 when Nicolas Fuchs momentarily took the lead. Tidemand changed the tyre on the stage within two minutes, restarting on the dusty stage in front of Fuchs… The top Fiesta was Marius Aasen in third place. An early casualty was Teemu Suninen with suspension failure, incurring heavy Rally2 penalties but returning later to demonstrate his undoubted speed. A disappointing run for Emil Bergkvist who rose to fifth before puncturing and going off the road. Eventually he retired on the road section to the finish with gearbox trouble. Quentin Gilbert (Citroen) finished Day 1 in fourth but then retired with engine trouble. Hubert Ptaszek had transmission trouble in his Skoda but retired on the final morning after a heavy landing that was painful for his codriver. Sander Parn went off the road in his prize drive Fiesta. Despite finishing outside the points Evans retained his lead in the series, seven points ahead of Fuchs with Tidemand holding third place.
Simone Tempestini eventually won the WRC3 category but was delayed on Day 2 by a broken brake pipe which let Martin Koci to take the lead, but Koci had suspension damage on the final morning allowing Tempestini back in to the lead again. Sebastien Loeb's protégé Terry Folb finished third ahead of Fabio Andolfi in an Italian Federation team's Peugeot 208 R2, which does not qualify for the associated Junior WRC series. Ole Christian Veiby had been lying fifth but was sidelined by driveshaft trouble. Veiby's points from eighth place did however mean he was able to close the gap slightly on Michel Fabre who leads the WRC3 series by 50 points.
There was heartbreak on this the opening round of the 2016 Drive DMack Fiesta Trophy series for Portuguese driver Bernardo Sousa who had been leading for over half the way when he rolled his car on the final stage, which allowed Osian Pryce to win. Fellow British driver Gus Greensmith had led earlier but punctured and had driveshaft trouble.