WRC 2016: Battle for championship runner-up continues at Wales Rally GB
By any account, the penultimate round of the 2016 WRC was expected to be a memorable occasion, even if the entry list for the all-gravel Wales Rally GB itself had not provided any unexpected surprises. It was the final time that the top works teams would run their current specification cars in Europe before they move on to newer and faster cars next year and the third WRC event to run this year within one month. WRGB was run this time in October rather than November, hopefully it would be more agreeable weather than is traditional for Britain's round of the series. There were two other notable highlights which by virtue of a passage control and one spectator friendly stage, the event sneaked momentarily out of Wales and into neighbouring England, for the first time since 1999. Main media attention was focused on the race to various FIA championship titles or to the runner-up awards.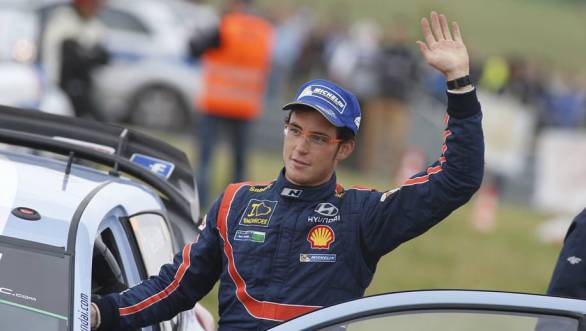 Hyundai's Thierry Neuville (seen here at Rally Poland 2014) is currently fighting for second place in the 2016 WRC championship with Andreas Mikkelsen
Apart from Friday evening's venture to Chester and Saturday's visit to the Cholmondeley (say like "Chumly"!) Castle superspecial estate, the three day route was familiar. After two years, the Ceremonial Start returned to Colwyn Bay and on Sunday the Ceremonial Finish returned to Llandudno. There were only four visits to the central service park, on Friday evening, early morning and late afternoon on Saturday and Sunday morning. There was no midday service during the rally except for tyre zones. Special curiosity on the Saturday was a road section over the very steep, spectacular but weather sensitive Bwlch-y-Groes mountain pass, thought to be for the first time this WRC event had used this road.
Entry-wise there were 16 World Rally Cars and 21 entries in WRC2, but out of the 66 entries only 21 were non championship drivers, which included some R5 prize drivers and also a Citroen WRC drive for Quentin Gilbert. Sadly the British national champion Elfyn Evans, who had hoped for a WRC drive did not start even in an R5. Shortage of available current specification World Rally Cars at M-Sport were given as the reason, and notably there was also no entry for Henning Solberg who for this reason did not take up his entry at Rally Catalunya. Wales saw the WRC return for Stephane Lefebvre after his accident in Germany but with a replacement codriver, Gilles de Turckheim. Compensation for spectators was the 82 entries in the national category event, in an eclectic selection of rally cars including 2-litre World Rally Cars banned in the world championship.
The Drivers' World Rally Championship having been settled in favour of Sebastien Ogier the race was on for second place between Andreas Mikkelsen and Thierry Neuville, currently tying for second place, but Hayden Paddon, Dani Sordo, Jari-Matti Latvala and Mads Ostberg could all mathematically end up in the runner-up slot. In WRC2 the season of Fiesta driving leader Evans already ended and he waited anxiously to see whether any of his Skoda driving rivals Teemu Suninen, Esapekka Lappi and Jan Kopcecky would be able to overtake his championship points score. And all were due to be in Wales. Whether they would then have to go on to the final round in Australia depended on their standings on Sunday night. Four drivers were still able to win the WRC3 series, three of them were in Wales. These were the current leader Simone Tempetsini, the veteran Michel Fabre and Sebastien Loeb's protégé Terry Folb (non starter), while the Peugeot driver Fabio Andolfi stayed at home. The winner of the associated Junior World Rally Championship series, for which Wales was the final qualifying round, was decided in favour of Tempestini, but the drivers – Folb, Martin Koci and Vincent Dubert could still finish second.
RallyGB will be the final WRC appearance for Abu Dhabi Total World Rally Team before Citroen Racing takes over the WRC programme again in 2017 and to celebrate there was a four car C3 WRC entry in Britain. No team presence was planned for Australia. Reaction from Catalunya: the team had no available explanation for Breen's driveshaft problem, while the Sunday morning night stage seemed unfair as drivers did not all run in the same conditions. Same cars for Meeke and Breen as in Catalunya, Lefebvre had Al Qassimi's car from Catalunya and Gilbert's prize drive car was Al Qassimi's from Finland. Half day pre-event test for Gilbert and Lefebvre in Wales, none for the others. Hyundai had another three car NG i20 WRC entry for Neuville, Sordo and Paddon who used the same cars they had in Spain while Abbring competed for a second time in an NG R5 car, the debut for this new model on gravel roads. Reaction from Spain was that the night stage provided a diversion, a nice change. The understeering problem on the 2016 NG cars was confirmed to be an inherent problem with geometry on the car and which can only be overcome by set-up work, not experienced in Abbring's 2015 specification WRC car. One day pre-event test for each driver and also a one day test for Abbring. Although both Neuville and Sordo had previously finished third on the event, no Hyundai driver had finished higher on Wales Rally GB. No announcement yet from M-Sport about the cause of Ostberg's new transmission trouble in Spain. Reaction from Spain that the nighttime stage was a new challenge as M-Sport had been active in development of directable spotlights with Lazer Lamps which have technical advances and reduced aerodynamic effect. Usual three cars for Ostberg, Camilli and Tanak for GB with no pre-event testing with 2016 cars. Main curiosity was the effect of the rally's earlier (probably warmer and drier) date on tyre wear on Saturday with 101km of stages between tyre changes. The team's main thrust was now on R5 activity. The entry for Elfyn Evans was cancelled but M-Sport had entered Gus Greensmith and Rhys Yates on Michelins while DMack entered Marius Aasen, Osian Pryce and Sander Parn. All three Volkswagen cars were the same ones as used by the drivers in Corsica. Sebastien Ogier had won Wales Rally GB for the last three years, Jari-Matti Latvala the two years previous before that and for Latvala this was his 15th start at this event. Like Latvala, Andreas Mikkelsen made his WRC debut on this event, for both drivers when they were only seventeen! All three drivers had a one day pre-event test in Wales. No special lessons from Spain, only disappointment two of their drivers went off the road, but the team denied this was the result of growing pressure from Hyundai.
Recce was held in the dry but sometimes foggy weather but without major dramas. Shakedown was held in Clocaenog Forest around 40km from the service park, in dry conditions which were far from typical for the WRGB and provided a surprise, with Tanak the fastest in the D-Mack Fiesta, 0.9 second faster than Meeke and 2.8 seconds faster over the 3.3km course than the best official Fiesta. Citroens were second and third and the best VW was fourth. Best WRC2 driver was Suninen ahead of Aasen and Tidemand, best WRC3 was Martin Koci. Tanak was asked at the Press Conference about his chances. "It's the kind of rally where we have a chance. It's nice to be in competition, we have taken some big steps with the DMACK guys this year. Maybe in some places it's still not so easy to match the Michelin guys, but in some conditions we are on the level playing field and in some conditions we are able to beat them". Apart from Elfyn Evans, non starters included Abdullah Al Qassimi in his Fiesta WRC and Abdulaziz Al Kuwari. 60 starters in all.